When Gary Crays found out his grandson, Ezra, had childhood cancer, he was devastated. Read Gary's account of what it was like to witness Ezra's childhood cancer journey and how St. Baldrick's gave him a way to fight back.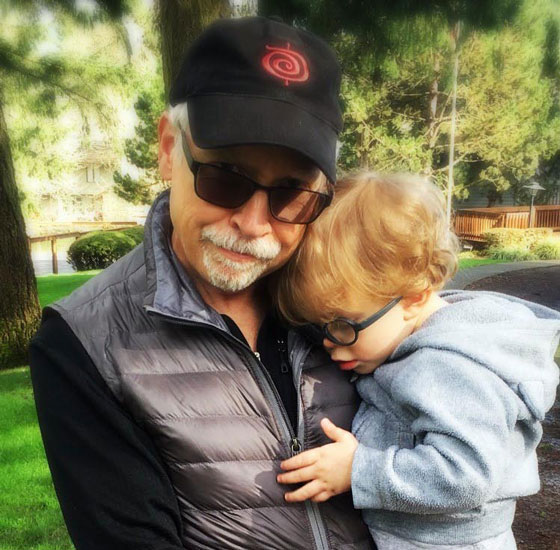 Ezra was diagnosed with juvenile myelomonocytic leukemia (JMML) when he was 4 months old.
Denial. That's what I felt when I first learned that my newborn grandson, Ezra, had abnormal blood counts.
His parents and his big brother were as healthy as could be, and his mother was careful to extremes during her pregnancy. I thought, "Whatever this is, it will quickly resolve itself."
Read Ezra's story >
Then denial gave way to anger. This baby was barely a month old and he had already been poked with more needles than I had in a lifetime. The doctors had no answers. Why was this so hard to figure out?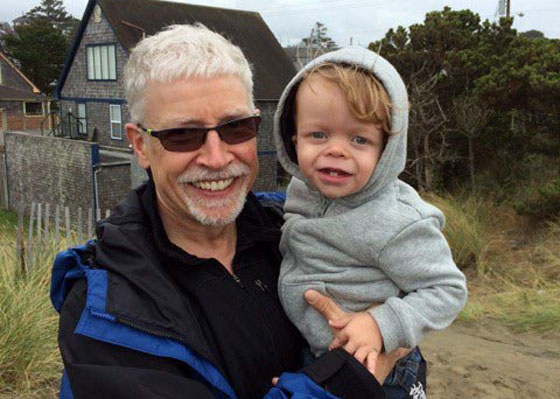 Gary and Ezra enjoy their quality grandpa-grandson time together.
Then came anguish. It turned out that our precious baby had a rare disease called juvenile myelomonocytic leukemia (JMML). My wife called me at work to tell me the diagnosis and I immediately Googled it.
When I read that JMML kids have a 50% chance of surviving past five years, I sobbed so loudly that my coworkers came over to my desk to see what was wrong.
I felt helpless. All parents and — grandparents — of a child with a serious disease will know that feeling of utter helplessness that implores the universe to let me trade places with my child.
I would do it in a heartbeat.
That feeling was compounded by the fact that when I tried to be a bone marrow donor, I found out I was too old to be accepted.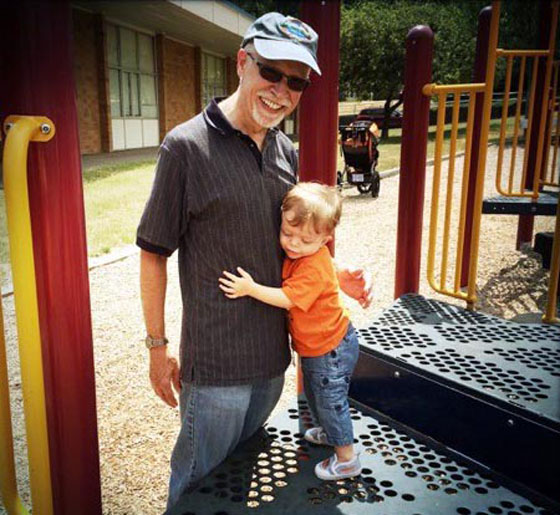 Ezra gives his smiling grandpa a hug on the playground.
These emotions transformed around the time Ezra was almost 1 and I read a blog written by a coworker, a man I had never met. He wrote about how his 2 ½-year-old son was diagnosed with leukemia five years ago, and all of the horrible things his son had to endure — chemo, a stomach tube, and bone marrow biopsies — just like our Ezra.
He spoke of the utter helplessness that a parent feels. His son was now cancer free, but still every year he and his son shave their heads to raise money for St. Baldrick's.
Learn about the mission of St. Baldrick's >
I had never heard of St. Baldrick's until then, but I immediately went to the website and signed up to shave my head. Here at last was something concrete that I could do to help!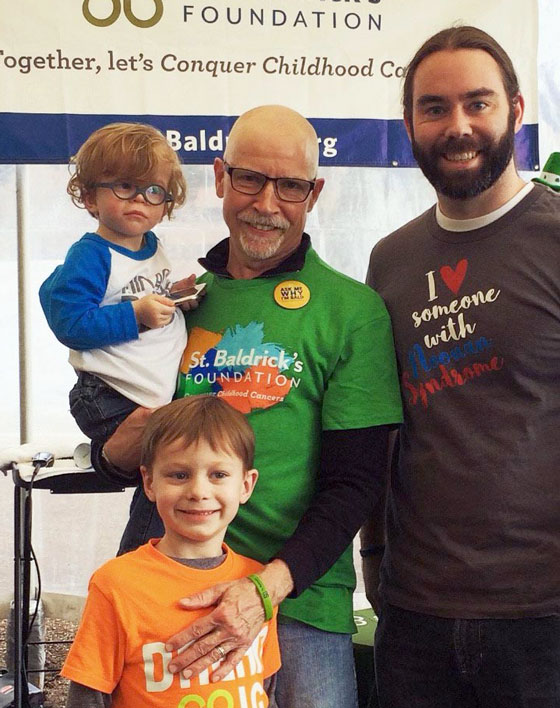 Gary takes a celebratory photo with his son, Josh, and his grandsons, Judah and Ezra, after his shave.
The Monday after the head-shaving event, I saw him in the cafeteria — I still hadn't met him face-to-face before then. I saw his shaved head and his St. Baldrick's t-shirt. I was wearing mine, too. I went up to him, shook his hand, and told him that thanks to him, I raised nearly $1,000 for St. Baldrick's. I was so grateful that he had shown me a way to turn my helplessness into helpfulness.
This is my third year that I've participated in the head-shaving, and I plan to continue my fundraising campaign for childhood cancer research for many years to come.
Now that I have experienced firsthand what it's like to have a family member with childhood cancer, I always want to be on the team that fights to conquer this terrible disease.
Join our team and fight back against childhood cancer. Get involved today.
Get Involved
Read more on the St. Baldrick's blog: