In April of 2013, our family joined the club that no one wants to be in – the childhood cancer club. We were told that our 2-year-old daughter, Hazel, had Stage 3, high-risk neuroblastoma, which came with the added baggage of only about a 50% survival rate. To say we were utterly terrified and shell-shocked would be an understatement.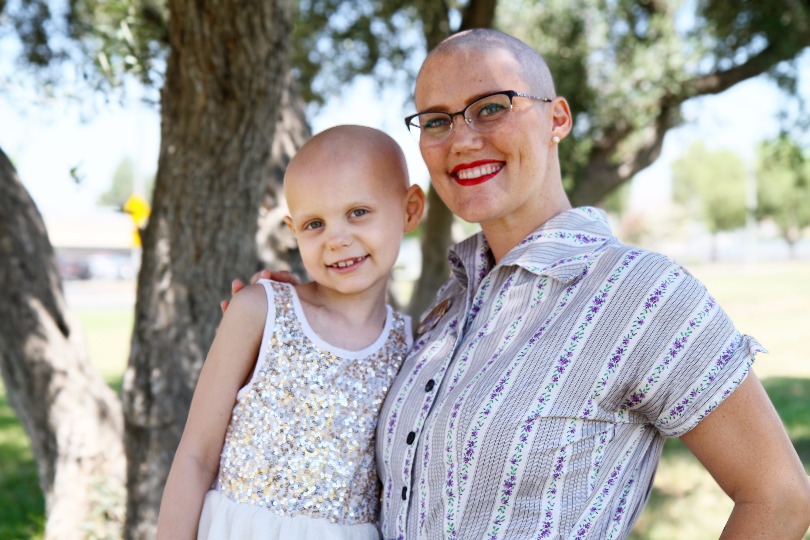 Honored Kid Hazel and her mom, Lauren, smile together during a day at the park.
But our daughter adapted to her new normal with ease and bravery. She guided us in our fight and inspired us in our determination to get through this arduous journey and give her the best chance, not only at survival, but at living a full life.
After enduring five months of rigorous chemotherapy, a seven-hour tumor resection surgery, 20 doses of radiation, six months of immunotherapy and an intense stem cell transplant – with the complications leading to a three-week stay in the ICU on life support and many months of recovery – our little Hazel was deemed cancer free in June 2014.
Learn more about Hazel and her unique cancer story >
In the midst of this difficult journey, I found the St. Baldrick's Foundation. Knowing their grants were helping to fund the most promising, new research, made us want to get involved – not knowing the direct impact those research dollars would have on us in the future.
Our family began attending local head-shaving events, with many male members of our family, including Hazel's father and brothers, shaving their heads. We helped raise thousands of dollars for research.
Then, during Hazel's remission, we decided that we wanted to do more. We dreamed up an idea for a gala fundraiser held on the backlot of a TV studio. That's when the Ever After Ball was born. This event, now an official St. Baldrick's event, was more successful than we ever could have hoped – we raised more than $50,000 at our inaugural fundraiser last year!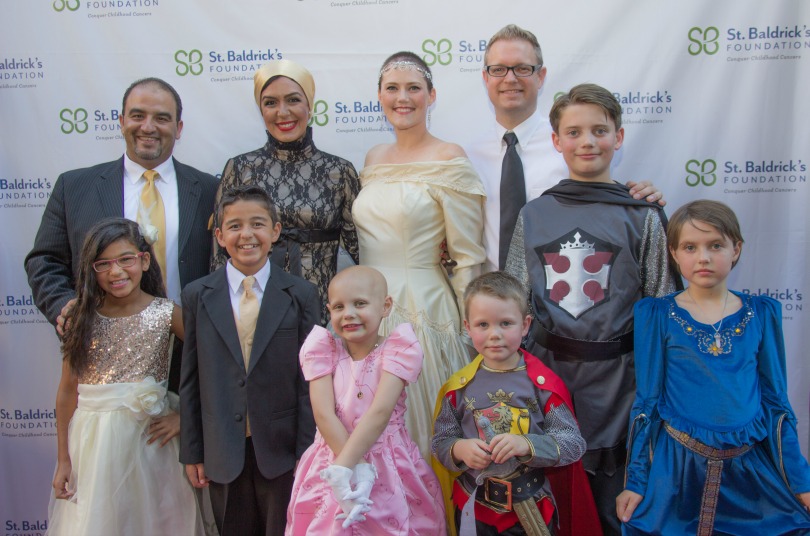 Honored Kid Zein and Hazel's families pose together at the St. Baldrick's Ever After Ball. Lauren (on top, third from left) organized the event, which took place in Studio City, California last month and honored Zein and his family.
In the midst of planning, the ever-present realities of childhood cancer did not disappear. They took our family by surprise once again, when Hazel relapsed only weeks before the ball.
In August of 2016, after learning her cancer had returned, Hazel began treatment immediately.  However, relapsed or refractory neuroblastoma currently has no known cure, so the hope of survival seemed slim and the treatments at our disposal very limited.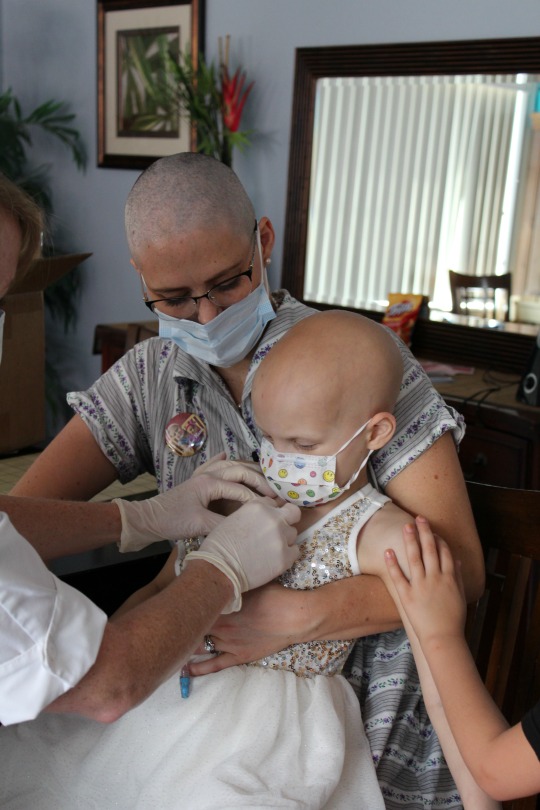 Lauren holds Hazel to comfort her as a nurse inserts a needle into Hazel's port to give her chemotherapy.
We understood the realities of relapsed neuroblastoma intimately, because we watched many of the families we befriended during treatment face the arduous beast before us – some beating it only on the other side of eternity.
So, as we stepped into the world of childhood cancer the second time, the fear was different. Instead of a fear of the "unknown," we had a fear of the "known," making it much more difficult to hold onto hope.
But we did find it, in one of the most coincidental places at the time – with the St. Baldrick's Foundation.
Only months prior to Hazel's relapse, a St. Baldrick's-funded clinical trial resulted in one of the first medications for childhood cancer in many years being approved by the FDA and given to children for widespread use. And wouldn't you know it, this promising drug, called Unituxin, was one developed for relapsed neuroblastoma!
So, a week before the ball, Hazel began her treatment protocol, which included Unituxin paired with two different types of chemotherapy. Now our fundraiser, which was always important to us, became more meaningful. Our daughter was directly benefiting from the amazing work that St. Baldrick's helped support.
It became so personal that I decided to stand with my daughter and beat her to the punch at rocking the bald. I shaved my head at the event, clad in my gown and all.
Lauren holds her daughter close as she shaves her head at the inaugural Ever After Ball in 2016.
Sitting on that stage, surrounded by my children and other cancer families, and holding Hazel's hand was one of the most profound, emotional, empowering and proud moments of my entire life.
And in the months following, it became apparent how much this act of solidarity meant to my daughter.
I had told her that I would remain bald as long as she was and with every one of my shaves thereafter, I saw in her face how much it meant to her to not feel alone or different. I saw how feeling supported could change a child's entire perspective.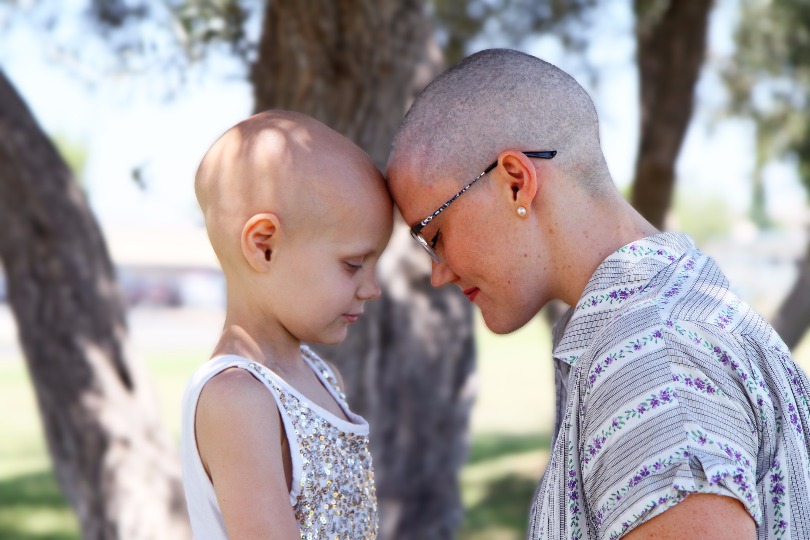 Lauren supports her daughter by shaving her head, so they are bald together.
Today, Hazel is – once again – cancer free. But if she has to face this battle again, I know that I can have more hope with every passing day, because of the groundbreaking work that is being supported by the St. Baldrick's Foundation.
So, thank you, to all of you at St. Baldrick's, and to all of you who choose to support them. Thank you for giving our family hope for Hazel.
September is Childhood Cancer Awareness Month. There is no better time to take childhood back from cancer — fund lifesaving research today.
Donate
Read more about Hazel on the St. Baldrick's blog: