Nancy knows advocating for childhood cancer research is more than a job. For her, it's a passion fueled by her son Scott's leukemia diagnosis and the shocking shortage of kid-specific treatment options available to him — a topic she helped tackle in her recent work on a comprehensive childhood cancer landscape report. Read about Nancy's journey from childhood cancer mom to advocate, and her take on the report, below.
When my son, Scott, was diagnosed with acute lymphoblastic leukemia at the age of 3, I wavered for a good three months between wanting to know everything about childhood cancer and not wanting read a single thing.
After all, I thoroughly researched everything else in life — the right laptop to purchase, which school my kids should attend, where we should travel for our next trip. Not to mention that my career was in the field of health policy research, so why wouldn't I want to consume every relevant article out there on childhood cancer?
Eventually I came to the conclusion that it was because this was actually a matter of life and death. It scared me like nothing else had ever scared me in my life.
The extensive research I had conducted in the not-so-distant past on which laptop to buy couldn't have seemed more insignificant when facing the reality of three years of chemotherapy for our 3-year-old.
I didn't want to read about the potential immediate and long-term side effects from the chemotherapy he received daily — nausea, vomiting, cognitive impairments, heart disease, infertility, diabetes, a life-long increased risk of having a second cancer. The very treatments that were intended to save his life could actually cause other chronic conditions that could impair or even end his life prematurely.
I didn't want to think about how much cancer was taking from us then, nor how much more it could take from us in the future.
However, my perspective changed dramatically three months into Scott's treatment.
We began hearing reports that there was a shortage of methotrexate, one of the most critical components of treatment for many childhood and adult cancers. Scott took methotrexate orally and also had it injected into his spinal fluid to kill any lingering leukemia cells in his brain.
My husband, Rob, and I went into panic mode. It completely baffled us how this could be possible.
Could no one have predicted or prepared for this shortage? How could there be a shortage of a drug that so many people rely on to kill their cancers? What were the alternatives?
It sent us into warrior and private investigator mode — calling the primary manufacturer multiple times a day, calling other makers of the drug, looking up online pharmacies in Canada and Israel.
Fortunately, our hospital identified a strategy to get the drug to the adults and children who needed it, without anyone missing a critical dose.
But that close call rejuvenated the inner researcher in me and left me wondering about the plight of childhood cancer research and drug development.
What is the process for drug development, and what are the key factors that delay or prevent the approval of potential new discoveries that could save the lives of kids with cancer?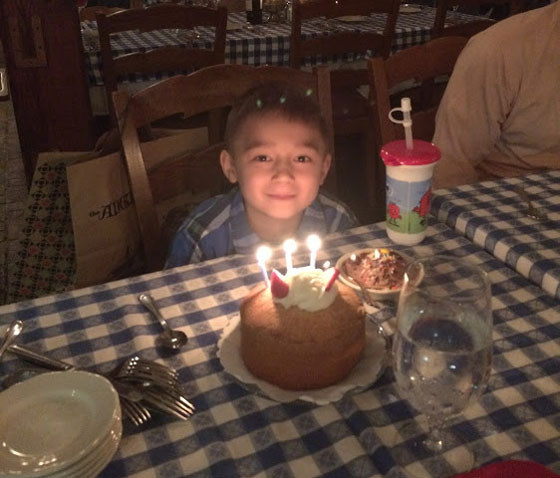 Scott celebrating the end of his treatment.
The more I read, the more compelled I felt to advocate on behalf of the families of kids with cancer — families who face daily life with the uncertainty of their child not having a cure or even an established protocol to treat their child's cancer.
I felt that more could, and should, be done for childhood cancer research. I wanted to help bridge the gap between the discovery and delivery of cures for kids with cancer.
Fast forward to December 2015. Scott had completed nearly three and a half years of treatment in the spring, and I had just begun my new role at St. Baldrick's as their advocacy coordinator.
To get my feet wet, I was tasked with working with other Alliance for Childhood Cancer member organizations on a landscape report that would, for the first time, combine statistics and information about childhood cancers with an assessment of the opportunities and challenges facing childhood cancer research, treatment, and drug development.
I was lucky to work on a unique aspect of the report that took a closer look at the role of foundations and other charitable groups in filling the funding gap for childhood cancer research.
Many in the childhood cancer community are aware that the U.S. government allocates approximately 4% of federal cancer research funds for childhood cancer. In order to ensure that progress continues for kids with cancer, numerous childhood cancer foundations and charitable organizations work tirelessly, creatively, and collaboratively to leverage their funding strategically and move the needle both on research and advocacy fronts.
As the parent of a child who went through treatment, I'm forever grateful for all of the foundations that support childhood cancer research. It's fantastic that the five-year survival rate for all cancers combined increased from 64% for kids diagnosed toward the end of the 1970s, to 84% among kids diagnosed between 2005 and 2011.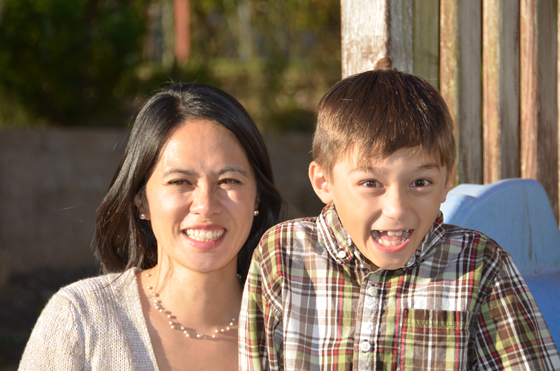 Nancy with Scott in October. Scott finished treatment for ALL last spring.
Yet some childhood cancers, like neuroblastoma and many brain tumors, have seen little to no improvement. While tremendous progress has been made, there is still so much more to be done.
Whether you're a family member of a child with cancer, a volunteer, a donor, or someone who just cares about kids, I encourage you to take the time to read this report and gain a better understanding of the obstacles we face in trying to transform new discoveries into cures for kids with cancer.
In light of this divisive election year, it can be easy to lose sight of some of the more important issues. Childhood cancer isn't a partisan issue — it's a children's issue because childhood cancer is the number one cause of disease-related death in kids in the U.S. We need to rally around this important distinction and come together to change the landscape for childhood cancer research.
By arming ourselves with knowledge and facts from the Landscape Report, we can be agents of change.
You, like me, may not be a scientist, physician, or politician, but with the passion to speak up on behalf of the hundreds of thousands of kids and families affected by childhood cancer, we can effect change. I'm honored to be a part of this movement with you.
Read the full Childhood Cancer Research Landscape Report here.
You can be an advocate for childhood cancer research, too. Join Speak Up for Kids' Cancer today to get more information about childhood cancer issues and how you can help.
Join Speak Up
Read more on the St. Baldrick's blog: