No one knows the importance of funding research better than the Swart family. Since receiving CAR T cell therapy and a bone marrow transplant, Honored Kid Zach Swart is getting healthier by the day. And it's all thanks to research supported by St. Baldrick's. Read on to find out how the Swart family — and their whole community — is giving back to research in a big way.
The family of event organizer Gloria Darmanin line up to go under the clippers at the Saugerties, N.Y. event, which honored Zach and other local kids with cancer. Photo by Veronica Chewens
Zach had his 16th birthday last week. Despite not feeling well due to difficulty withdrawing from his pain medication, it was still cause for celebration.
His mom, Nancy, says there's much to be thankful for.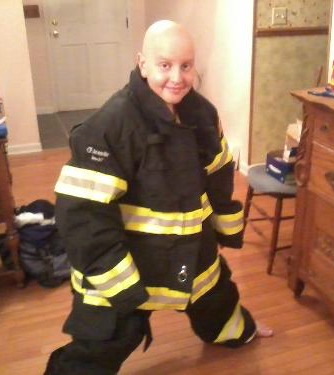 Zach poses in firefighter turnout gear during his treatment. His dad, Tom, is a firefighter.
"He is 30 days post bone marrow transplant," she said. "The mouth sores are gone and his blood counts are up. This means his brother's bone marrow is fully engrafted in Zach's body."
Zach is on the road to becoming a survivor after receiving CAR T cell therapy through a trial supported by St. Baldrick's.
Learn more about the  St. Baldrick's-funded research that has changed Zach's life >
They heard about St. Baldrick's soon after Zach's diagnosis in 2007, but it wasn't until his second relapse that they got involved. The family volunteered with the Melodies Clinic team in 2014 to support the treatment staff at a head-shaving event in Albany, N.Y. Zach's dad, Tom, shaved his head for the first time and Nancy emceed the event.
"It was a wonderful celebration of people getting together to do something to help," she recalled. "You hear people's stories and say, 'Here's something we can do to help.'"
It was just the beginning.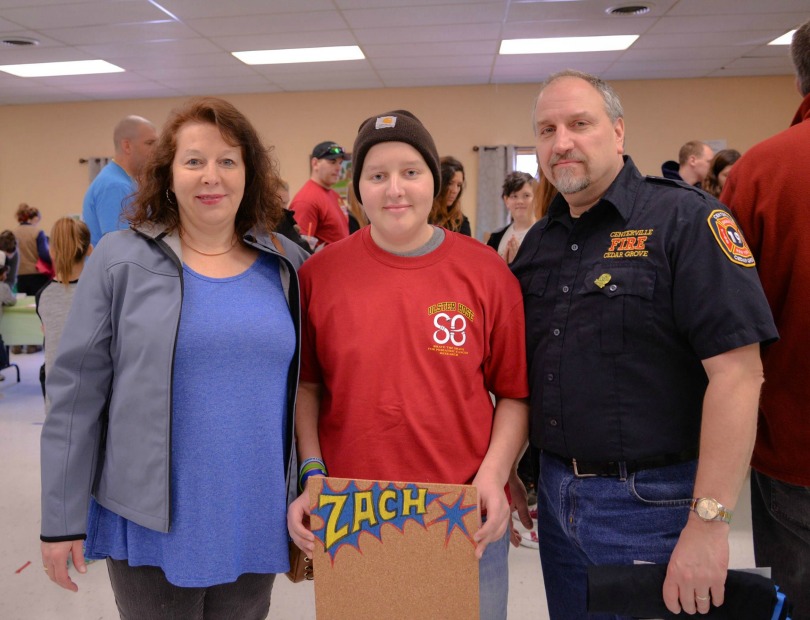 Nancy, Zach and Tom at the Saugerties event.
The next year, Nancy met Gloria Darmanin through a local childhood cancer fundraiser when Gloria and her family moved to Saugerties, a town of about 20,000 people in New York state. Touched by the blog of a mom who lost her son to childhood cancer and moved by the lack of funding for research, Gloria signed up to organize an event in Saugerties as a volunteer event organizer or VEO.
Not giving it a second thought, this mom of three young boys said, "If not me, then who? We can't sit around hoping someone does something. It just takes one person to make a movement and the rest will join in."
She was right.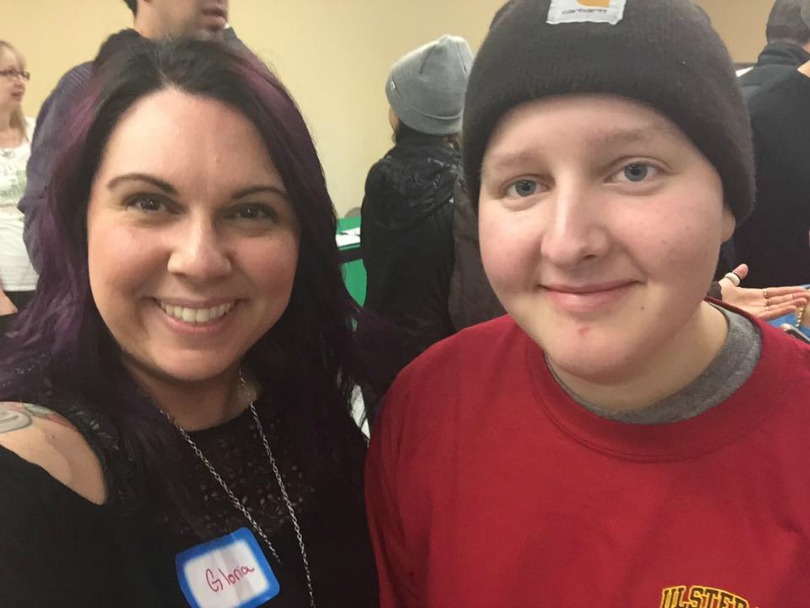 Gloria and Zach are all smiles at the Saugerties event.
That first year in 2015, the St. Baldrick's Day event in Saugerties raised almost $89,000 with 158 participants — including Gloria as the VEO, Tom as captain of the Centerville Fire Company team and Nancy as the emcee.
But Nancy ended up doing more than emceeing the event. In the spur of the moment, she shaved her head. She wasn't planning on it, but she just handed Gloria the microphone and sat down in the barber's chair. After a few minutes, she was rocking the bald.
What impresses Nancy most about St. Baldrick's events are the people who attend. They are from all walks of life — hard-working people coming together to raise money for critical research.
"The emotion is overwhelming. People care. They are coming together to say, "There's a way we can fight back—one head at a time," Nancy said.
Zach's mom, Nancy, poses for a photo after her shave in 2015.
The Saugerties event is a perfect example.
There were no big businesses or corporate sponsorships involved, yet the event raised more than $107,000 this year. It took everyone doing a little — sharing the stories, holding raffles and bake sales. Gloria credits it to the "pure heart" of this small town that rallies to give it their all when someone is in need.
It is especially meaningful for the folks in Saugerties to know their efforts to raise funds and support research are making a difference for one of their own kids.
"I want nothing more than for Zach and all children with this disease to be children. Simple as that. The St. Baldrick's Foundation is making this possible," Gloria said.
Zach's mom could not agree more.
Say 'thank you' to Zach's community for giving hope to kids with cancer. Donate to their event today.
Give
Read more on the St. Baldrick's blog: