For Robyn, Mother's Day has never been the same since she lost her son Keaton to neuroblastoma 18 years ago. Read on for a special message she has for the other moms who share her pain on Mother's Day.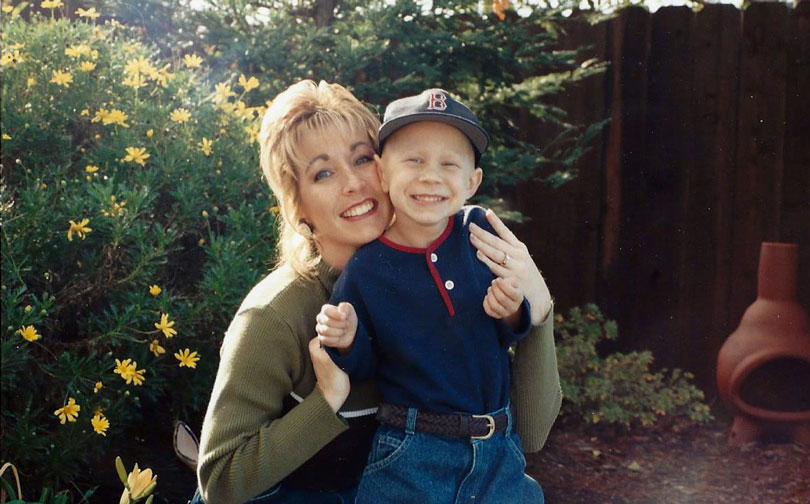 Robyn embraces Keaton in the backyard.
It was an early November morning after 22 hours of labor when I looked into the most beautiful brown eyes I had ever seen.
At that moment, I knew my life had changed forever. We named him Keaton and he was going to make his mark in this world.
As Keaton took his first breath, I never in my wildest nightmares imagined I would witness his last.
Keaton smiles with a bite of donut in his mouth.
Keaton's battle with childhood cancer was aggressive and swift. During those nine months, he played, laughed and showed cancer what a true superhero does in the face of adversity. At five years old, he put on his cape and his Michael Jordan jersey, and he defeated the "cancer monster" day after day.
It was 5:00 on a Friday night in February when those beautiful brown eyes looked into mine and said, "Mommy, I don't feel so good."
Learn more about neuroblastoma >
I couldn't save him. I found myself helpless as a mother.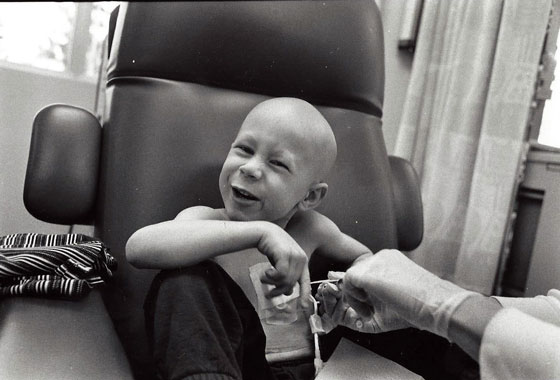 Keaton staying strong during his childhood cancer treatment.
It's been 18 years of life without Keaton, and during that time I have met so many mothers like me. I have come to call these superwomen my "Sistas."
These Sistas remain a blessing and inspiration in my life. Even if we have never met, I believe that we're connected by a deep acceptance that we have experienced an unnatural horror.
As mothers, we bear the burden of our child's death as if we could have done something more to stop it. With each passing moment we are reminded that our child was cheated out of graduations, proms, birthdays, marriages, children — the list goes on.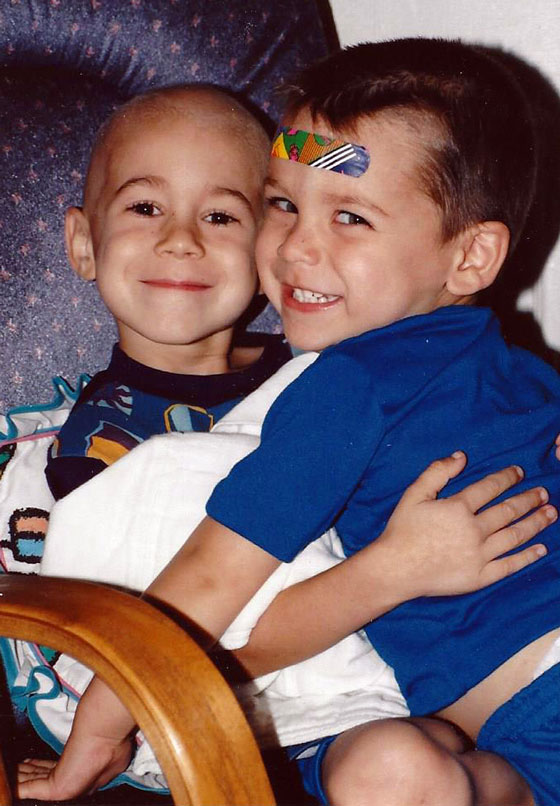 Keaton hugs his little brother, Kyle.
We will never forget them, but fear the world will. With aching hearts we cannot see how our lives will ever have joy again.
Like shattered mirrors, we're left picking up our shards as we attempt to assemble a new vision of ourselves. Changed forever, we struggle silently with how to live without our child.
BLOG: What I Think of When I Hear the Word 'Cancer' >
As time passes, we come to realize that the acute pain subsides, but our souls are left scarred by its presence.
Our journeys are distinct as we search for answers, purpose and peace. Resilient, we stumble forward, fall back, and do what we can to keep living.
Some friends and family may not understand this new version of ourselves, while others, sometimes complete strangers, understand with deep compassion.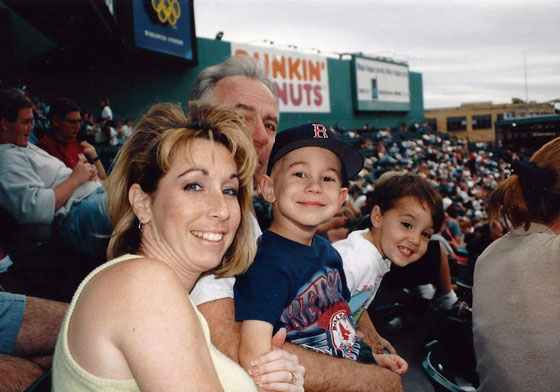 "During those nine months, he played, laughed and showed cancer what a true superhero does in the face of adversity," Robyn said.
Mother's Day, like every day, we remember them. No matter what we do, there is a part of us that longs for that missing smile, giggle, and voice saying "Mom." We learn to look for the signs they send us to let us know they are not far away, reminding us that their love lives in us, always.
Day by day we build the life that works for us and gain strength along the way. In time, we find joy again and view the world through a different lens.
This Mother's Day, I celebrate my Sistas and all who walk beside us on our journeys. Cancer will never have the power to separate us from the love we have for our children.
Love endures all.
Celebrate the amazing mothers in your life with a special ecard for Mother's Day. Donate to childhood cancer research and send an ecard today.
Send a Mother's Day ecard
Read more on the St. Baldrick's blog: