September is Childhood Cancer Awareness Month. Do something to help kids with cancer.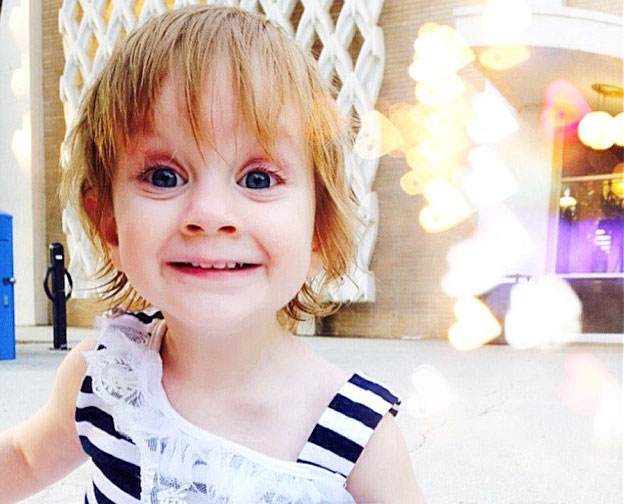 Lilly was born with Ewing sarcoma, a type of childhood cancer.
For my daughter Lilly's first Thanksgiving, there was no turkey, no fancy dress, no family pinching her cheeks. Instead, she got a line placement surgery, chemotherapy, and her first puke bucket.
When Lilly was 6 days old I had noticed a little bump on her upper chest wall. After an x-ray and an ultrasound, the doctors told me it was a birthmark and it was normal for it to get bigger as she grew.
In three months it had grown to the size of a golf ball and was starting to affect her breathing while she slept. I knew then that it wasn't just a birthmark.
Lilly while she was in treatment for childhood cancer.
The hospital explained that it was dangerous to operate on a baby so young, and they recommended we wait three to six months to remove the mass. I refused to wait. I booked my 3-month-old daughter's surgery one week later, against doctor's recommendation.
I got a call a few days after her surgery with the news. Not only did my baby have a rare childhood cancer called Ewing sarcoma, but the surgeon didn't know of any other cases of children being born with this type of childhood cancer. He said that if I had agreed to wait three to six months for them to remove the mass, the cancer would have spread to her lungs, heart, and bone marrow, and she wouldn't have survived.
Lilly started treatment on her first Thanksgiving at 4 months old. That day, we also found out we would be living between the hospital and the Ronald McDonald house for nine to 12 months and that Lilly's treatment plan was "unknown." They had never had a case like hers before, so they were basically just guessing.
The fact that my daughter's life was all riding on a guess was the hardest thing I have ever had to accept.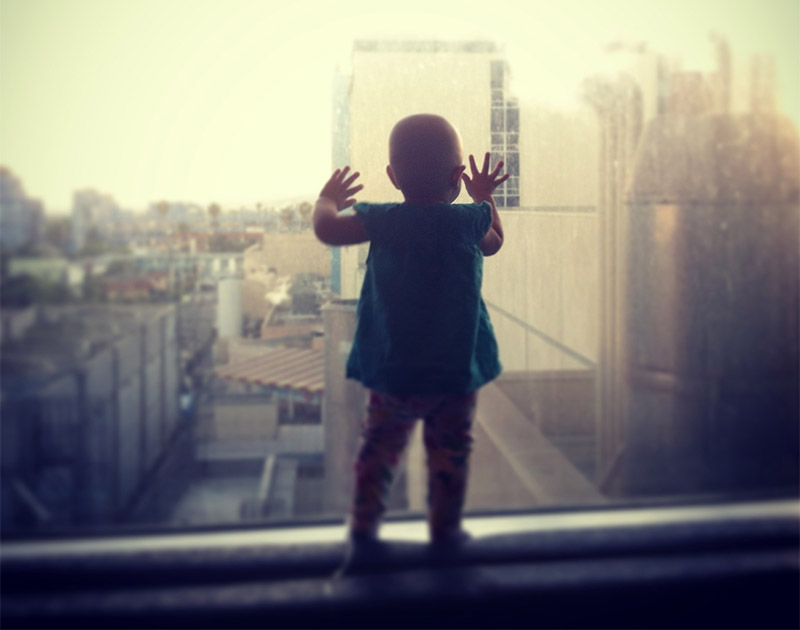 Lilly spent most of her first year of life in the hospital.
Lilly had 14 rounds of chemotherapy at 75% adult strength and eight surgeries, all before she turned 1. She lost her beautiful red hair, her long eyelashes, her rosy cheeks, and a portion of her chest wall, but she never lost her smile and fire to prevail.
And she did prevail. On July 9, 2013, she became cancer free.
Since treatment has ended, Lilly fell into septic shock and we almost lost her from a blood infection. She has had three relapse scares, another surgery, a seizure, and more doctor's visits than I can keep up with.
We may have walked away from the hospital, but childhood cancer has never stopped lingering above my daughter's head.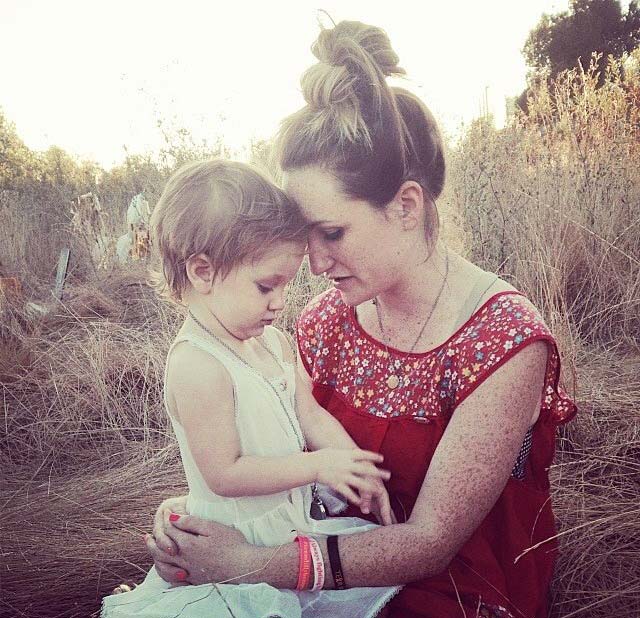 Trish and her daughter, Lilly. Lilly is now 2 and shows no evidence of disease.
Lilly is now 2 and has been off chemotherapy for one year, and her little body is in the beginning stages of post-chemotherapy reactions. She has what is called a "tic movement," meaning she is losing control of the muscles on the right side of her face and jaw.
She also has to have regular hearing tests because she has a high chance of becoming partially or completely deaf. She already sees a cardiologist because she has high risk of heart disease or heart failure, and a speech therapist due to speech delay.
We were told things will "get worse in time."
All of these things are caused not by childhood cancer, but by the only known form to kill her cancer. That's why we need research for early detection and secondary treatment options that don't poison our children. We need a cure so children like my Lilly can do one thing: live.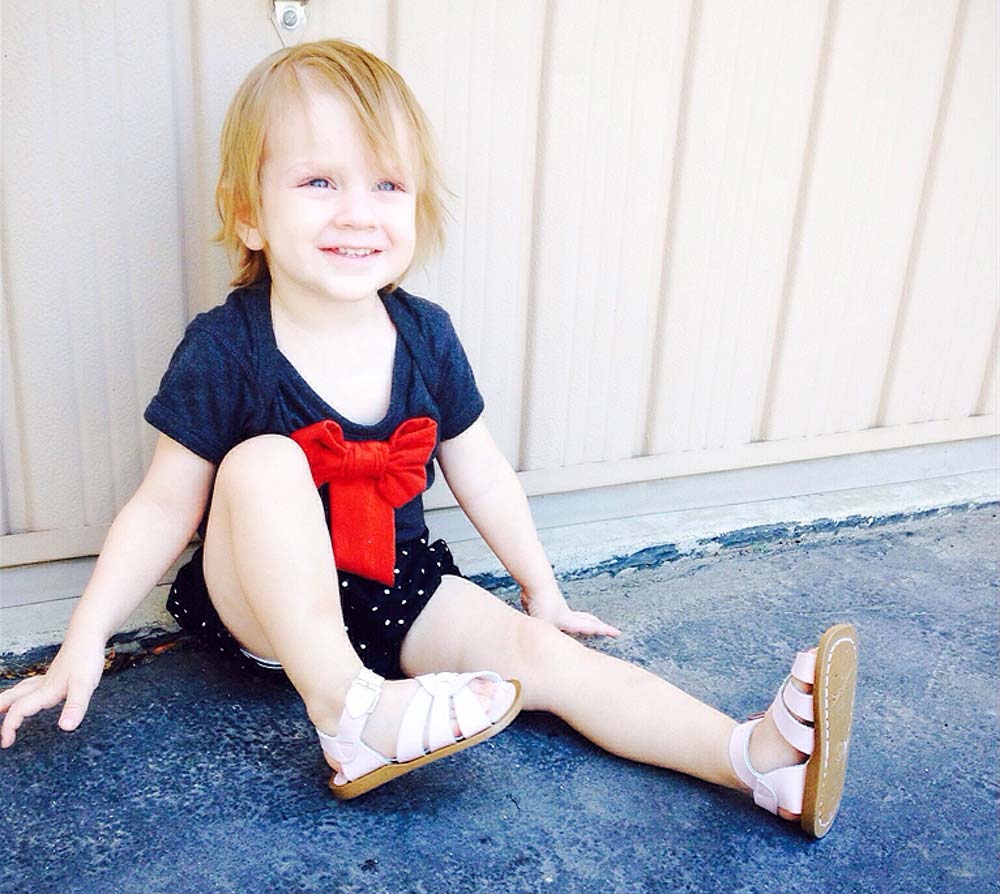 "We may have walked away from the hospital, but childhood cancer has never stopped lingering above my daughter's head," Trish said.
Regardless of the battles we are faced with, I will continue to show my daughter that each day is a gift. No matter the journey, we will find happiness.
I am a mother to a 2-year-old girl named Lilly, and she is my hero.
Trish is using social media to raise money for childhood cancer research. Each day in September, Trish is featuring a different shop selling an item that gives back to the St. Baldrick's Foundation. For more details, follow @LillyBumpus_GiveForward on Instagram or search #ShopGoldForACure on Instagram or Facebook.

All kids deserve a chance at a normal life. You can help.
6 ways you can help kids with cancer
Read more kids' cancer stories: