When Tom agreed to shave his head for the first time, he was simply doing it to help fund childhood cancer research. Then, Tom met Honored Kid Keira, and his decision to shave for St. Baldrick's took on a whole new meaning.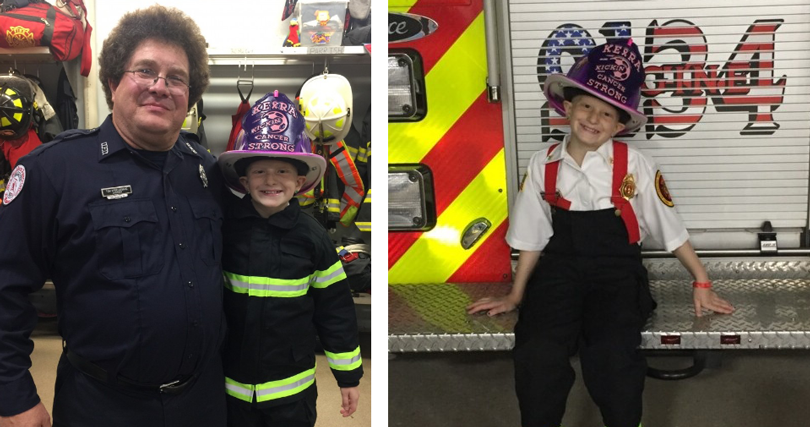 Honored Kid and Honorary Firefighter Keira poses with her custom-made helmet at the O'Fallon fire station.
Tom is a local firefighter in O'Fallon, Missouri. Keira is an 11-year-old girl currently undergoing treatment for a type of childhood cancer called rhabdomyosarcoma.
And the two of them are the best of friends.
"She's a pistol," Tom said of Keira. "She's just a sweet little girl."
Tom and Keira met in September 2015, and a close friendship immediately blossomed.
"I was already starting to grow out my hair for St. Baldrick's," Tom said, "And one of the gentleman I work with asked me, 'Hey, would you want to meet a kid that lives in our fire district who has cancer?'"
And just a few months later, Keira helped Tom shave his head at his first St. Baldrick's event — a shave he dedicated to his new friend.
You can support Tom's second shave for Keira by donating to his fundraiser now >
Tom was nearly speechless when he realized how many other people, just like him, were willing to go bald in support of childhood cancer research.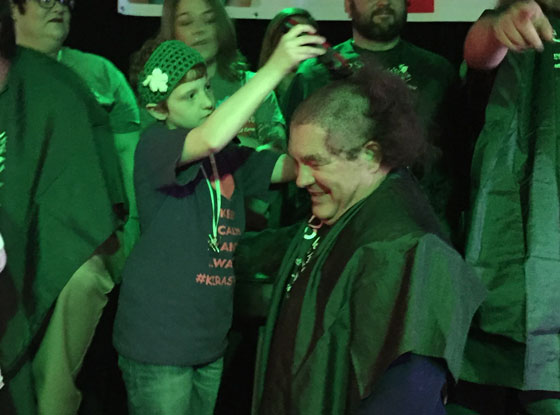 Keira helps shave Tom's head at his first St. Baldrick's event.
"Last year, at our event in St. Louis, they shaved over 600 people," Tom said. "I just can't find the right words to describe my feelings for the tremendous amount of love and support everybody there had for kids' cancer research."
Wondering if YOU should shave your head? Take our quiz to find out!
Tom first learned about St. Baldrick's from another coworker who had been planning an event. Tom's colleagues encouraged him to shave off all of his hair at the event, but only on one condition.
He had to let it grow.
"Being a fireman, I've always had short hair, and quite a few people at work always wanted to see what I would look like with an afro," Tom said.
When Tom grows out his curly head of hair, it gets so large that it's almost impossible not to notice.
"Let's put it this way — last Tuesday morning, I got on a plane to go to Detroit. There were two stewardesses on the flight. Friday night, on our way back from Detroit, we had the same two stewardesses, and they said they remembered our group because of my afro. So, it's pretty large," he said.
Keira and Tom pose for a picture before and after Tom's big shave.
But his big hair is more than a means to make his coworkers laugh – it's a way for Tom to talk to people about childhood cancer research.
"When people look at my hair because it stands out, they start asking why I have such big hair," Tom said. "And I get an opportunity to tell people about childhood cancer and what little money goes towards research from federal funds, and most people are just completely dumbfounded by that."
Despite losing his best talking point, Tom is looking forward to his shave this year – especially after having such a successful first round last March.
As a first-time shavee, Tom raised over $7,000 for childhood cancer research.
This year? He's raised $15,000.
And his dear friend Keira remains the main source of motivation for his fundraising.
In fact, the whole fire department is rallying behind her – which is only fitting, considering she's one of them now.
This October, Keria became an honorary member of the O'Fallon Fire Protection District.
Keira and Tom are all smiles as they share their story with a news anchor.
In addition to a special ceremony, Keira received a full set of firefighting gear — including a customized purple fire helmet with her name on it.
"I'll be the first to admit, it was very emotional for me that night," Tom said. "I don't have children, and Keira has just unbelievably filled that void. For her to become an honorary firefighter was like one of my children being able to become a firefighter and follow in my steps."
Kids like Keira deserve the chance to become firefighters — or anything else they dream of being. Donate now to help fund lifesaving childhood cancer research.
Donate
Read more on the St. Baldrick's blog: