First comes Black Friday. Then Cyber Monday. Then, on November 28, it's #GivingTuesday, the day when people around the world give back. This year, our face of Giving Tuesday is Honored Kid Grace – AKA the Ninja Princess. Why is she jazzed about raising critical funds for research? Maybe because researchers are cancer-fighting ninjas just like her!

7-year-old Honored Kid Grace loves everything pink, frilly and powerful. She's been learning karate since this summer and recently earned her orange belt, even after relapsing with cancer.
When she relapsed in August, Grace's first question to her mom, Melissa, was a question no parent ever wants to hear.
The 7-year-old asked, "Will I die?"
"'No,' we told her, because we were going to fight the cancer," Melissa recalled. "'Good,' she said, 'because I want to grow up and get married and be a mom.'"
Rightly known as the 'Ninja Princess,' Grace Ellen has fought for most of her life. Her parents affectionately call her their 'alpha female,' because, as her mom said, "she's always known who she is, what she likes, and she doesn't let anything get in her way. Not even cancer."
Grace prepares to kick a bad guy's booty during karate class.
With a love for pink and an orange belt in karate, Grace was first diagnosed with high-risk PH+ acute lymphoblastic leukemia in 2014, just weeks before her fourth birthday.
Because her type of leukemia is so rare and aggressive, she was put on a clinical trial right away and given chemotherapy at 10 times the normal dose.
"Her PH+ leukemia doesn't respond to chemotherapy and the clinical trial gave her access to an inhibitor that allowed chemotherapy to work," Melissa said.
The girl's chance at survival jumped from just 20% to 70%. Two years after her diagnosis, in January 2016, she was declared cancer free. The trial and chemotherapy regimen seemed to work.
"I truly believe the clinical trial medicine saved her life," Melissa said.
Still, Melissa was always wary. Then, in August of this year, Grace woke up in the middle of the night complaining that her arm hurt.
"By the morning she was in 10 out of 10 pain in her arm and leg," Melissa said. "We took her to Children's Hospital Los Angeles, but in my heart I already knew the cancer had come back. Bone pain is a primary sign of leukemia."
It was true. And Melissa knew it when the doctor pulled her into a private room to talk.
"As soon as the doctor closed the door, she said, 'You know, don't you?' and I burst into tears while she hugged me," Melissa remembered.
When Grace isn't feeling well during treatment, she loves to watch funny cat videos to cheer herself up.
Because doctors were concerned that more strong chemotherapy could damage Grace's organs, the little girl will be undergoing a bone marrow transplant to hopefully kick out her cancer for good.
"Blood cancer cells are born in the bone marrow, as are all blood cells, and with the bone marrow transplant she'll benefit from her donor's marrow, which will not only create healthy, cancer-free blood cells, but also has the ability to help destroy any 'free-radical' cancer cells it finds," Melissa explained.
In the event that the worst was to happen – that this bone marrow transplant fails – Grace still has an option, thanks to childhood cancer research supported by St. Baldrick's. Grace's family would turn to Kymriah, the CAR T cell therapy recently approved by the FDA. This promising therapy uses the patient's own engineered immune cells to target cancer and kill it.
Follow the remarkable story of Honored Kid Austin, who was part of the first human trials for Kymriah > 
That's why Grace's family supports St. Baldrick's – because childhood cancer research is giving their fierce, vibrant daughter a chance at life.
Grace helps shave her mom's head during a 2015 St. Baldrick's head-shaving event.
Both Melissa and her husband, Chad, have shaved for St. Baldrick's with their team, Team Grace Ellen. Before she made the decision to rock the bald, Melissa asked Grace how she'd feel if her mom shaved her head. The little girl was enthusiastic to say the least.
"'Then you'd look like me!' she said with excitement," Melissa remembered. "That made the decision easy and it was more empowering than I had imagined. She helped shave my head and our team raised $7,000 that day for St. Baldrick's."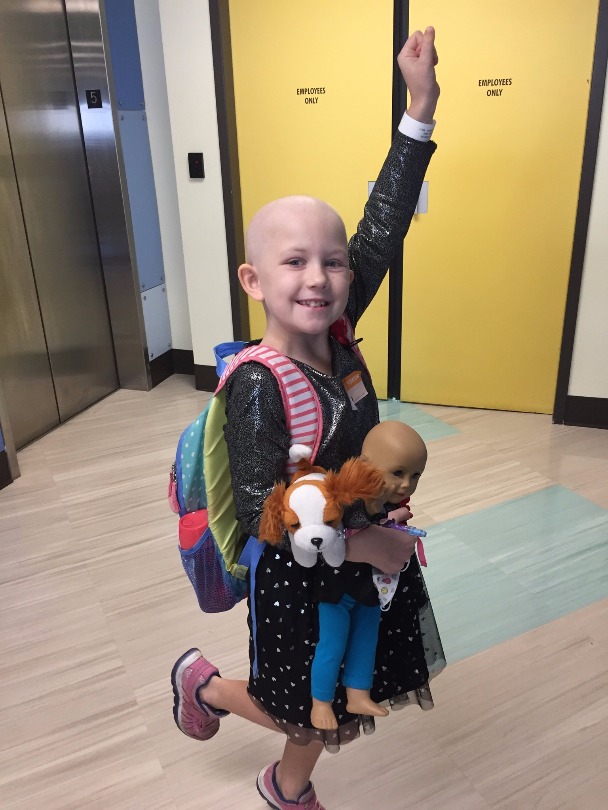 Grace and her doll Serena are inseparable. Serena helps Grace feel less anxious and lonely during treatment. Serena even has a central line, just like Grace.
Because of the impending transplant, Grace received chemotherapy to bring her into remission and now is enduring more chemo, plus radiation and steroids to wipe out her existing bone marrow. She's lost her hair again and feels sick and tired much of the time.
When she feels really bad, Grace likes to watch funny cat videos online with her doll, Serena. Serena wears pajamas and has a central line, just like Grace. She even has a tiny karate outfit to match Grace and her orange belt.
Grace started karate in June and loves it – especially when she gets to be fierce, which comes naturally to the little tiger.
"Even after she relapsed, when she was allowed to attend class she was the only kid in her level able to climb the foam wall and ring the bell," Melissa said. "It was sheer determination and she thrives when she can challenge herself, which is exactly what martial arts does for her."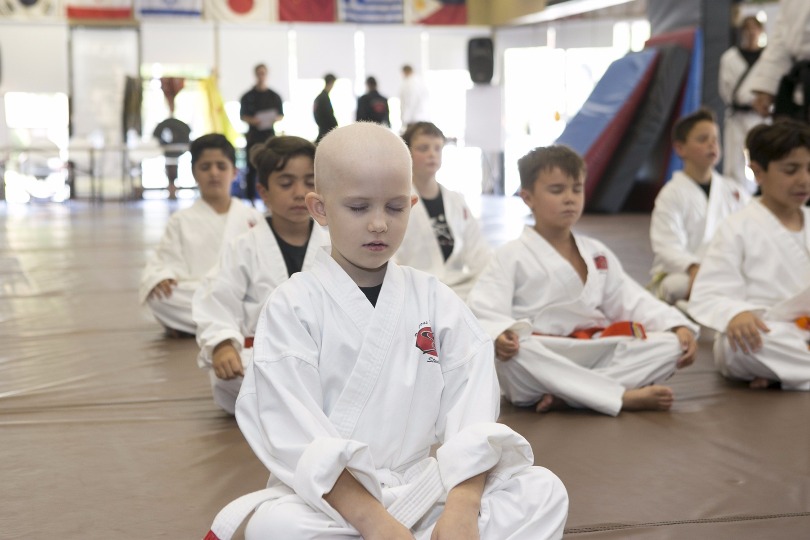 Grace finds inner peace during karate class.
Unfortunately, Grace hasn't been able to join her fellow karate kids in class lately. The intense treatment is wiping out Grace's immune system, so for her own protection, Grace is in isolation at the hospital.
It's tough, especially being away from her little brother Luke. They are best buds and love to play together.
Grace and her little brother, Luke, are best friends and have loved to play together ever since they were toddlers.
Since Luke can't visit her in isolation, they've had to get creative. They recently figured out they could play the game 'Guess Who' through video chat, with Luke at home and Grace in her hospital bed.
That's where Grace celebrated Thanksgiving. It wasn't a big feast at home with friends and family, but it was something.
"As long as she's able to keep fighting her cancer, then we will always have something to be grateful for," Melissa said.
We can take childhood back from cancer. Fund kids' cancer research today.
Donate
Read more about the research we fund on the St. Baldrick's blog: