Need some monthly inspiration? We've got it! Each month we will be highlighting one of our heroes right here on the blog. Without further ado, say hello to our first Advocate of the Month: Wendy Baskins. Wendy never backs down from a fight — just like her son, Stephen, who battled cancer three times. Read on for more about Stephen, what he taught her, and why Wendy fights for families facing childhood cancer.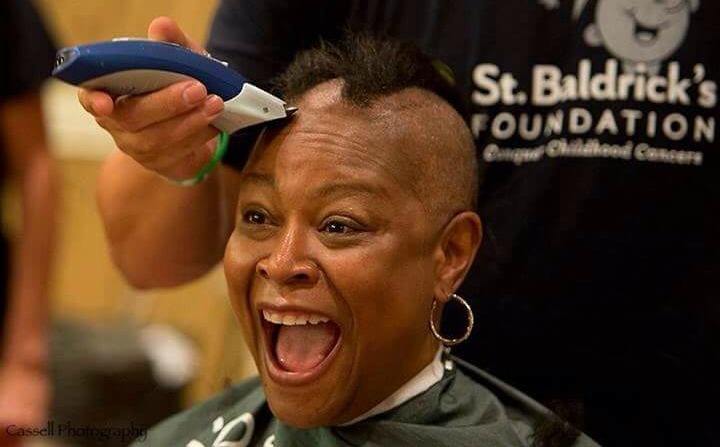 Wendy wears a big grin as she goes bald for childhood cancer research during the 46 Mommas Shave for the Brave event. Courtesy of Cassell Photography
When the going gets tough, the tough get going. That is one of the many things Wendy Baskins learned from her son, Stephen.
Stephen's first cancer diagnosis came at the tender age of 3 years old. It was medulloblastoma, the most common type of brain cancer found in kids. When she noticed her son's unsteady gait and bouts of vomiting, Wendy hadn't even thought of cancer as a possibility.
It was a shock, but right away Wendy started advocating for her son. Because of her insistence, the doctors followed a clinical trial protocol which hit the cancer with low-dose chemotherapy and radiation to reduce the threat of long-term effects, while still killing the cancer.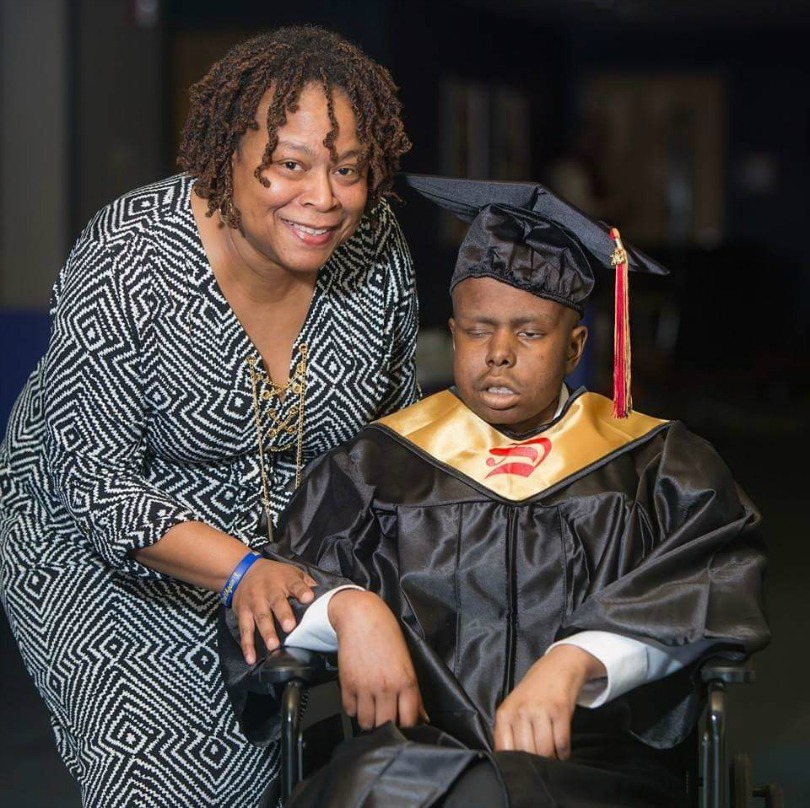 A proud Wendy stands with Stephen at graduation.
Stephen survived the cancer but would face challenges for the rest of his short life, despite everyone's efforts to avoid them.
"I still did not realize the lifelong impact, because he seemed to defy the doctors' predictions," Wendy said.
The treatment caused hearing loss and Stephen wore hearing aids when he started school. His left side was weaker than his right. He took growth hormones to try to correct stunted growth caused by the radiation treatments. Because of the damage to his brain, Stephen faced challenges at school in the classroom.
Learn about the 2 biggest challenges faced by childhood cancer survivors >
But Stephen always found a way around the obstacles cancer had placed in his path.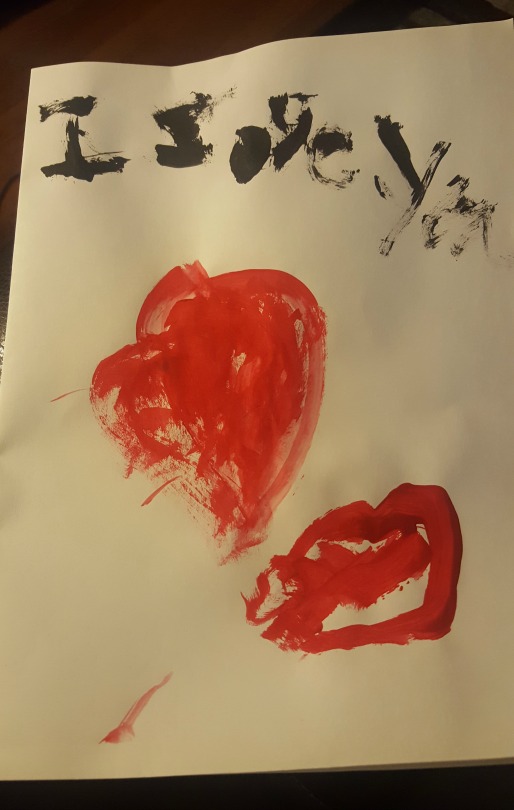 Stephen painted this heartfelt message for his mom on the day of his death.
He managed his school football teams, from elementary to high school, since he couldn't play. He gravitated to numbers, which made sense to him. He collected statistics on his favorite football players and did his multiplication tables faster than anyone else.
"Through all of this, Stephen fought hard to overcome his deficits," she said. "Often we would be up to one or two in the morning doing homework."
In July 2012, when Stephen was 15 years old, he suddenly doubled over in pain while at his grandparents' house. A tumor had broken through Stephen's large intestine and was blocking his small intestine.
It was cancer, specifically stage four colon cancer, likely caused by the treatments he received when he was a toddler.
He endured surgery to his intestines and six months of chemo.
"When things got harder for him, he dug in deeper to keep pounding," Wendy said of her son.
In 2015 the cancer came back, and one year ago this month, Stephen passed away.
Like Stephen, Wendy continues to dig deep, to keep fighting for other families facing cancer.
BLOG: From Cancer Mom to Advocate: A Journey of Passion >
The inexhaustible advocate has shaved her head twice with the St. Baldrick's 46 Mommas team, the first time in 2013. (Stephen wasn't thrilled about his mom going bald, but he relented, she recalled, "Because it was for a good reason.")
She went bald again in 2016 at the event in Las Vegas, showing up to shave in gold combat boots. Her slogan was, "This means war!"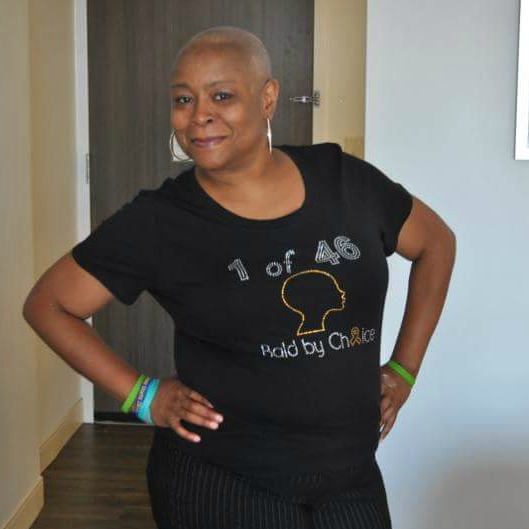 Wendy struts her post-shave stuff.
Last May, Wendy attended Childhood Cancer Action Days on Capitol Hill, where she met with legislators, shared Stephen's story, and rallied with the 46 Mommas.
"This is just another arm of doing something to help bring about change for our kids," she said. "The experience was amazing, but emotionally hard for me because I had just lost Stephen three months before. I felt so inadequate, but Stephen's story invigorates me."
Wendy also gives out gas cards to families going through treatment and runs an online support group for the parents of kids with medulloblastoma. The group now has almost 1,500 members.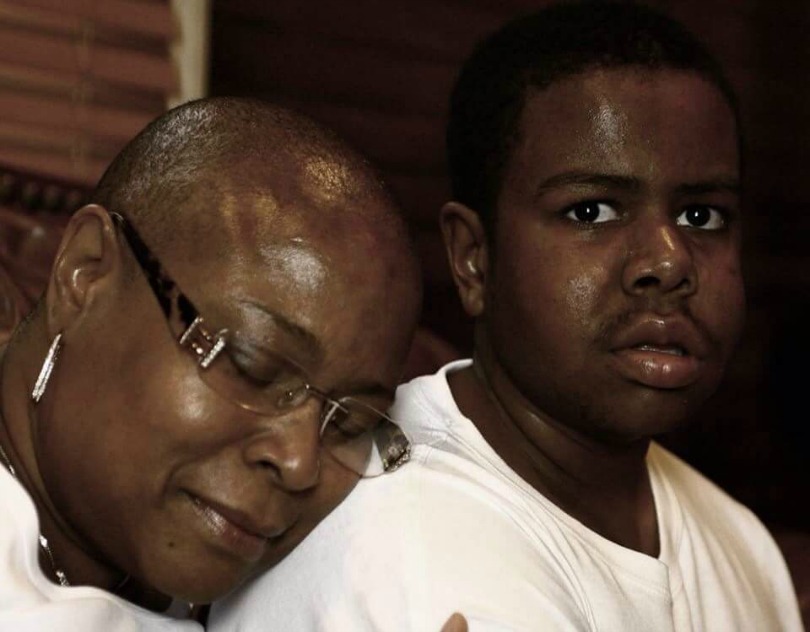 Wendy shares a moment with her son.
She'll be volunteering and raising funds this year with the 46 Mommas in Austin, Texas, and is looking to make her gas card donations — called Stephen's Purpose, because it was inspired by her son's own efforts — into a fully fledged nonprofit organization. Then, of course, she's hitting the Hill again for Childhood Cancer Action Days.
Wendy is a fighter, just like her son, and she won't stop until there are cures for all childhood cancers.
"There are different types of advocacy and I feel I have only scratched the surface," Wendy said. "So, while we are waiting on cures, I advocate for families still in the battle. I advocate for awareness of childhood cancers, so no family has to fight alone."
Join Wendy in fighting for lifesaving kids' cancer research. Together we can take childhood back from cancer.
Read more on the St. Baldrick's blog: