Change your look and change the world for kids with cancer. Be a shavee℠.
I am on the cusp of 50. Today I'm 49 and tomorrow, the big 5-0!
I have to imagine that my friends and family have been wondering why I would choose to shave my head right before what many consider a milestone birthday, especially in the life of a woman — a time when it feels like we are clinging to that last bit of our youth, a time when many women begin to imagine that their beauty has begun to fade and the world has stopped taking notice of them.
For months before the 46 Mommas Shave for the Brave event in Boston, I grappled with the idea of shaving my head. I had shaved in 2010 with the inaugural group of Mommas, and not only did I have an amazing experience, but I managed to raise a nice chunk of change for the St. Baldrick's Foundation.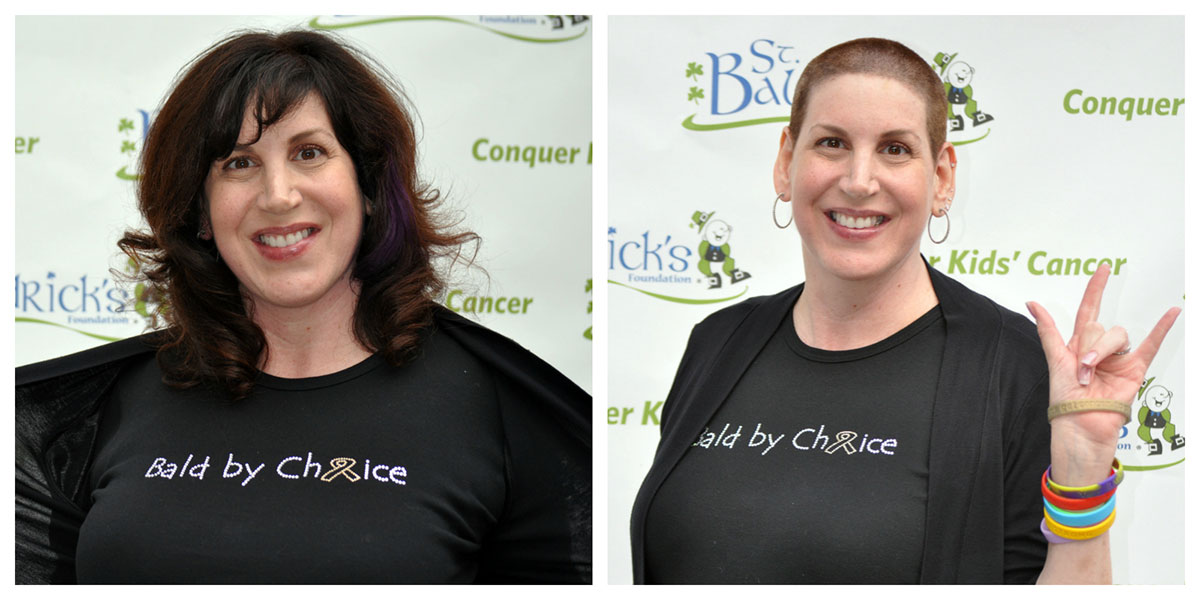 Alyson before and after her first shave in 2010. Photos by Kristy Williams.
This year, I was just torn. The fear of turning 50 and feeling ugly, of feeling perhaps not as feminine and pretty as I would like, had me telling everyone I was not going to do it — that I was satisfied helping to lead the event and raise money to fund lifesaving research for our children.
The day of the shave in Boston, I once again began to question myself and really think about the women I've met at these events over the past five years and their children. As I looked around the venue, I was searching for something to help me decide. Do I keep my hair and support my friends who had decided months ago to shave, or do I leap with the knowledge that somehow, bald and 50 would be fabulous?
I spotted Rabbi Phyllis Sommer and her husband, Rabbi Michael Sommer, and I approached them. This couple who lost their son Sam to childhood cancer and then shaved their heads with the 36 Rabbis are an inspiration to me. I asked Rabbi Phyllis for a prayer, something to help me with my struggle to make the right decision in a moment that had become totally overwhelming. She looked me in the eyes and took my hands and in Hebrew, she prayed.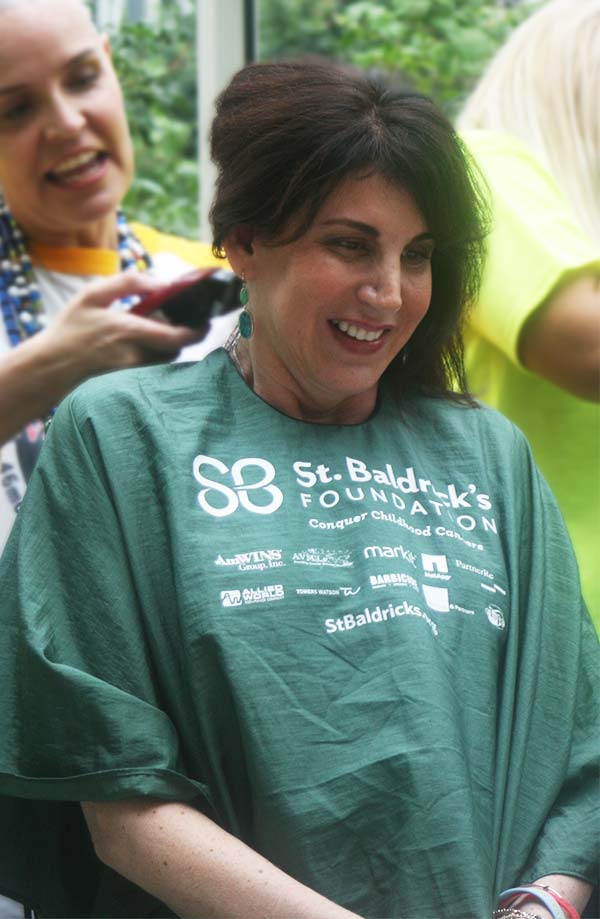 Alyson raised close to $7,000 for childhood cancer research this year.
I, being a somewhat fallen Jew, asked her what the prayer was. She told me it was a prayer of deciding, a prayer to help me find my way. She told me that whatever I decided would be right.
Ten minutes later I found myself with a green St. Baldrick's cape wrapped around my neck for the second time surrounded by some of my closest friends, women who know what I have been through, whom I love and respect more then I ever imagined could be possible.
As each one took the clippers in hand and my long, dark hair fell to the ground, I was finally free. Free of the fear that I would not be beautiful. Free of the fear that I would make the wrong decision. Free of all the stress and pressure and uncertainty that had been plaguing me for months.
I am 49 today and tomorrow I will be 50. Fabulous, bald, and 50.
For my son, for myself, for all of the children, I shaved for the brave. And it was good.
Alyson is still raising money for childhood cancer research. Honor her birthday, her son, and all children with cancer by donating on her page.
Be a shavee and show the world how good bald looks on you.
Be a Shavee
Read more about the 46 Mommas: