From the moment he was born, Ambassador Kellan has been fighting childhood cancer and its devastating effects. But he doesn't fight alone. His dad, Dan, is right there with him — and Dan wouldn't have it any other way. In honor of Father's Day, Dan wrote this letter to Kellan to share how blessed he feels to be his dad.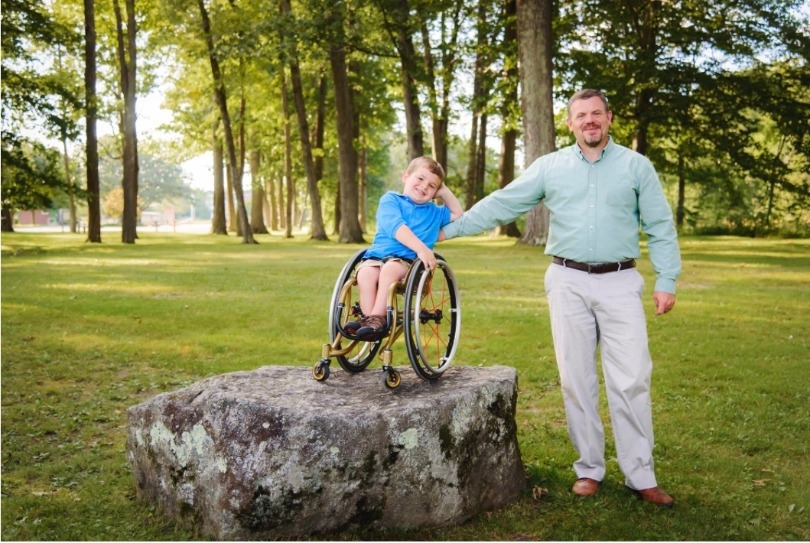 Ambassador Kellan and his dad, Dan.
Dear Kellan,
As I sit here writing this letter, you are in the operating room at Boston Children's Hospital. This is a familiar place to you, your Mom and me. As we walked down the halls yesterday to check in, waves of emotion came over me as I reflected on the past six years. We have spent many days and weeks here since your birth.
They've told us that your operation will be approximately nine hours, but I know it'll feel like a lifetime before I see you again. So, here I wait and try to put into words what it means to be your Dad. I don't know that it's possible to say exactly what it means to me. Although your smile and thumbs up prior to today's surgery tells part of it.
Since day one of your life, you have been an inspiration. We watched your battle with cancer begin on the day of your birth. Chemotherapy started on day three. Your tumor resection surgery was month three. Hundreds of visits to the doctor, scans and appointments followed. At 17 months, you got your wheelchair and started to run, Kellan style. At year five we celebrated no evidence of disease — cancer free! Although you are free from cancer, you are paralyzed. Cancer left its mark, but it doesn't define you or your remarkable life. This year, you were named an Ambassador for St Baldrick's, an honor I know you don't take lightly. Your willingness and ability to advocate for all children and families impacted by childhood cancer humbles me. You speak about it from the heart and I am filled with pride when you and your Mother work so hard for others.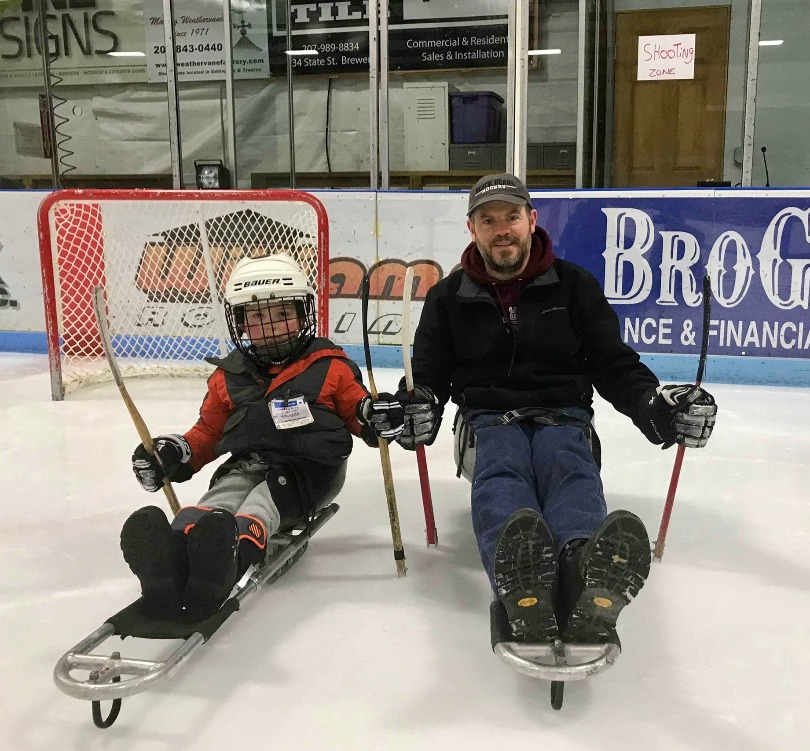 Kellan and Dan suit up to play a game of ice hockey.
So, what does that all mean to me?
It means I am very blessed to be your Dad. At 6 years old, I watch you teach the world, including me, life lessons. You are a fighter (take that cancer!), you persevere through difficult times, you rise to challenges that life throws your way, and you challenge yourself on the slopes, ball fields, playgrounds, in the classroom and even in our backyard. Through all those situations, your smile is contagious. I'm not sure of another 6-year-old that has been on TV, in commercials, podcasts, radio shows, local news stories and national stories as much as you have. As your Dad, it's not all that recognition and attention that I'm most proud of, it's the reasons why all these people and groups are attracted to you that makes me proud. Your positive thinking, thumbs-up approach to everything makes people smile. It's impossible to have a bad day when I see you "running" through the house with your smile. Simply said, Kellan, your joy is contagious.
You have helped me and others look at you as Kellan, the 6-year-old boy, full of love and life. Friends, family and even strangers look at you and smile. You are a bright spot in the life of so many. You don't look at life as one challenge after another, you look at life as an opportunity. I am so very proud of you for that.
As Father's Day approaches, I also find myself reflecting on my Dad. Although I am saddened that you, your brothers and sisters never had the chance to meet him, I smile when I think of how similar you are to him. You have a similar spirit and gift to impact the world with your positive approach to life. I see the best parts of Grampa Scott in you and it makes me smile.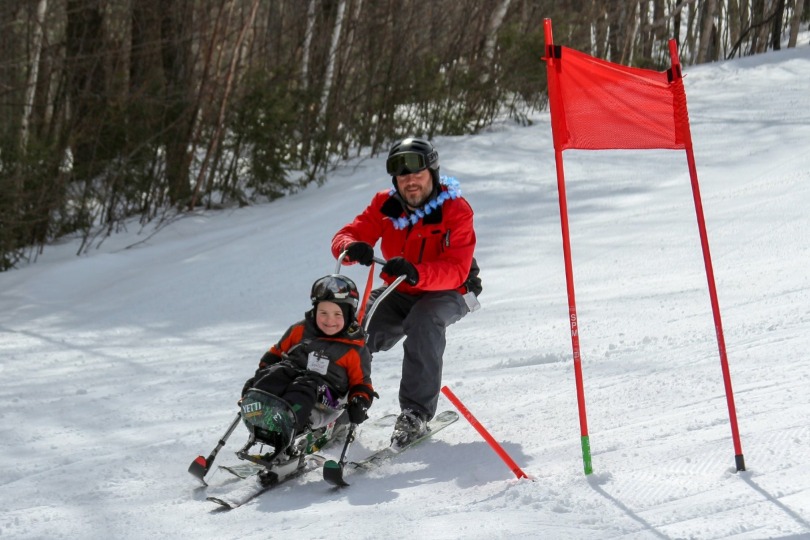 Kellan beams as his dad guides him down the slope.
Your surgery is now over and you are in recovery. Another mountain climbed today. You continue to amaze me.
Kellan, you truly are an inspiration to me and others around you. I love you more than words can express and I'm looking forward to the years ahead, watching you navigate through all the opportunities life has to offer with your infectious, positive attitude surrounding us.
Love,
Dad
Celebrate Father's Day by funding the most promising childhood cancer research, so childhood cancer survivors like Ambassador Kellan have the chance to live full, healthy lives.
Donate >
Read more on the St. Baldrick's blog: