2012 Ambassador Sarah's childhood cancer journey was nothing less than difficult. But through it all, she had the constant support from her mom. Read Sarah's sweet letter to her mom for Mother's Day.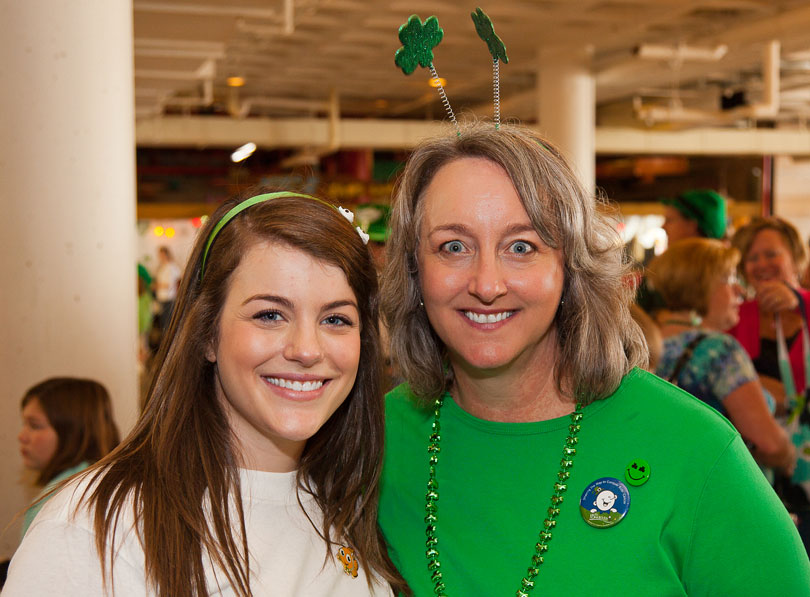 Sarah was diagnosed with biphenotypic leukemia in August 2003.
Dear Mom,
Where do I even begin to thank you for all you have given and done for me? To be honest, it's a little daunting.
You see, not only did you welcome me into this world, raise me through my terrible twos, and handle me gently through my sassy teenager stage, you also were there for me during the hard days and long nights.
The phrase "you were there for me" grossly understates all that you have done.
Read Sarah's childhood cancer story >
You, Mom, were the only one who believed the pain I was in before I was diagnosed with leukemia. You knew in your gut before the words were even spoken that something was not right. You stood by me, doctor's appointment after doctor's appointment for nine long months, urging them to look closer, and standing your ground when they didn't find anything wrong other than what they dubbed "growing pains."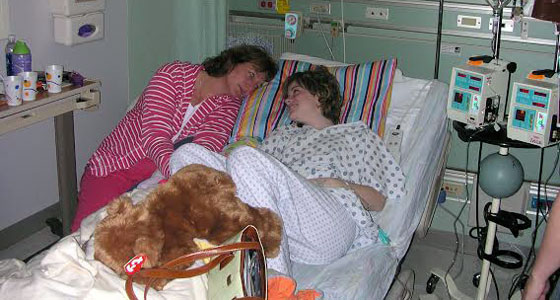 Sarah's mom stayed by her bedside during treatment.
After I was diagnosed with leukemia, you became my walking medical record, diligently keeping a log of every poke and prod. To this day, I can ask any question about my medical history and you can give me times and dates that have forever been branded in your mind.
You did your research, learned all the statistics, and never once showed me the fears that began to form in your mind. You never once cried in front of me for fear that it would make me lose focus on the big picture of beating my illness.
"You were not only my mother," Sarah said, "but also my caregiver."
During treatment, you gave up work, sleep, friends, family, and all social life to help me heal. You were not only my mother, but also my caregiver.
You got up for every medicine pump. In fact, every time I moved, you sprung up off the daybed like someone had screamed, only to find out I had to go to the bathroom.
You dealt with my not-so-caring complaints of your snoring. You even found humor in me throwing a mini flashlight at you because you were snoring one night!
You have insisted on coming along to every doctor's appointment since my diagnosis, even though I am almost 27 years old. I know this is because you fear that the one time you don't come along will be the time I relapse — again.
Read about the biggest threats facing childhood cancer survivors >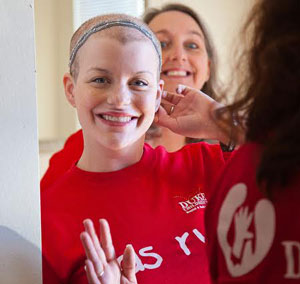 Sarah's mom always has Sarah's back through everything.
Relapse is something we talk about often. Your fears reflect mine, but together we overcome them. You are my confidant, my therapist, and sometimes my medical consultant on the subject.
I have always been in awe of the way you have used your love to do what is best for me. Anytime I was scared, anytime I wasn't sure what course of action to choose, anytime I challenged what a doctor was doing, you always had my back. You knew what would keep me going, whether it was coordinating my cat to visit me in the hospital, or making me confetti cupcakes (when I hadn't eaten in a week) because I had a craving. You always understood what was important to me and made it happen!
You have always been my sidekick on every life adventure, my medicine to make me feel better, and the best hug giver when that was all I needed.
Momma, thank you for always being exactly what I need!
Love you more,
Sarah
Thank a woman in your life for all she does with a special ecard for Mother's Day. Fund childhood cancer research and send an ecard today.
Send a Mother's Day ecard
Celebrate Mother's Day on the St. Baldrick's blog: