Daniel was diagnosed with childhood cancer when he was 11. Now 25, he's in medical school and he shaved his head for St. Baldrick's in March to help fund children's cancer research.
As a young boy, I loved to play basketball.
I loved the ball-handling that the coaches taught us. I loved the teamwork that went into winning games. I loved the feeling of making a shot into the basket. I loved the fact that I could outrun and out-maneuver the other payers because I was small and nimble.
But that January of 2001, I did not like the game one bit.
I was at tryouts for my middle school's basketball team and of course I was so excited for the day to have finally come. But when the coaches started making everyone do drills, I had a very hard time keeping up with the other boys.
My chest was tight. I was wheezing and felt short of breath. I brushed it off to being a "coach potato" the entire summer, but it did not get any better over the course of the three days of tryouts.
This was the beginning of a journey I will never forget.
After countless blood tests, x-rays, a PET scan, a CT scan, an MRI, and seven misdiagnoses, I was in the emergency room at Children's Hospital Los Angeles facing, unbeknownst to me then, a non-Hodgkin T cell lymphoma diagnosis and a two-year intensive chemotherapy regimen.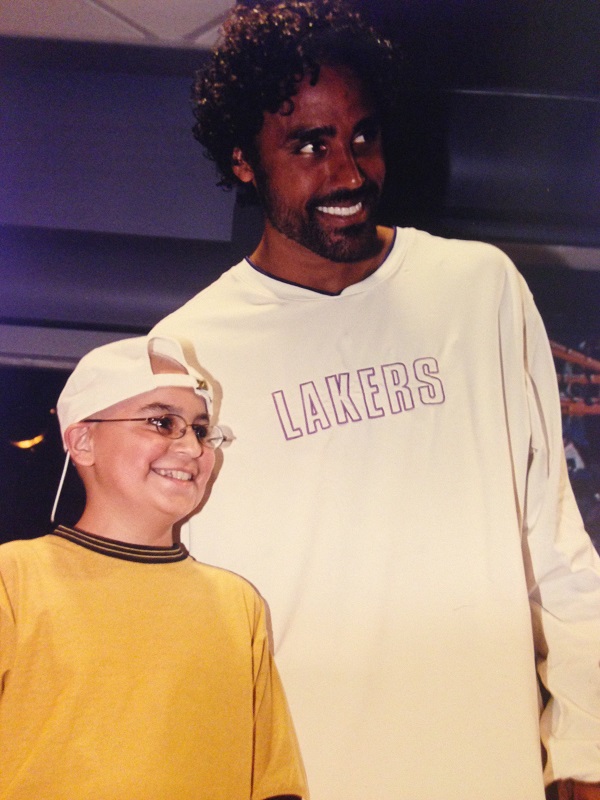 Daniel with former NBA player Rick Fox while Daniel was in treatment for childhood cancer.
As I lay there, I knew something big was happening and my life would never be the same. I just never imagined it was cancer — something that, in my innocent 11-year-old mind, only happened on TV.
I am now in remission, but my journey isn't over.
I am 25. I graduated high school, college, and graduate school, despite facing a heap of long-term cognitive, emotional, and physical side effects from my childhood cancer treatment, some of which only began to surface during college.
But, just like my attitude during treatment, I realized that these new challenges, despite being beyond frustrating at times, only made the journey of life more adventurous.
No matter what happens, I know that I have proved to myself that I can do it and that I have at least two things going for me, which many do not have: persistence and determination. I have faced my own struggles and difficulties in my academic career, some of which would have made many give up on becoming a doctor.
I am proud to say that I am a medical student at Nova Southeastern University for Osteopathic Medicine. I know that I still have many hurdles ahead of me, but by looking back at my successful attitude and my victories thus far, I can look forward and know I can jump all the hurdles in my way.
All kids with cancer should have the opportunity to realize their dreams. You can help — donate to childhood cancer research.
Donate to research
Read more on the St. Baldrick's blog:
Keeping Kiel's Spirit Alive: Laughing, Crying, and Shaving My Head
Sara's Journey from Childhood Cancer Survivor to Registered Nurse
Working with Heart: St. Baldrick's Researcher Survived Childhood Cancer as a Teen