Just days after learning her cancer had returned, Ambassador Daisy went in for surgery to remove the tumors on her spine. Her mom, Natalie, shares this update, along with a sweet video message from Daisy to you.
On Tuesday we came to the hospital for Daisy's pre-op physical.
For the past three days she had mostly been sleeping. She was having difficulty walking and she complained of head pain and dizziness. She was eating very little.
I asked the surgeon how fast the tumors can grow. That is the one issue I am most fearful of since they can't do surgery on her brain considering there are too many tumors.
The surgeon said if the pain persists, they will order another MRI.
We signed authorization to donate her tumors for research, something we feel strongly about in hopes of helping other families and their children diagnosed with this monster. Daisy actually had to sign the authorization as well and felt very important in doing so.
BLOG: Meet Daisy >
Yesterday we got to the surgery center at 5:30 a.m. so she could have antibiotics prior to surgery. They had to measure her leg to keep an eye out for blood clots.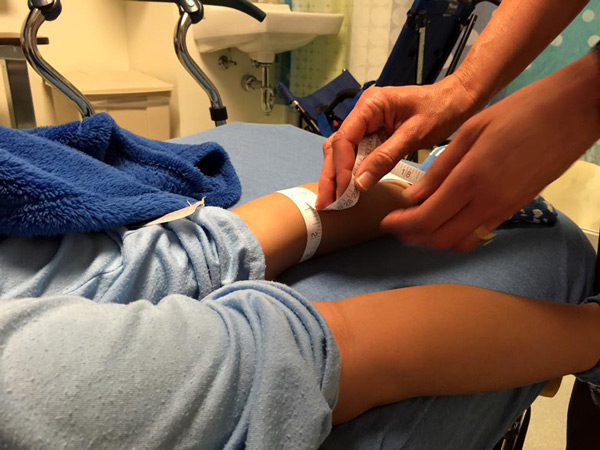 Leg swelling is a sign of a blood clot, a deadly complication of brain surgery.
They took her and Maggi, her stuffed dog, back to the operating room. She was brave as always and held my hand as she fell asleep.
She looked so tiny on the big bed. I managed to hold back my tears until she was asleep.
It's so hard to believe that a week ago she was fine.
A tired Daisy rests in the bed next to her stuffed dog, Maggi, before her surgery.
Daisy came out of surgery with a smile on her face and wanting to tell a joke to Dr. Handler.
Her joke: Why was Tigger looking in the toilet?
The answer: He was looking for Pooh!
They removed the two large tumors on her spine, as well as some bone from near her spine and coccyx. They placed a new port in her chest for the treatments she will receive for the next year.
She is feeling so much better than before surgery!
Daisy is aware of the love notes and prayers you've been sending. Here is a message back from her to you with so much love.
She says, "I'm done with my surgery and I know you're worried about me and I'm OK. Love you all!"
Kids like Daisy need YOU. Get involved today.
6 Ways You Can Help Kids With Cancer
Read more about Daisy: