Last Thursday, Ambassador Daisy went to the hospital for a routine MRI. The next day, her parents received the worst possible news. "The second time is worse," her mom, Natalie, writes. "So much worse than the first time because this time we are aware of the brutal realities … the cruelness that is childhood cancer."
I love his British accent, but today I didn't want to hear him speak.
I didn't want to hear the words that would once again change our lives.
I already knew why I was there, sitting in a room waiting for Daisy's oncologist.
He sat down and stretched out his long legs and I just sat, unable to look directly at him, all the while wishing more than anything else I wasn't there.
Wishing more than anything else it wasn't my beautiful daughter.
Wishing more than anything else no parents ever, ever had to sit listening to the words that break you.
When his words came out they were tender but his voice was steady and controlled.
Her cancer is back and has spread to her spine. She has two large tumors in the base of her spine and will have them removed on Wednesday. There are many small tumors scattered in her brain that are too small to operate on or remove.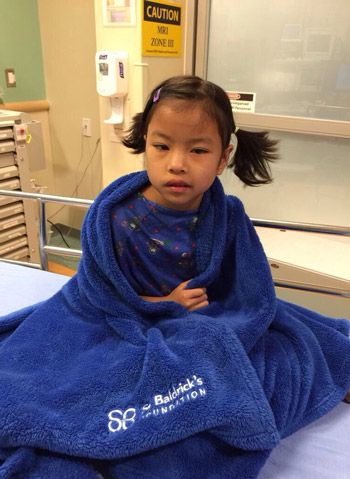 Daisy stays warm before her MRI.
We believe it is a recurrence of
medulloblastoma
but will not know until the tumors are biopsied.
I consider myself to be a very strong person and if I'm hurting, chances are you wouldn't know it. But his words numbed me as my body trembled with sobs that I did not recognize.
We have never taken a moment for granted since she was first diagnosed, but that time is gone and now we start new with his words of our daughter's shocking relapse.
It was only supposed to be a routine scan. She is only 18 months out from her last treatment. It wasn't supposed to happen like this.
"This is a life threatening event. There is a very good chance you will lose your daughter," he said.
My heart is aching in the worst possible way and our tears come randomly and easily once again.
I remember the crushing words Daisy's physician originally spoke to us in his British accent when she was first diagnosed with medulloblastoma in April 2013. "If her cancer comes back, there is no cure. It doesn't respond to treatment a second time."
The pain of his words has never left me. I have been acutely aware of how precious my beautiful daughter's life is.
The second time is worse. So much worse than the first time because this time we are aware of the brutal realities … the cruelness that is childhood cancer.
She is only 8 years old. No child should ever have to fight cancer. Yet, they do and not enough people do anything about it and our government refuses to see that cancer in children is a national problem.
Friday afternoon we learned that her battle is far from over. We don't know what our future holds but we do know that despite the odds, we will fight with every fiber of what makes us, us.
You can imagine we are filled with fear of the unknown and of our future, but we will hold on to every ounce of hope always.
Please pray for our girl.
Kids like Daisy need better cures, and they need them now. Help fund childhood cancer research today.
Give to Research
Read more about Daisy: