Nicole's son Miles passed away last March, after fighting medulloblastoma and persevering bravely through a host of other challenges for four years. As Mother's Day approaches, Nicole contemplates what the holiday — and every day with her boys — means to her.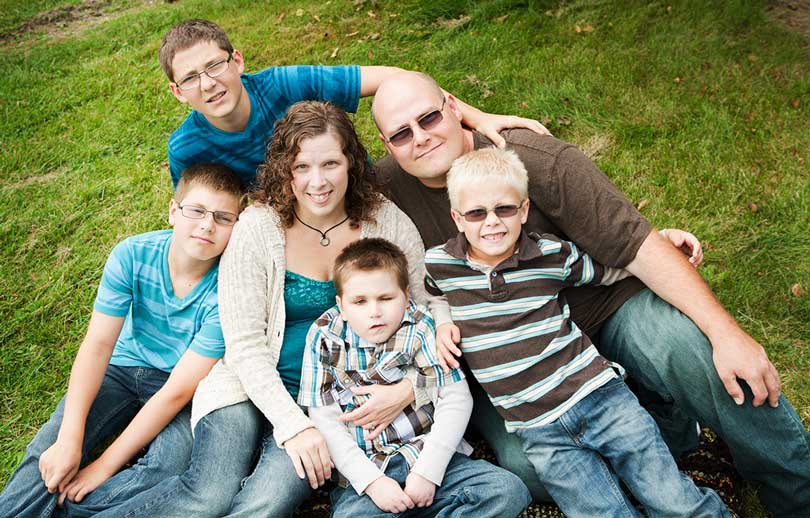 The Root family sits for a portrait.
Sunday is Mom's Day. That's what is noted on the calendar. We see it advertised everywhere and acknowledge it as a day to honor our mothers. We will do the same next month for dads.
To be perfectly honest, I hadn't really noticed until about two weeks ago when our grief counselor reminded me.
I won't say Mother's Day will be an easy day. Without the physical and earthly presence of Miles, there will be a piece missing in my day. Then again, there's a piece missing in my every day.
I am a mom of four beautiful boys. Regardless of what happens, nothing will change that. No distance. No disagreement. No selfish need. No life-altering event. Not even death.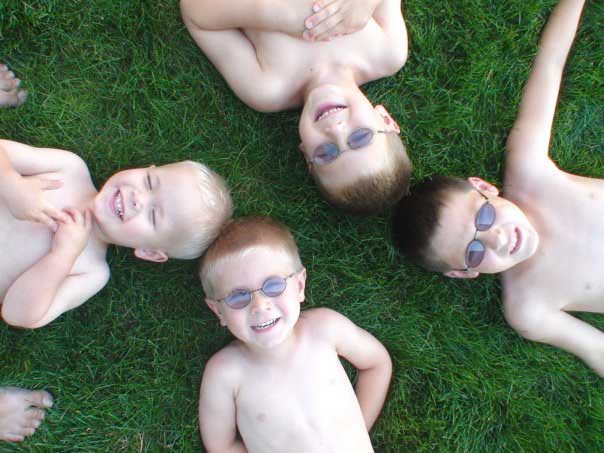 The four boys are all smiles as they lie in the grass together.
I celebrate every day that I have the chance to be a mom. Being a mom doesn't last for just one day, so why would I lump the celebration into one day? I don't lump my sorrowful tears into one day. They are there every day.
I choose to celebrate moments. My children make me feel special, in their own little way, each and every day. (Sure, some days require me to look a little deeper for those moments.)
It may not come in the form of a meal, a card, flower or piece of jewelry on the date set on your calendar. It may not come as we expect it to.
It may come as a hug. A kiss. An "I love you." A smile. A "thank you." The beauty of a sleeping child. A treasured memory — or more like a million. There are so many beautiful memories that they'll last a lifetime!
I remember one Friday afternoon in February, before Miles's diagnosis, when it was below freezing outside with blowing snow. Miles looked at me and asked, "Mom, can we go campin' this weekend?" That boy loved his campin' — no matter the weather!
I loved watching my four boys run in the sprinklers, and play Twister, monster trucks and Wii.
I cherished waking to Miles' sweet smiling face beside my bed in the morning.
And of course, I have fond memories of one of our favorite campin' activities — sitting around the campfire together eating s'mores and popcorn.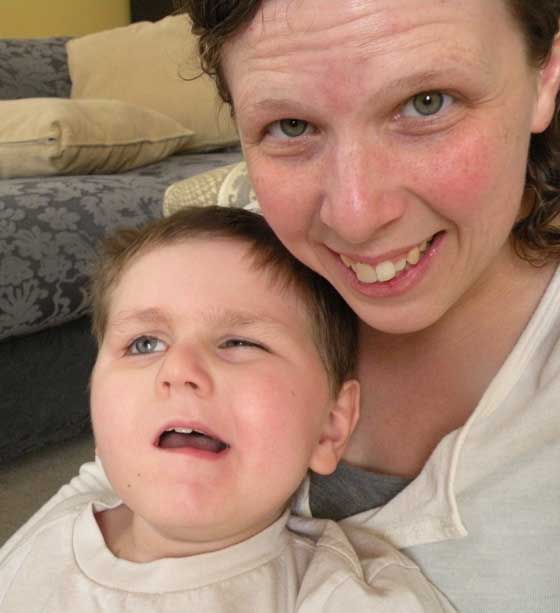 Nicole and Miles cuddle together in the last photo taken of them together before he passed away.
Being a mom or dad goes way beyond a title, way beyond a day, and way beyond the commercialism the day has become.
If we are there — truly there — our children will know and let us know they appreciate what we do each and every day. Our moments aren't given to us because we have a title. They are moments we earn by selflessly giving ourselves to our children.
Every day is Mom's and Dad's Day, as long as you are willing to see the moments. Every day with your child is a day to be grateful for.
Don't wait for your one day. Embrace your moments. Happy Mom's and Dad's Day — every day!
Say "Happy Mother's Day" today, tomorrow, or every day with the gift that gives back — contribute to childhood cancer research in your mom's honor and get an ecard that's sure to brighten her inbox.
Send an ecard
Read more on the St. Baldrick's blog: