Tap Cancer Out, a Brazilian jiu-jitsu nonprofit and St. Baldrick's partner, recently held their first West Coast tournament. We were proud to watch from the sidelines as BJJers of all stripes supported childhood cancer research.
Last month, about 150 Brazilian jiu-jitsu (BJJ) practitioners hit the mats at the University of San Diego and grappled for a good cause — ending childhood cancer.
Organized by St. Baldrick's partner Tap Cancer Out, competitors sweated, submitted, and swept their way to $16,000 for childhood cancer research.
Tap Cancer Out was started by BJJ practitioner Jon Thomas to raise awareness and vital dollars for cancer-fighting organizations by bringing the BJJ community together. The name comes from how a participant signals to the referee that they admit defeat — they tap their hand or foot, or "tap out."
Read more about the roots of Tap Cancer Out and its partnership with the St. Baldrick's Foundation >
The cause of childhood cancer is close to Jon's heart and the partnership with St. Baldrick's was "a perfect fit," he said. Jon's 9-month-old nephew, Michael, passed away from leukemia in 2006.
"He passed before he could even speak a word, but he fought like a champion. Even while hooked up to tubes and machines, he could light up the room with his smile," Jon said. "After his passing, I didn't want anyone else to experience what our family experienced. While I know that's not possible now, that wasn't going to stop me from trying."
Tap Cancer Out donated $100,000 to St. Baldrick's in 2014. Jon said that knowing where the funds are going and who they are supporting is a major plus.
"I've met one of our two researchers whose grants we are funding with St. Baldrick's, and that makes everything very tangible for us and our fundraisers," he said. 

Brazilian jiu jitsu practitioners compete during the Tap Cancer Out 2015 Winter Open.
Like Jon, many participants at the tournament had personal stories of cancer, including the tournament's top fundraiser, Sam.
Sam's son Isaac relapsed with acute lymphoblastic leukemia just a week before the open. After being in remission for four years, Isaac was back in the hospital, fighting for his life while his dad fought on the mat. Despite not being able to be at the tournament, Isaac still got to see his father grapple in his honor.
"During Sam's match, his other son, Adam, used his smartphone to Skype with Isaac so he could watch his father compete," Jon said.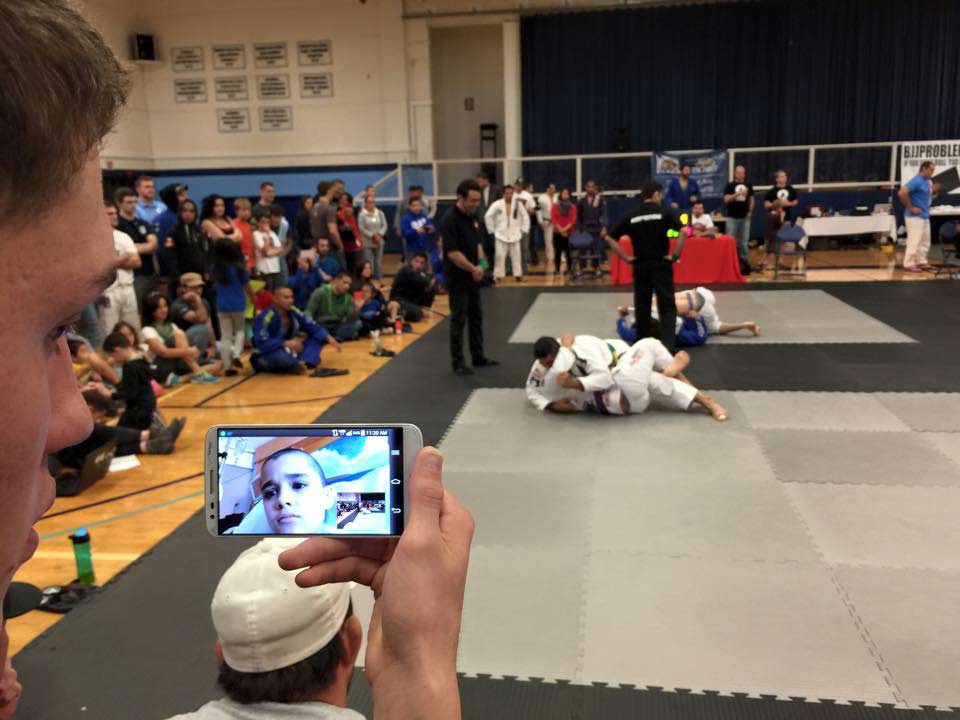 Isaac, who has acute lymphoblastic leukemia and is in the hospital, watches his father compete in his honor through Skype during the Tap Cancer Out Winter BJJ Open.
Another participant fought in honor of his late wife and won gold in his division, Jon said, while another shared that his mother had passed away from cancer the night before the tournament.
"It's these stories that really put things in perspective and motivate all of us to continue striving to make Tap Cancer Out a success," Jon said.
Children fight for their lives every day. Learn more about childhood cancer now.
Learn more
Read more on the St. Baldrick's blog: