Twelve-year-old Jack is shaving in honor of his hero — his sister, Chloe. The little girl, nicknamed Coco, was diagnosed with acute myeloid leukemia (AML) before she turned 2 years old. She also has Down syndrome. Now, Coco is in remission and just as peppy and smiley as ever. "She's really fun to play with and funny," Jack said. "She makes me laugh."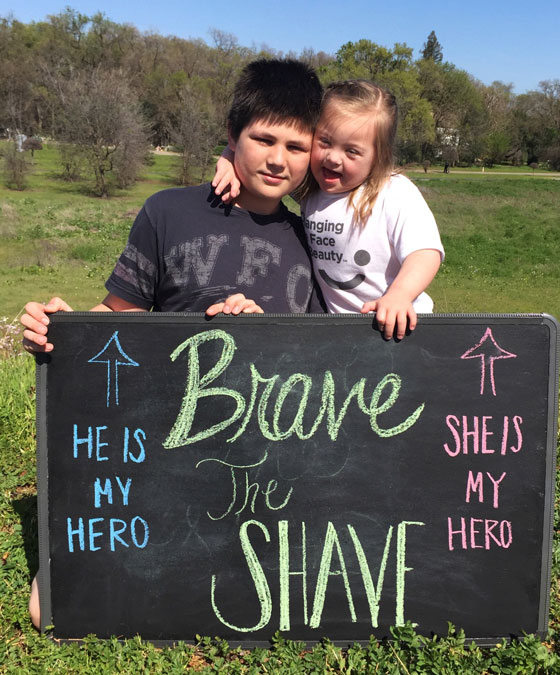 Jack is shaving his head and raising money in honor of his little sister Coco, who is in remission after fighting AML.
Help Jack raise funds for childhood cancer research! Donate on his shavee page >
When he heard that he was going to have a sibling, Jack wanted a baby brother. But five years later, he doesn't mind that he got a baby sister instead.
"They are just best buddies, those two," said their mom, Beth.
Jack and his little sister Coco like shooting Nerf guns together, eating ice cream and playing hide-and-seek.
(Jack said a typical game goes something like this: "If I say, 'Where are you?' she says, 'Over here!'")
When Coco was in the hospital, he would play Barbies with her.
Coco, who has Down syndrome, was diagnosed with AML right before her second birthday. She was in isolation at the hospital for nine months, through six rounds of chemotherapy and two spinal chemo infusions.
The doctors would tell Beth that one round or another would get Coco down. But it didn't happen.
"Coco would just look at them [the doctors] with her big bald head and smile."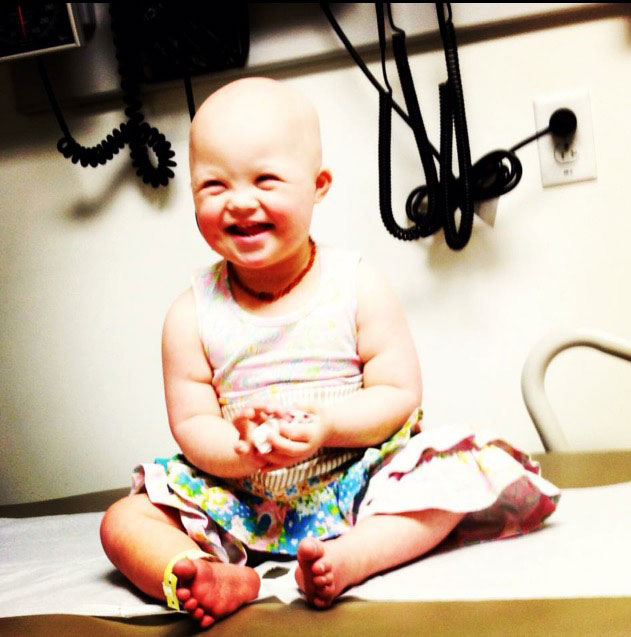 Coco didn't care about losing her hair, and her mother thought she wouldn't mind either. But then came the day Beth held clumps of Coco's hair in her hand. "It's just kind of a marker, like, 'She really does have cancer.'"
Though she lost her hair, she never lost her spunk.
(She had so much spunk that she routinely pulled out the lines that were implanted to administer her chemotherapy.)
"She's a little pistol," Beth said.
But even with Coco's unflagging attitude, the journey was hard.
"We went from being a family that sat down every single night for dinner, to the entire family being split up for nine months," Beth said.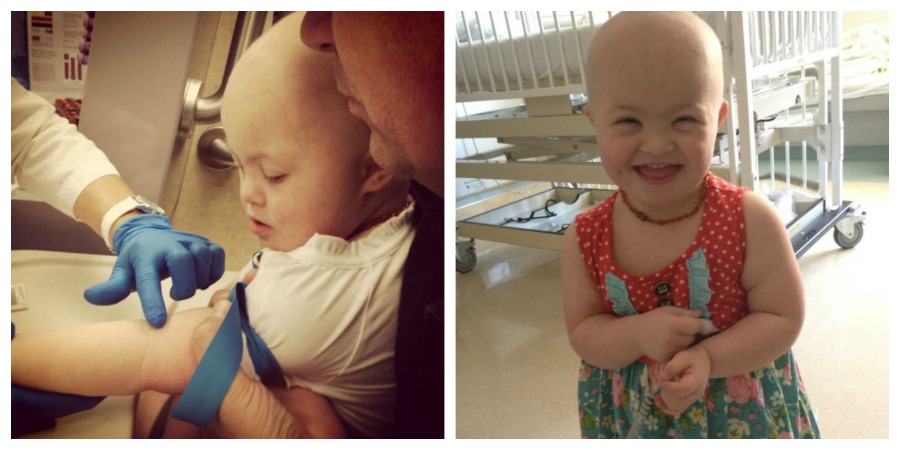 Coco smiled all through her time at the hospital. Doctors would routinely visit her room to cheer themselves up after a hard day, Beth said.
She and her husband took care of their six kids in carefully orchestrated shifts, but she still worried about everything from how their teenagers were getting to volleyball practice to how their newly adopted daughter was doing. (They were in Ukraine adopting another baby with Down syndrome when Coco got sick.)
"For me, I got to be sitting in a hospital room, doing nothing and feeling helpless," Beth said. "The whole world goes on and you're in a quiet room, listening to the pump."
Jack would visit the hospital after school with his dad. He and Coco played with action figures together and took walks through the ward.
"It was sad, because I had to see her get sick and lose all her hair," he said. But he never lost faith that she'd get through it.
Now, about two years after Coco left the hospital, Jack will be the one who will be bald.
He braves the shave on March 13 at his school event. He says he's doing it because, "St. Baldrick's funds research that saved my sister's life."
He's already encouraged four of his friends to shave and he's raised about $2,000 for childhood cancer research. He's currently the top fundraiser at the event.
"When you hear how little funding actually goes towards pediatric cancers, it's devastating," his mom said.
Learn about the childhood cancer funding gap >
"As a cancer family, there's always that chance that it's going to come back," she said. "Organizations like St. Baldrick's give us hope that there are people on our side — there are people fighting constantly."
Coco will be at Jack's shave. He thinks she will laugh and probably rub his head a lot.
Jack has a lot of hopes for his sister's future. He hopes that she's accepted for who she is, that she lives a normal life and that she's happy. He quickly adds one last hope to his list — "And she stays healthy."
No matter what, he'll always be there for her.
Help Jack honor his sister Coco. Give on his head today!
(It'll make her smile and you know you want to see that!)
Give
Read more on our St. Baldrick's blog: