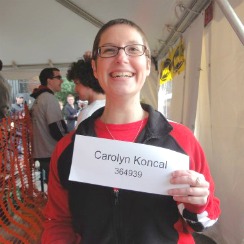 Carolyn gets ready to shave her head for kids with cancer.
Leukemia survivor and three-time shavee Carolyn Koncal shares her experience as a teen with cancer and tells us why she thinks Bald is Beautiful.
In January 1994, I was diagnosed with acute lymphoblastic leukemia, a type of childhood cancer. I was 14 years old and in the 8th grade. Being diagnosed as a teen wasn't easy. I became isolated from my friends and classmates, my priorities in life changed, and people treated my differently because I was the "girl with cancer."
I was losing control over my life, when my friends were gaining control and independence in theirs. I had to stop going to school due to the risk of getting sick, and I got a tutor just so I could graduate on time. I spent my days in a hospital or at home alone. When I did get to spend time with my friends, no one knew what to say, and I grew apart from them.
Carolyn's 8th grade school picture before leukemia treatment, and during treatment, in high school.
When I started high school, I was bald. I went to a Catholic School and decided that I would stick out more if I wore a hat than if I was just bald. Everyone in my high school knew me, which was good and bad. It was nice that people said hi to me in the hallways, but because I was the "girl with cancer," I felt people treated me as if I would break.
I didn't finish my chemotherapy treatments until I was a sophomore, so there were many things I wasn't able to do that my classmates could. I missed many days of school for hospital visits. My priorities were different from my classmates; I didn't care about grades, or what the "in" thing was. I had just faced death head-on. I had survived cancer, and I was happy to be alive.
There was one good thing that came from having cancer at such a young age. I became a member of the "cancer community." My doctors encouraged me to go to a camp for kids with cancer. At camp, I met others like me, and I finally found a place where I belonged. I learned how to live in the moment and not take life for granted. After I finished two and a half years of chemotherapy, I went on a Special Wish trip to Disney World with my family, an experience I will never forget.  The cancer community isn't something anyone wants to join, but once you do, it changes your life.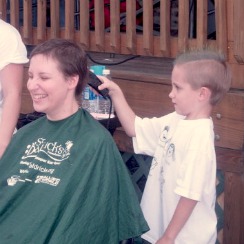 Honored Kid Bo Baker shaves Carolyn's head at her first St. Baldrick's event in 2009.
Jumping forward to 2009, I decided to shave my head for my first (and what I thought would be my last) St. Baldrick's Foundation event. Even though being bald caused me to be isolated as a teen, I loved not having hair. I always knew that one day I would want to go bald again, and the St. Baldrick's Foundation provided me with that opportunity!
The day of the event, I remember being slightly nervous because I did not know what I would look like and if I would still have a nicely shaped head. As my head was getting shaved, it tickled, and I could feel the cold air on my scalp with each pass of the razor.
Carolyn in the barber's chair, ready to shave for St. Baldrick's for the second time.
As I sat in the chair getting shaved, one of the hairdressers who volunteered to shave heads leaned over and told me I had a nicely shaped head. I laughed because she did not realize that I had been told that many times 15 years earlier.
This year was my third time shaving my head to raise money for kids with cancer. People often wonder why I continue to shave my head for St. Baldrick's, so I'll let you all in on a little secret: Shaving my head makes me happy. Believe it or not, I enjoy being bald, and I love that St. Baldrick's gives me a reason to shave my head.
"Shaving my head makes me happy…I feel beautiful when I am bald," says Carolyn.
I feel beautiful when I am bald, something I didn't always feel when I had hair. It gives me a chance to share my story and raise awareness about cancer and to tell people about the St. Baldrick's Foundation when they ask me why my head is shaved.
I shave my head for St. Baldrick's because of how it makes me feel on the inside. If I inspire other women to shave their heads, or if I empower another woman to have the confidence to embrace her baldness during cancer treatment, that is just icing on the cake for me. Shaving my head has been one of the greatest decisions I have ever made.
Help kids with cancer and discover a whole new YOU. Be a shavee!
Be a Shavee