If you're like me, you often have to remind yourself to slow down and appreciate the here and now.  It seems everything in modern life encourages us to focus on tomorrow. Stores promote Christmas shopping while children select Halloween costumes, and those same children spend their childhoods awaiting summer vacation or anticipating their next school year.
During the holiday season, St. Baldrick's CEO Kathleen Ruddy likes to reflect on the blessings of the past year.
Sometimes I feel I'm wishing my life away, which is why I appreciate the season from Thanksgiving to New Year's Day so much. It's one of the few times we officially take stock of our blessings, treasure our time with those we love, and encourage each other to reflect upon the past year.
Usually, I'm most grateful for the things that are new, like the approval of Kymriah, a CAR T cell therapy for kids with a particular type of acute lymphoblastic leukemia (ALL) and the first gene therapy approved in the United States. Given to children with few or even no treatment options for their cancer, this St. Baldrick's-supported therapy is effective in 83% of the children who receive it – children who can now celebrate the holidays and the promise of a future thanks to research supported by St. Baldrick's.
I'm also grateful for researchers like Dr. Michael Pulsipher of Children's Hospital of Los Angeles.  I recently heard him speak about his work to prevent relapsed ALL using cellular and immunological approaches, which was funded by St. Baldrick's and the Johnny Crisstopher Children's Charitable Foundation.
Dr. Michael Pulsipher is a St. Baldrick's researcher and bone marrow transplant doctor with Children's Hospital Los Angeles.
As a bone marrow transplant doctor, Dr. Pulsipher and his team are working to make the dangerous transplant procedure unnecessary. For children fighting cancer, this means no risk of graft-versus-host disease, along with lowered risks of organ damage, sterility, cataracts, growth issues and other endocrine problems. Dr. Pulsipher and his team are also working to eliminate the need for radiation to shrink tumors, which would eliminate the risk of a second cancer caused by the "cure" for the first.
His team is hardly alone in working on these problems.
When I came into this community 17 years ago, physician scientists spoke of the need for a fourth tool to fight pediatric cancers.  They generally felt the three existing "weapons" of chemotherapy, radiation therapy and surgery had progressed nearly as much as was possible. To improve survival rates and quality of life for patients and survivors, researchers needed a new weapon.  Many debated whether immunotherapy – harnessing the power of the body's immune system to fight disease – could be effective in treating cancer.
Today, thanks in part to research made possible by the St. Baldrick's community, we know immunotherapy is that fourth weapon – Kymriah is such an immunotherapy, using the patient's own genes to trigger their immune system to act. Even as we celebrate this breakthrough, researchers are working hard to study other genetic targets and develop new therapies. Never since the inception of the St. Baldrick's Foundation have we had so much cause for optimism and hope that even greater progress lies ahead.
Read the start of our blog series on Kymriah and learn how YOU made this breakthrough possible >
When I reflect upon 2017, I realize these accomplishments had their roots in work begun decades ago, and I'm grateful researchers and their supporters were looking ahead, driving forward and anticipating success.  So, while I am grateful for today, I am excited about tomorrow and the promise of better treatments for children with cancer.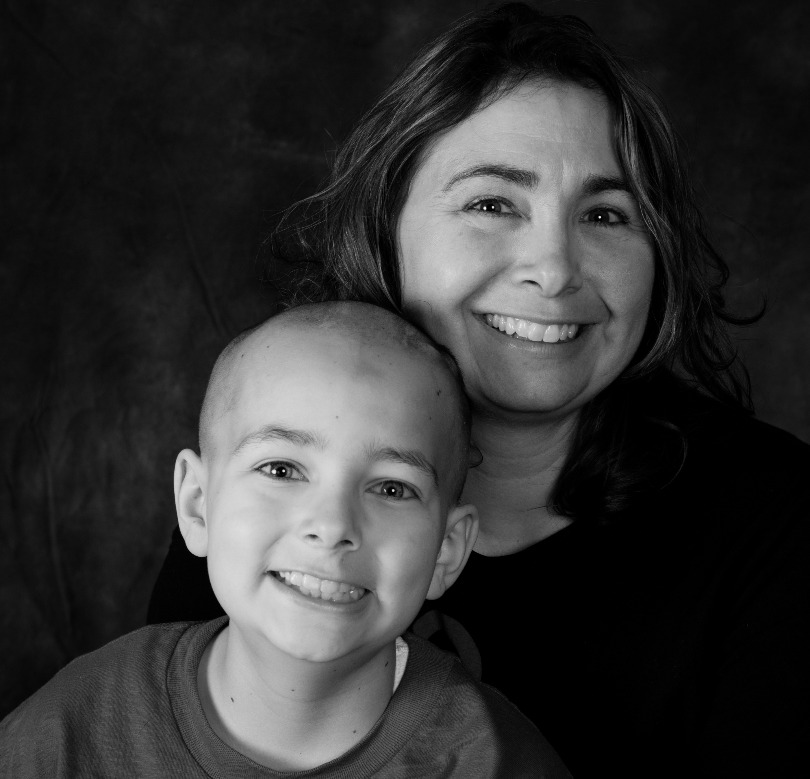 2012 Ambassador Justin with his mom, Lori.
Several years ago, Justin Miller, a 2012 St. Baldrick's Ambassador, expressed it best. He said, "Please thank everyone in St. Baldrick's for helping me be alive."
Read more about Ambassador Justin and his powerful impact >
The science didn't advance quickly enough for Justin to realize his ultimate dream to be a cancer-free boy, but in the years ahead we can take childhood back from cancer.  I cannot wait for tomorrow.
Together we can take childhood back from cancer. Fund lifesaving research today.
Donate

Read more on the St. Baldrick's blog: