During a unique internship with St. Baldrick's Scholar Dr. Dean Lee, Ambassador Lauren ran experiments on her own blood, leveraging her childhood cancer battle to further research into a cure. Join Lauren in contributing to childhood cancer research.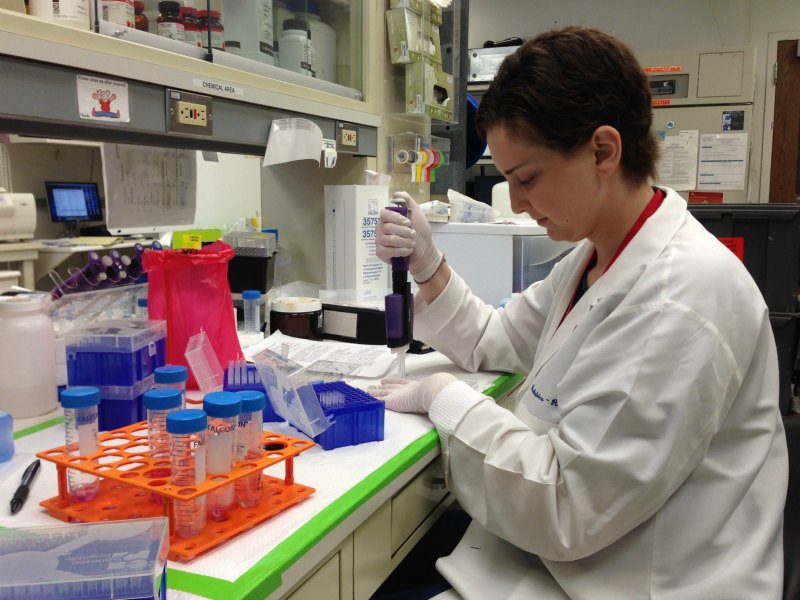 Ambassador Lauren was able to study her own blood during her internship with St. Baldrick's Scholar Dr. Dean Lee.
When Lauren was offered the chance at an internship with St. Baldrick's Scholar Dr. Dean Lee, she never thought she'd be contributing her own blood to science. When Lauren found out, she was elated.
"I thought it was really cool," she said.
Besides putting her cells under the microscope and using her blood in the lab's machines, she also got to see just how well her own cells fought neuroblastoma.
Neuroblastoma is a cancer of the central nervous system and is the most common solid tumor affecting children. Lauren was diagnosed with the cancer when she was 14. Now 17 years old, she has been declared NED, or no evidence of disease, and is planning for a career in pediatric oncology.
"After seeing these patients, I want to do so much to help them and make it so that patients later on, the next generation, don't have to go through what myself and so many other children have had to go through," Lauren said. "That's why I want to go into the pediatric oncology field."
During her internship with Dr. Lee at the MD Anderson Cancer Center in Houston, Texas, Lauren examined natural killer cells, or NK cells, one of the kinds of white blood cells in our immune systems, and their effect on neuroblastoma tumors.
Read more about Dr. Lee's research with natural killer cells and watch a video of NK cells in action.
"The doctors drew my blood and then they separated the natural killer cells, so they were by themselves, and then I got to see how well they were able to kill a neuroblastoma tumor," she said. "They actually did pretty well."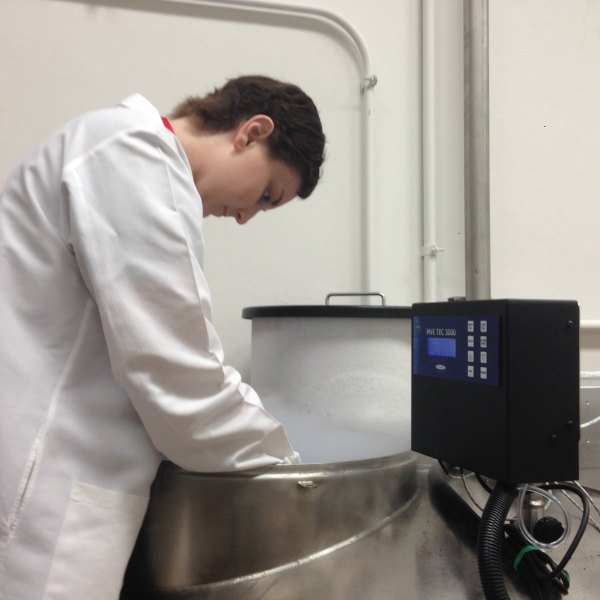 Lauren studied natural killer cells and neuroblastoma tumor cells in the lab at MD Anderson Cancer Center for her summer internship.
Dr. Lee received a grant from the St. Baldrick's Foundation to study how to better cultivate NK cells and deliver them effectively so they can be utilized as a treatment. His
immunotherapy
research has now grown into multiple clinical trials.
MD Anderson offers summer internships for high school students, so when Dr. Lee read about Lauren in a St. Baldrick's Foundation newsletter, he immediately thought it would be a good fit.
"I just thought that was a great opportunity and a way for me in one way to give back to the whole St. Baldrick's program, with her being an Ambassador and me being funded," he said.
Lauren wasn't limited to the lab during her internship. She also accompanied Dr. Lee to see his patients and watch procedures. Lauren enjoyed the visits with Dr. Lee's patients and connected deeply with what they were going through, but sometimes their journeys hit too close to home.
"It brought back times when I was in treatment and it got really difficult," she said.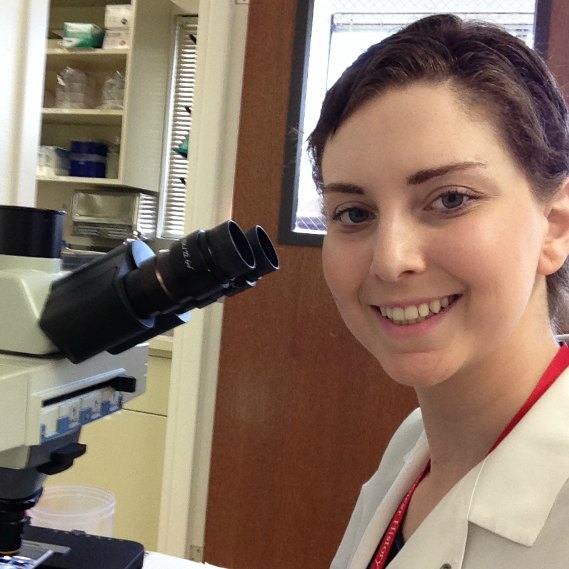 Lauren knew a lot about the treatment experience as a patient, but during her internship, Lauren got a new perspective.
She didn't expect to like lab work, because she thought it would be repetitive. But after her internship was over, Lauren decided she also wants to do research as a pediatric oncologist.
"They do use the same processes and procedures, but they're constantly having to create new experiments and finding new data that is really helpful to create new treatments," Lauren said. "Even though it's very repetitive what you're doing, I still found it very interesting for the time I was there and I was always learning new things."
During her four weeks in the lab, Lauren was able to contribute a few pieces of data. She primarily noticed that NK cells from patients who had neuroblastoma, like her own cells, more quickly and effectively killed neuroblastoma tumor cells, probably because they were familiar with them.
Lauren realized just how hard researchers work and how long it takes to get an adequate amount of good data that could impact cancer patients. Funding from St. Baldrick's, and other organizations like it, is essential to keep the research process going, she said, because there aren't many other sources of childhood cancer research funding.
Lauren could see herself as a St. Baldrick's Scholar someday, but for now she wouldn't hesitate to contribute to childhood cancer research through another internship.
"Hopefully I'll be going back to Dr. Lee's next summer," she said.
Contribute to life changing childhood cancer research. Donate.
Donate
Read more on the St. Baldrick's blog: