As Hayden's mom, Jackie, explains, nothing could hold Hayden back from starting kindergarten — not even childhood cancer.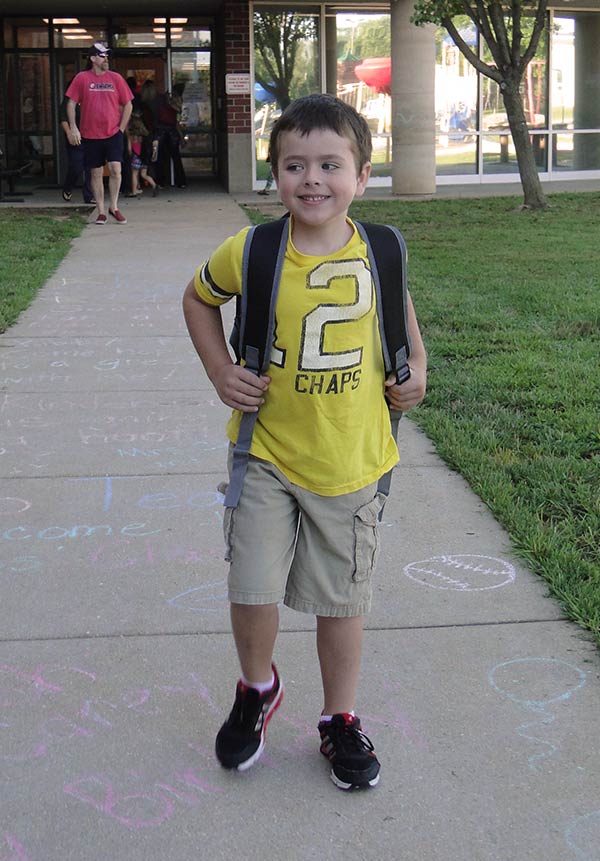 Hayden is still in treatment for childhood cancer.
Today was Hayden's first day of kindergarten.
He is currently in the maintenance phase of chemotherapy for acute lymphoblastic leukemia, which means daily oral chemo and a monthly visit to the doctor to have chemo through an IV or injected into his spine. This regimen will continue through February 2016.
Neuropathy in his legs — a side effect of his childhood cancer treatment — is still something that plagues him daily, leaving him with intense feelings of tingling and pain whether he is walking or sitting. It can make it difficult for him to play and get around as easily as other kids.
While it sounds like a lot, I don't believe there was anything that could have held this kid back from starting kindergarten.
Hayden was overjoyed about going to school. It was hard not to feel the same way because his happiness was so extraordinary, it felt contagious.
"Hayden was overjoyed about going to school," Jackie says.
Last night as we got everything ready to go, he wandered around and, in true Hayden fashion, made sure everything he needed was neat, tidy, and ready to go. He even wanted to stay up past his bedtime and work on writing the ABCs to prep for his first day of school.
I always thought I would cry like most moms on the first day they send their child off to kindergarten. But when I watched his excitement grow as we pulled into the school parking lot this morning, his bright blue eyes taking it all in, I realized I would shed no tears today.
Today was an amazing, happy, joyous day — one of life's moments that, as a parent, you never let go of. There were no tears of sadness about my baby getting older, just an overwhelming sense of joy knowing he gets this opportunity to experience kindergarten and to grow up.
He has fought hard, been brave, endured, and he earned this moment.
All kids with cancer should have the chance to celebrate milestones. You can help — get involved.
Get Involved

Read more about St. Baldrick's 2014 Ambassadors: