Birthdays are a time of celebration for most kids — a big party with presents, cake and balloons. But for Ambassador Cheyenne and her family, her upcoming birthday holds much more meaning. Read on to see what Cheyenne's mom, Amy, is reflecting on this year.
I've always thought of birthdays as a momentous occasion to celebrate life. With Cheyenne's 11th birthday coming up, a little more than one year after her childhood cancer diagnosis, this celebration of life is taking on an entirely new meaning.
VIDEO: Cheyenne's Childhood Cancer Story >
Last year Cheyenne's 10th birthday was the day after we were released from a one-week stay in the ICU at the children's hospital in Denver. All Cheyenne wanted to do was relax and spend a low-key day at home with family. So that's what we did.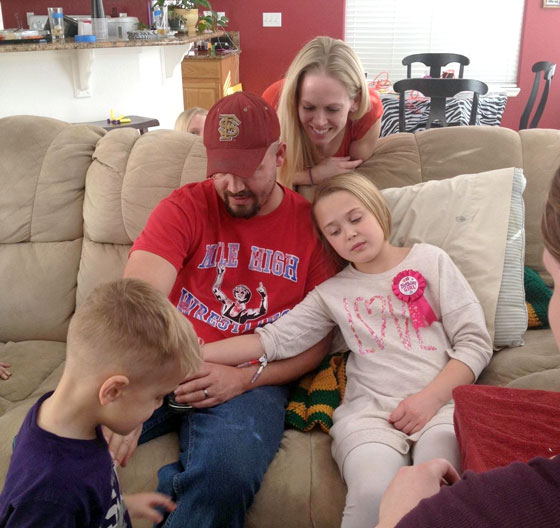 Cheyenne and her family enjoy a day of rest together.
It was one of the most low-key birthdays in her 10 years, but also a day filled with lots of love and tears.
Our extended family planned everything. They all came together at our house, bringing decorations, paper plates, food, cake, and, of course, lots of presents.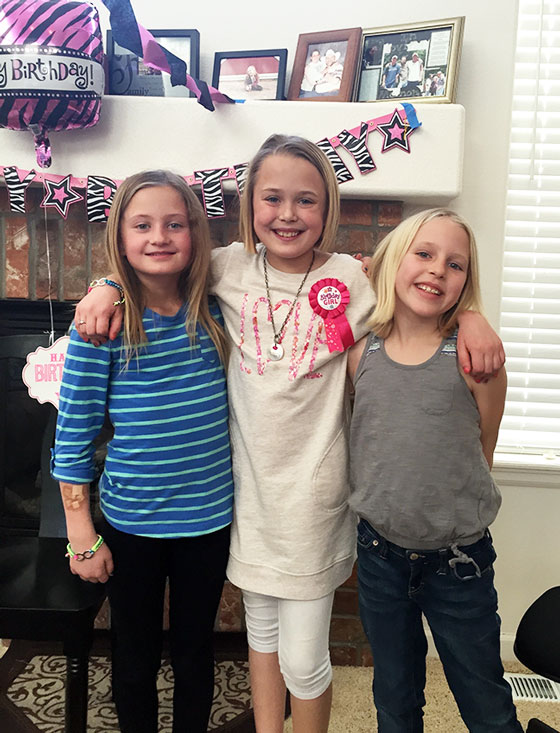 Cheyenne smiles with her cousin, Cayden, (left) and friend, Avery (right).
But if you asked Cheyenne what she wanted for her birthday, her answer was one thing: to keep her hair.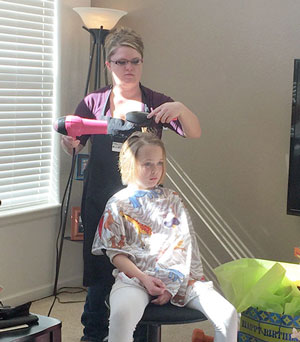 Cheyenne's cousin cuts her locks to fulfill her birthday wish.
You see, exactly one week before, we received the staggering news that Cheyenne had T-lymphoblastic lymphoma, an aggressive form of childhood cancer. We started her chemotherapy treatment immediately. During our stay in the hospital, they told us about the treatment plan, the side effects, and the other drugs she would have to take over the next two and a half years.
Learn more about childhood cancer >
The question Cheyenne kept asking was, "Will my hair fall out?"
The doctors and nurses told her that for some kids it does and for others it doesn't. She, of course, hoped she would be one of the few who would escape the awful hair loss side effect of those terrible drugs.
Over the course of our week at the hospital, Cheyenne was told by some of the nurses that the chances of her hair staying might be better if she cut it short. So that was what she wanted for her birthday: a haircut.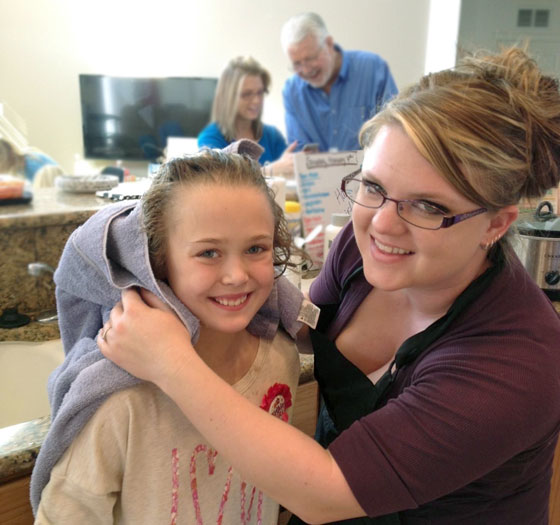 Cheyenne smiles with her cousin after getting her birthday haircut.
So for Cheyenne's 10th birthday, we had a "spa day." Our cousin, a licensed cosmetologist, granted Cheyenne's birthday wish. In the middle of our living room, with dozens of family members watching and crying, we witnessed a 10-year-old celebrate another year of life by cutting her hair, trying to outsmart those horrible chemo drugs.
Two weeks later, Cheyenne's hair started to fall out. Her daddy shaved it off — a much more emotional experience than her birthday haircut.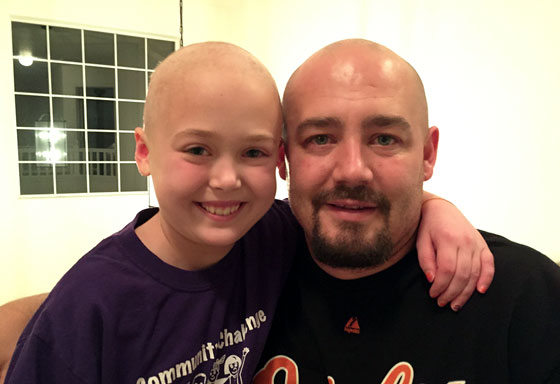 Cheyenne and her dad share an emotional moment.
Who knew hair could be such an emotional thing? It is to a 10-year-old girl.
Now, as Cheyenne's 11th birthday approaches, we're preparing for another celebration of life. A lot is different this year.
Cheyenne's hair is growing back in. We have made it through the most intensive part of treatment. We have learned an entirely new language of medical terms. We have become embedded in the childhood cancer community. And we have been living in the moment every single day.
Cheyenne goes all out for this year's birthday outfit.
So on Cheyenne's birthday morning, we will wake up, take a deep breath, and celebrate life.
Help kids like Cheyenne celebrate more happy, cake-filled birthdays. Give today to fund lifesaving childhood cancer research.
Give
Read more on the St. Baldrick's blog: