Last month, our social media and content specialist, Alison Sutton, got to spend another day with Honored Kid Aubrey. (If you missed their first day together, check out the photo essay here.) This time, there were no doctors, needle pokes or medications in sight — in fact, they were celebrating the end of Aubrey's treatment with a luau-themed party!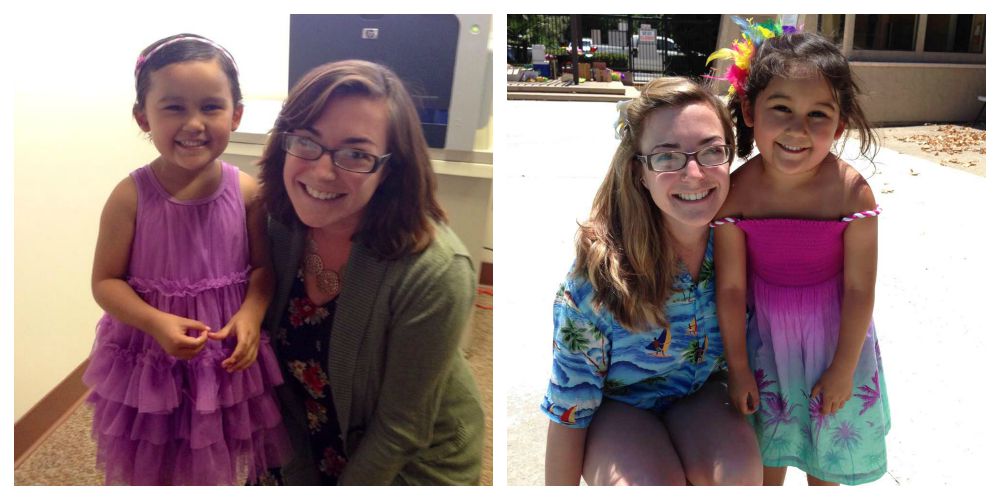 Aubrey and Alison in May 2014 (left) and July 2015.
I met Aubrey a little over a year ago when she came into the St. Baldrick's office for a photoshoot.
A few things have changed since then — the biggest being her health.
When I met this spunky 3-year-old girl in 2014, she was undergoing treatment for acute lymphoblastic leukemia, a type of childhood cancer.
Last month, I was able to celebrate the end of that chemo treatment with Aubrey!
So, how does a 4-year-old celebrate the end of taking her chemo pills?
With an "Aloha Chemo" party, of course! Complete with mermaids, Polynesian dancers, live music and a piñata.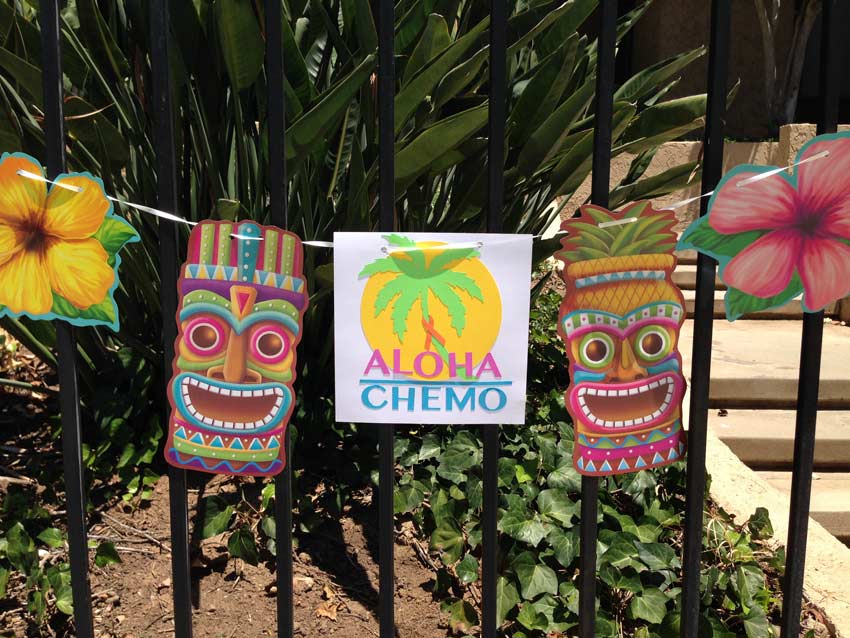 Aloha means "hello" and "goodbye" in Hawaiian.
As I walked into their community pool area, ready to help set up the party, I hear a familiar, little voice say, "How did you get here?"
One thing that has not changed? Aubrey's spunkiness.
"I was invited, missy. I'm here to see your awesome hula dancing."
"Oh."
As we began to hang the Hawaiian decorations, I asked Aubrey why she chose a luau theme.
"I've been learning how to hula. So I had to have a party and I'm going to have the best party EVER!"
She could barely hold back her excitement at that point and was ready for the show to start. Unfortunately, there was still another hour until her guests arrived.
I told her we were having a decorating party and she said, "But I need more people!"
Finally, her "fans" arrived and that meant it was time for her first outfit change: the mermaid outfit.
She wasn't the only mermaid that showed up to the party. A pirate brought in three more mermaids to hang out with Aubrey and her friends.
"I'm going to swim with mermaids," she said in a giddy, high-pitched voice.
After a few laps in the pool, a "shell phone" gift for Aubrey from their treasure box, and a quick lesson on swimming with a fin, it was time for the mermaids to get back to the ocean.
That meant it was time for Aubrey's next outfit: the hula costume.
While Aubrey would have loved to be the only hula dancer on the stage, her mom and dad, Vanessa and Ivan, brought in two Polynesian dancers to teach the kids how to dance.
It wasn't long before Aubrey was showing off her hula skills, even impressing the dancers with her moves.
I think the lessons paid off.
Everyone was having a great time at Aubrey's party and for a moment, the fact we were there to celebrate the end of treatment for childhood cancer slipped my mind. I could tell that some of the kids didn't really understand what we were celebrating.
While they stood in line for the piñata (that Aubrey showed who was boss) I heard, "This is an awesome birthday party, Aubrey!"
Then another kid said, "She's not the birthday girl, she's the chemo girl."
That comment was hard to hear.
A lot of kids don't understand what chemo even means, so I understood why they thought it was a birthday party.
After all, Aubrey is a hula girl now. A chemo-free hula girl, ready to show off her skills to anyone she meets.
She is fearless in the face of cancer and is ready to finally kick its butt!
While taking pills and doctor's visits were a normal activity for Aubrey over the past 2 ½ years, this is Aubrey taking her final 11-pill dose of chemo.
After 803 chemo pills over the past two and a half years, Aubrey is finally chemo free!
Even though she is done with treatment, she will have monthly blood work to make sure the leukemia doesn't come back.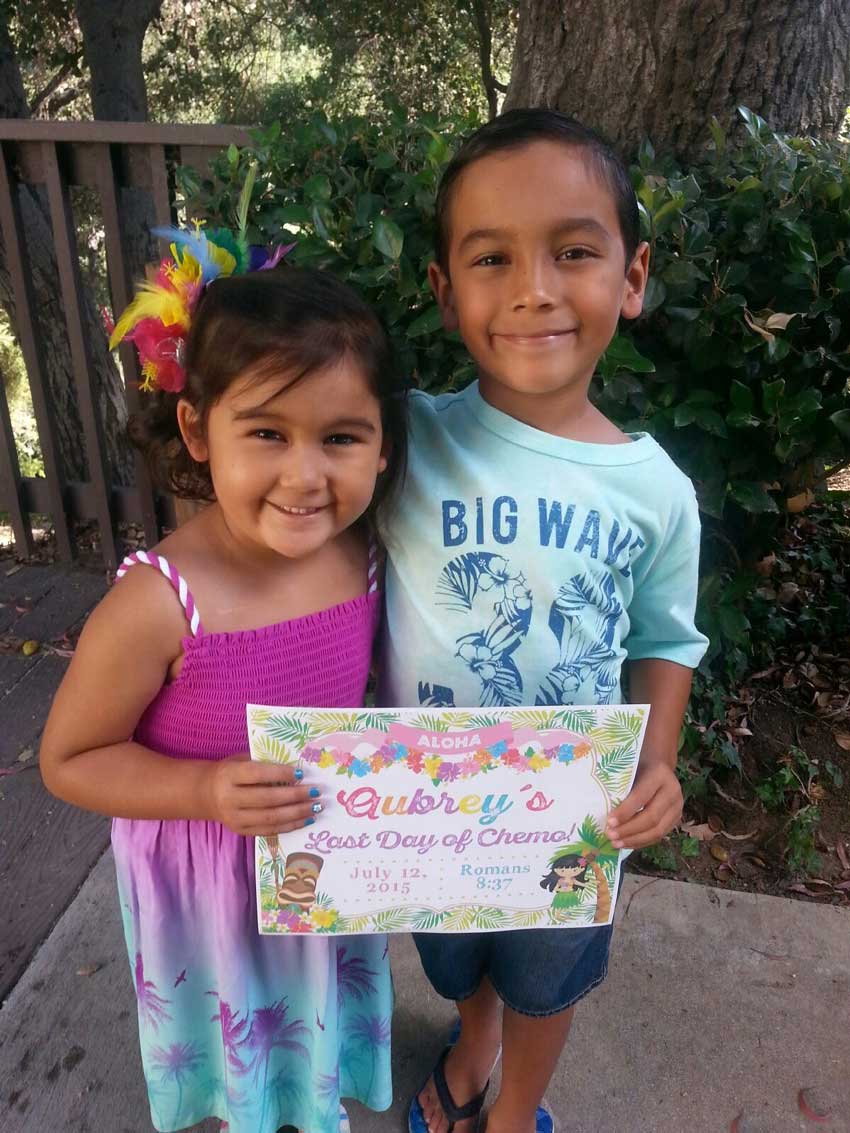 Aubrey with Aiden, her supportive older brother and best friend.
A lot has changed since Aubrey and I first met, but she is still one tough cookie.
Celebrate with Aubrey! Donate to childhood cancer research and help more kids live healthy, cancer-free lives.
Donate to Research
Read more on the St. Baldrick's blog: