Our advocacy leaders have been busy working with Congress to make pediatric cancer funding a national priority. While negotiations will continue, the preliminary funding agreements are in from the House and Senate, and we've got the details for you right here. (Spoiler alert: There's good news for pediatric cancer research!)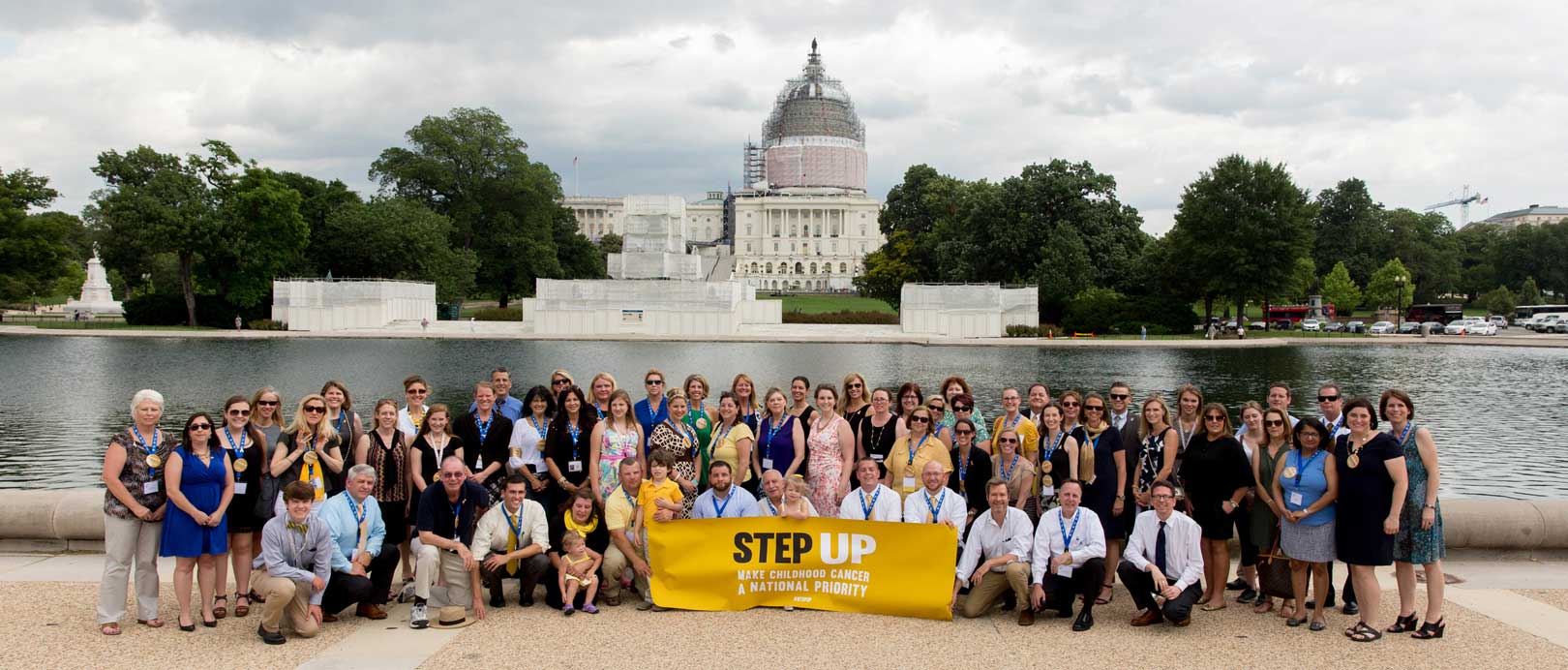 Advocates gathered in Washington, D.C., for Childhood Cancer Action Days 2015.
A few months ago, the St. Baldrick's Foundation — as part of the
Alliance for Childhood Cancer
— sent a letter to Congress, urging lawmakers to provide more funding for medical research and within those funds, to make pediatric cancer a higher priority.
All told, 91 childhood cancer organizations came together to sign our letter to Congress, and I'm excited to say that our hard work is starting to pay off!
While most programs received no increase, or even budget cuts, funding for medical research was given a much-needed raise.
More money was directed to both the National Institutes of Health (NIH) and the National Cancer Institute (NCI), which directly impacts funding for childhood cancer research. That's a big deal, especially for a bill that cut a total of $3.7 billion in funding from last year.
For those of you who like to get more in-depth, here are some highlights from the House and Senate Labor, Health & Human Services and Education Appropriations Reports:
Overall Funding – Medical research funding was a big winner in the appropriations bills. The House Appropriations Committee recommended a $1.1 billion increase for the NIH, for a total of $31.2 billion. The Senate Appropriations Committee was even more generous, recommending a $2 billion increase for the NIH, for a total of $32 billion. The final agreement won't be reached until this fall, but the preliminary numbers are looking very positive.
Gabriella Miller Kids First Research Act – As you may recall, last year, Congress approved the Gabriella Miller Kids First Research Act, which creates a special fund of $12.6 million each year for the NIH to conduct pediatric research. We were successful in having both the House and Senate call on the NIH to prioritize research relating to childhood cancer in making funding decisions under the Kids First Act.
Office of Cancer Survivorship – We all know the importance of quality of life and survivorship support for the youngest of cancer survivors. We asked Congress to pay special attention to this area. Happily, both the House and Senate accepted our recommendations and called for more research in this area. The House of Representatives specifically asked the Office of Cancer Survivorship at the NCI to issue a report to Congress next year on how it could better focus resources on childhood cancer.
Childhood Cancer Research – The NCI is doing remarkable work in pediatric cancer research. We all want them to do even more. At our request, Congress highlighted several of these important research areas and told the NCI it expects this research to be a priority, including clinical studies for children with brain tumors, and development of the novel pediatric "MATCH" study, as well as the important pediatric preclinical testing program evaluating new agents for treating pediatric malignancies.
This is exciting news, and it goes to show that when we work together, we can make a big impact for kids with cancer!
We want you! Join Speak Up for Kids' Cancer to get updates on important childhood cancer advocacy news.
Speak Up for Kids' Cancer
Read more on the blog: