Today is National Cancer Survivors Day and in celebration, we are bringing you the survivorship story of 2013 Ambassador Emily, who was diagnosed with osteosarcoma as a 16-year-old. Now nearing five years cancer free, she's a huge advocate for kids' cancer research. She wants to see all kids with cancer leave the childhood cancer world behind — for good. Read on for more about Emily, her treatment and its effects, and what it's like to be a survivor.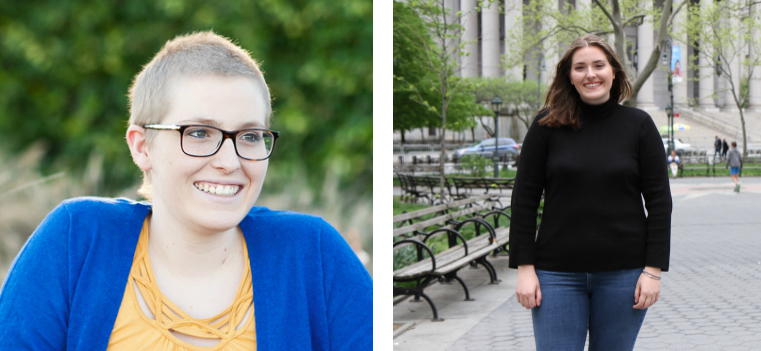 Emily in 2013, during her treatment for cancer (left) and Emily last month (right) in New York City, which she's made her home after graduating from New York University.
Emily lives in two worlds.
In one, she just graduated from New York University, is cruising the Adriatic Sea over the summer, and snagged her dream job in television production.
The other world is different. In it there are memories of hospital beds, chemotherapy, pain and sickness. It's always there. The side effects and the fear of relapse orbit Emily's bright life and pull her into its gravity.
That's because Emily is a survivor of childhood cancer.
"Cancer never ends in so many ways," Emily said. "Whether it's relapsing, whether it's the long-term effects mentally or physically, whether it's a scar on your body, once you are in this little world, you never leave it."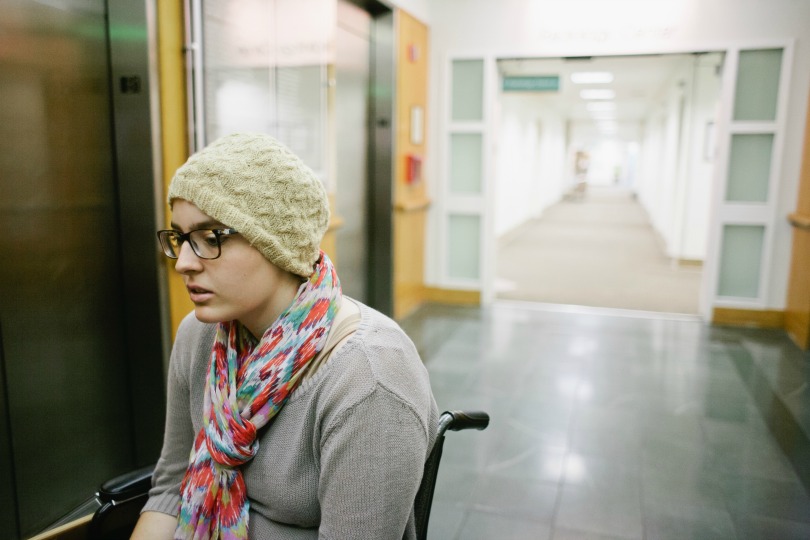 Emily sits in her wheelchair as she waits for the hospital elevator after an appointment with her doctor.
The Diagnosis
In December 2011, Emily was diagnosed with osteosarcoma in her right tibia, which is the large, long bone between the knee and ankle. She was turning 16 years old.
"It was like my body was moving 100 miles an hour, but my mind was stuck in one place," she said of hearing that she had cancer. "I didn't honestly know what was going on. I was just listening to everyone in a daze the whole time."
Emily was in treatment for nine months. She received 18 rounds of chemotherapy. Her hair fell out. She required complete quiet and darkness in her hospital room. She slept and slept. She felt the sickest she's ever felt.
"I missed out on a year of high school, so I think that was really big for me. I was 16 years old. That's supposed to be prime time that you go to high school parties. I didn't do any of that fun stuff," she said. "I definitely had friends, but I definitely lost way more friends than I anticipated. It's not like the movies, like they show you where everyone is supportive. It was not like that at all."
Give kids with cancer the childhoods they deserve. Donate to lifesaving research today >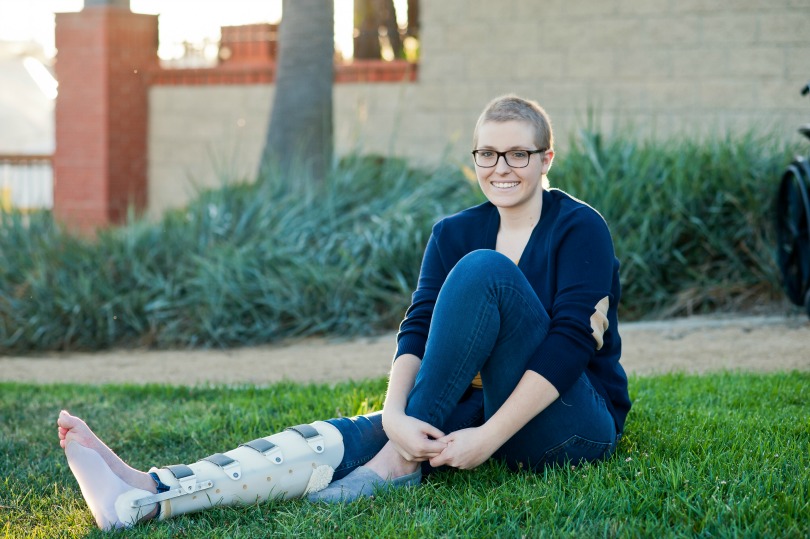 Before her diagnosis in 2011, Emily noticed a bump on her leg that wouldn't go away. Eventually, her legs started hurting so badly that she went to the hospital, where she learned that she had cancer.
In March 2012, Emily went into surgery. Called an allograft, the surgeons removed seven inches of her leg bone and pinned bone from a cadaver in its place. She was in a wheelchair for 14 long months.
Being stuck in a wheelchair was the bad news. But there was good news too — the surgery was a success. Most of her cancer was gone and she was able to keep the majority of her right leg.
The Importance of Research
Emily was treated by St. Baldrick's Scholar Dr. Noah Federman, who received a grant in 2009 for his research on how to give kids with cancer the treatment they need, precisely where they need it — in only their tumors, rather than hitting all the cells in their bodies with chemotherapy. He hoped this targeted therapy could prevent survivors from suffering severe or even fatal long-term side effects down the road.
Read about the 2 biggest threats facing survivors as they grow up >
Dr. Federman was the one who first told Emily and her family about St. Baldrick's. The mission of funding childhood cancer research has stayed close to her heart, especially after she served as a St. Baldrick's Ambassador in 2013.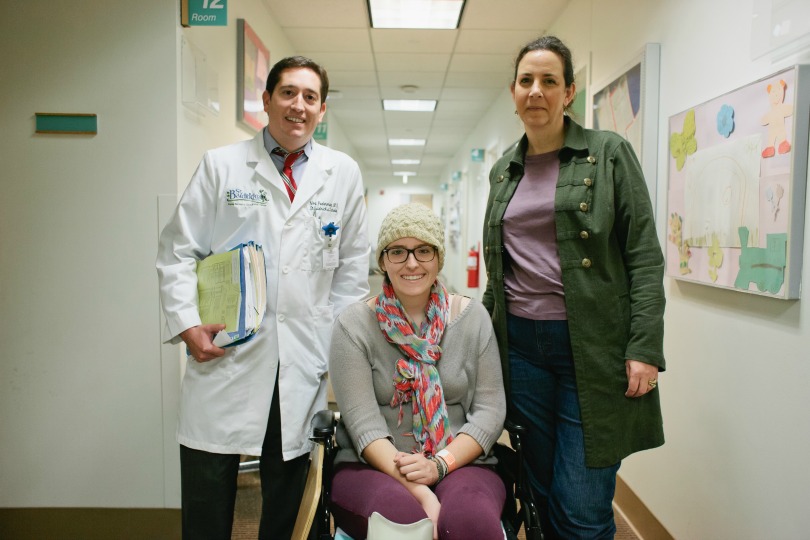 Emily and her mom stand with Dr. Federman in the hallway at UCLA Mattel Children's Hospital.
After all, Emily is alive today thanks to the progress made by researchers like Dr. Federman over the years. And she's grateful for all the supporters of St. Baldrick's who are funding the best childhood cancer research — including survivorship research — so more kids with cancer can both survive and thrive.
"The support helps. Even if we're done with the hospital, knowing that people are caring about us, supporting us, trying to help us in any way, will always make a difference," she said.
Learn about the history of childhood cancer research >
Life After Cancer
The biggest challenge of survivorship for Emily is the effect of the surgery on her formerly active lifestyle. Emily was on her high school tennis team, but she can't jump into a fierce game like she used to. In fact, her doctors say no high-impact aerobic activity at all, likely for the rest of her life.
Other things have changed too.
When the snow hits New York City, she feels the chill where the doctors inserted metal into her leg to hold it together. Wrapping her mind around her diagnosis and treatment, and its effects on her family, has been a roller coaster ride.
"Everything changes once a huge thing like this happens in your life, not only with yourself, but with your family as well," she said. "So getting to a positive place has been a journey for me, but I'm really happy where I am now."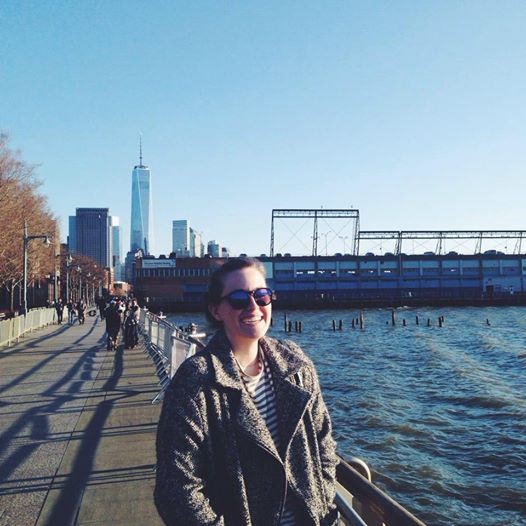 Emily walks around New York City, where she now has a new job in television production.
Cancer Free
On August 6 — her dad's birthday — Emily will be five years cancer free.
That month, she and her family will pack up and head out on a trip together. They'll celebrate, but Emily knows that she isn't at the finish line.
"I have a scar on my leg. I still have friends in the hospital. Once a year I have to see my doctor now. People ask me about it," she said. "It's still my every day life. It's just not as in my face as it was."
Right now, Emily is trying to make the best of both her worlds, because that's what she does.
Because Emily is a survivor.
You have the power to make more research and more survivors, like Emily, possible. Give now so kids with cancer not only survive, but thrive.
Give
Read more on the St. Baldrick's blog: