Mateo and Mason spent their early years of brotherhood playing together and acting goofy. When Mason was diagnosed with a brain tumor, the two brothers stayed strong, bonded by their love for soccer and for each other. This weekend, Mateo, now 16, will be shaving his head in honor of his little brother. Mateo tells his story below.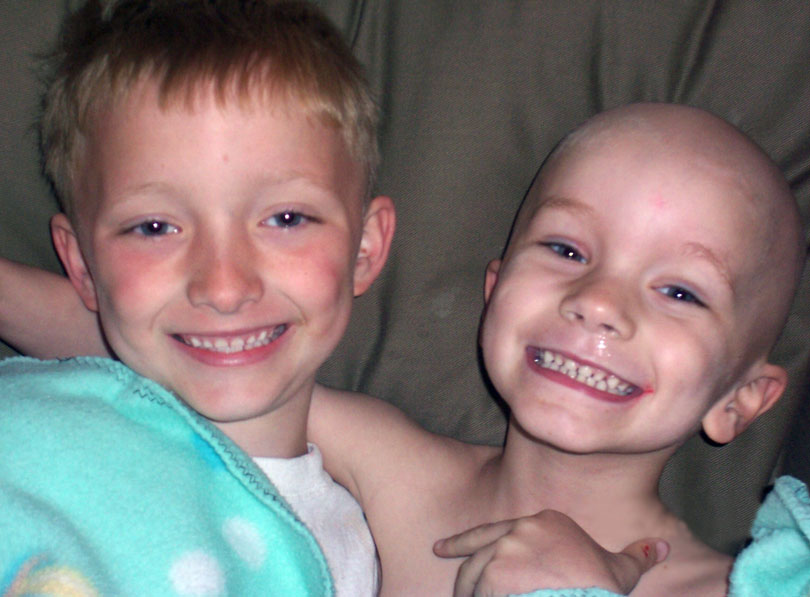 Mason (right) hugging his big brother Mateo.
I was 6 years old that day in July 2006 when my parents told me we had to go home to the United States because my brother was sick and needed surgery.
We were medically evacuated from Ecuador because my almost-4-year-old brother, Mason, was diagnosed with a brain tumor. It changed all our lives in an instant.
We arrived in New York City and Mason went straight to the hospital from the plane to get his surgery. When he came out of surgery, he was not himself. He couldn't walk or talk.
I was confused and scared. My brother walked in a normal boy and came out of surgery very hurt and scared.
That was a hard summer. I was a soccer-crazed 6-year-old trying to play with my brother who couldn't walk or talk. But soccer helped us connect. It was something that bonded us.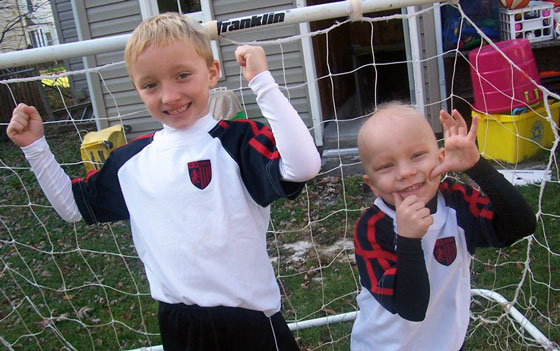 Mateo and Mason acting silly in their matching soccer jerseys.
I felt bad because he wanted to do everything I did and he couldn't, but he was just happy to interact with me. Eventually, he learned to walk and talk again with the help of soccer.
While Mason was being treated, he wasn't really home a lot and when he was, he was often sick and tired. He always tried to play soccer with me. He liked being a goalie.
BLOG: A Special Bond: Julian and Brayden's Story >
When he went to school, he would always wait in the morning to see what I was wearing so he could wear the same soccer jersey I did. I hated it, but looking back now, I love it.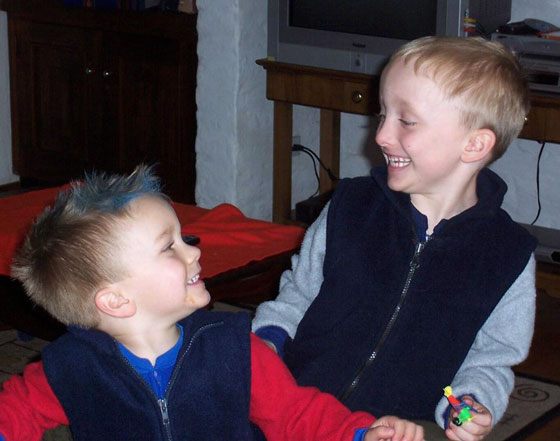 Mateo was 6 when his 4-year-old brother, Mason, was diagnosed with cancer.
We were able to go play soccer with the U.S. National team. It was a once-in-a-lifetime experience for both of us. My brother deserved to have fun while he was fighting so hard to stay alive. He felt pain most people will never feel in their lifetime. He is the strongest kid I will ever meet.
But his cancer came back. Soon after, we got the news that my brother was terminal and there was nothing else that could be done for him.
I didn't find out he was going to die until a few weeks before it happened. I felt like my heart was ripped out of my chest and set on fire. I cried really hard. That was my brother who looked up to me, who I was so close with, and he was going to die soon.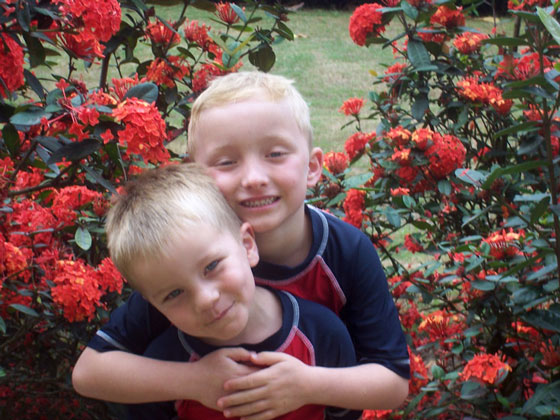 "He is the strongest kid I will ever meet," Mateo said of his brother Mason.
Mason continued to live his life to the fullest. He even scored a goal on the soccer field about a week before he died.
They say people wait for the most important person in their life to come before they die. My brother waited for me to come home from a D.C. United game and tell him the score. He died a few moments later. It was October 13, 2007.
Mason taught me a life lesson. You cannot give up no matter how much pain you are in or how bad it is going for you. Try to be the happiest you can be as long as you live. I try to remember that every day.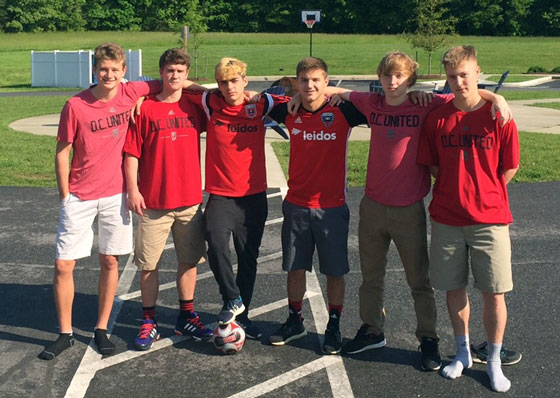 Mateo, the second from the right, with the members of his soccer team shaving in Mason's honor.
Why am I shaving my head to raise funds for childhood cancer research? So no kid has to watch their brother or sister suffer. Because we need better treatments for kids so they can run, jump, and play with their siblings. Because no kid should die from cancer.
My bald head may be a bit embarrassing to me as a teenager, but it's really a symbol of my love for my brother Mason. I'll never forget him and the experiences we shared.
As my teammates and I step onto the field that morning to get our heads shaved, we will remember what a gift it is to be here. And we'll remember that we're doing this in honor of all the kids with cancer, like Mason, who cannot.
Help Mateo raise money to find cures for kids like his brother Mason. Donate on his shavee℠ page.
Support Mateo's Shave

Read more on the St. Baldrick's blog: