Honored Kid Julian is not only Brayden's big brother. He's his hero. When Julian passed away from childhood cancer, 6-year-old Brayden was determined to shave for St. Baldrick's in his brother's memory and to keep their team, Julian's Army, marching toward a cure. Read on for more about Julian's journey, the boys' special bond, and Brayden's upcoming shave.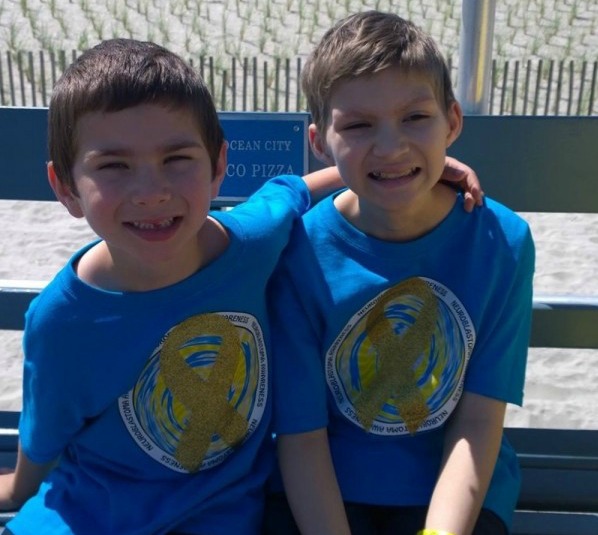 Brayden (left) and Julian smile with their arms around each other.
On Valentine's Day, Brayden made his big brother Julian a valentine.
He brought it over to him, placing the valentine next to the little urn that holds Julian's ashes.
Sometimes Brayden will plop down across from the urn and gab to his brother about the goings-on at school.
"Basically whenever he gets in trouble, he confesses it to Julian. Then I end up hearing it and I'm like, 'Oh gosh, OK, better look in his book bag," their mom, Kristi, said.
Every night, the whole family kisses Julian goodnight. Then Brayden settles into bed, ready to dream about his brother.
In his dreams, they'll play and go to the beach together, and he tells his mom that he hopes Julian won't throw sand at him, like Julian would if they went to the beach in real life.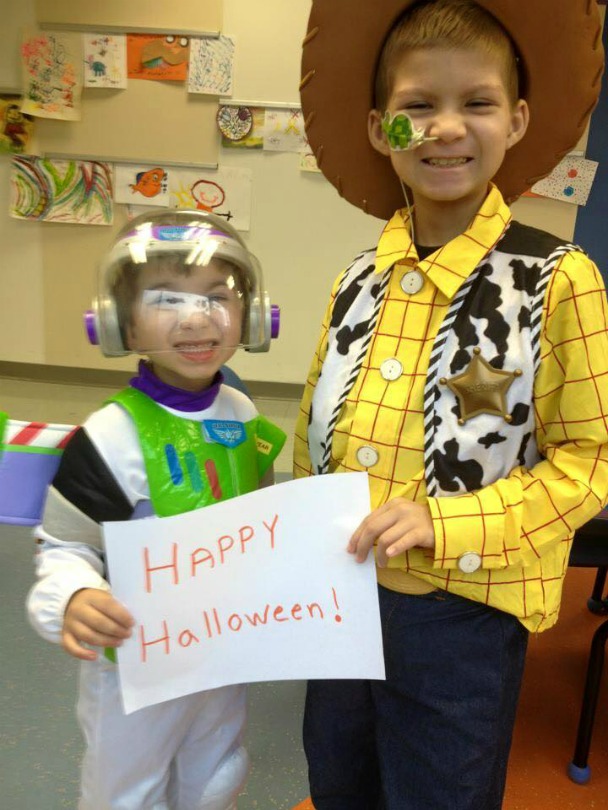 Julian and Brayden, dressed as Buzz Lightyear and Woody from Toy Story, wish everyone a happy Halloween.
The four-year battle
Before his diagnosis, Julian had unexplained pain in his thigh. Then he started eating like a bird. The already lanky 6-year-old lost weight. The doctors thought he had growing pains, then a stomach bug.
After a weekend of Julian spiking fevers left and right, Kristi brought him into the doctor's office again.
She was insistent. There is something wrong and you need to help me, she told the pediatrician. The doctor ordered a battery of tests.
"Believe it or not, out of all the expensive testing, the only thing that was off was one little level," she said.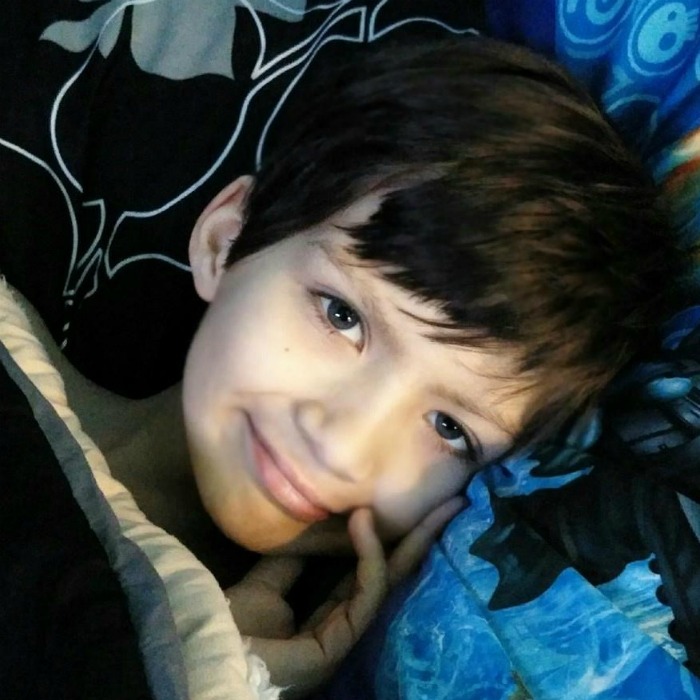 Julian passed away peacefully in August of last year.
The tumor was the size of a grapefruit in the 6-year-old's abdomen. But as skinny as Julian was, there was no visible lump or potbelly. It didn't even show up in the first x-ray.
An ultrasound finally revealed the mass. The ultrasound technician guided Kristi's fingers to Julian's belly button. Push down, she said.
"As soon as you pushed down, you felt it, like a squishy ball," Kristi recalled. "It was scary and I was like, 'What in the world is this?'"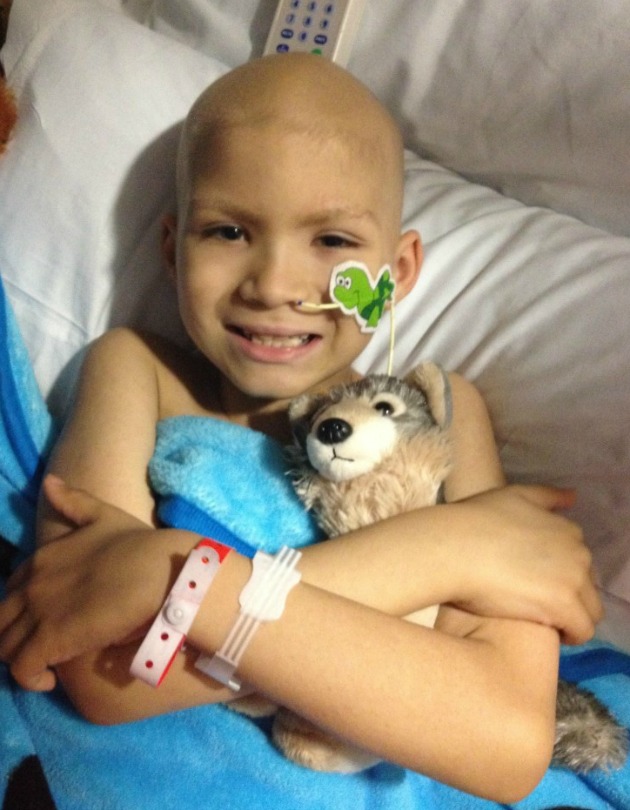 Julian was diagnosed at 6 years old.
It was stage IV neuroblastoma, which is rarely seen in a kid as old as 6-year-old Julian.
Julian was unique and so was his reaction to therapy. Typically, kids with neuroblastoma get intense chemotherapy and radiation, but the doctors soon discovered that what helped other kids wasn't helping Julian. He was different.
His cancer was chemotherapy resistant.
"They're hitting him with toxic doses of chemo and it's doing nothing — nothing at all," his mom said.
That's when they started looking for different treatments. They turned to Children's Hospital of Philadelphia for help.
"We were really dependent on what they were producing out of that lab," Kristi said. "So it was almost like a panic. If they didn't come up with something great, then we were not going to make it, because the chemotherapy wasn't cutting it. We needed something else. We were always waiting for something else."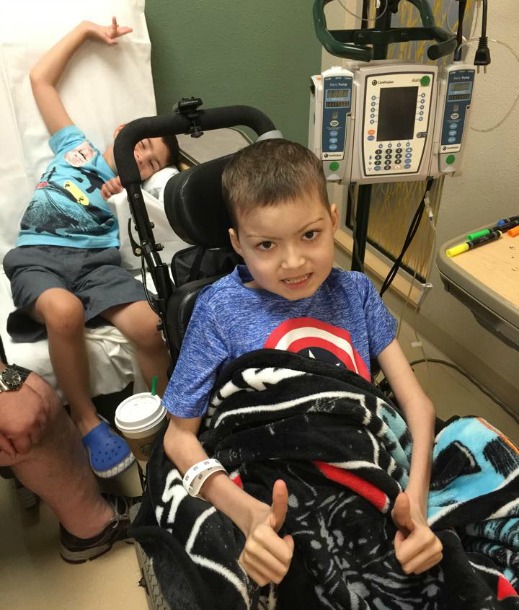 Brayden goofs off behind Julian during a hospital visit.
By January 2012, with his bone marrow filling with cancer, Julian started on a cutting edge treatment called MIBG therapy, where radiation is delivered directly to the tumor cells.
BLOG: St. Baldrick's Researchers Make Progress in MIBG Therapy > 
 They hopped from therapy to therapy, trying to find a cure.
Julian got on a trial for CH14.18, also called Unituxin, a childhood cancer drug made possible by St. Baldrick's-funded research. Unituxin is a lab-developed protein that attaches itself to neuroblastoma cells, sending up flags that alert the immune system to the bad cells so it can recognize and attack them.
Read how St. Baldrick's made this new drug possible >
That helped for a while, but it didn't last.
"That he made it four years is a miracle in itself," Kristi said.
Last year, soon after a long-awaited trip to Disney World with his family, Julian passed away.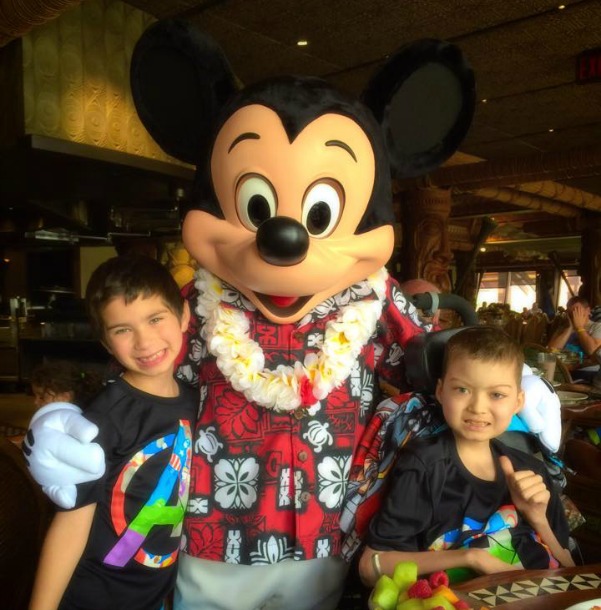 Brayden and Julian hang out with Mickey Mouse during Julian's Disney trip.
Julian's Army
Kristi first heard about St. Baldrick's when Julian was in treatment. A social worker who had recently shaved her head was excited to fill Kristi in on the organization and the cause.
"It was really a very exciting and very brave cause, and I decided at that moment that I was going to be crazy and I was going to do it," she said. "I was going to do this."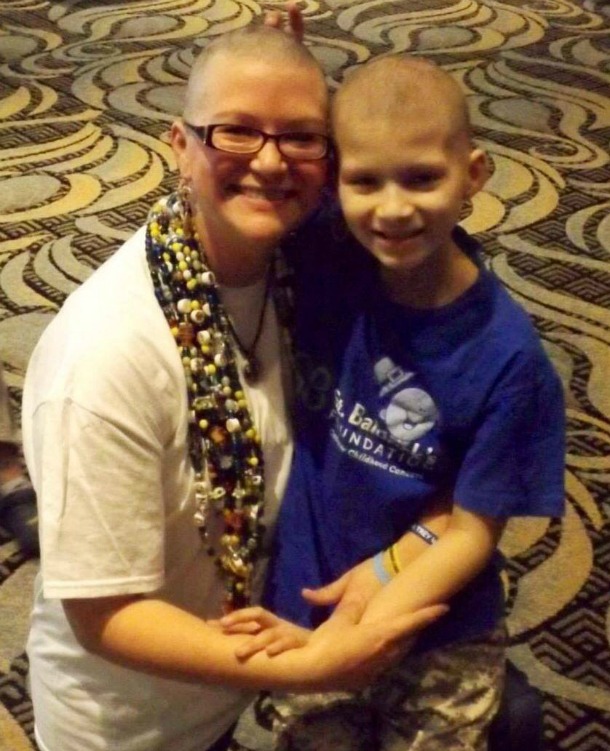 Kristi and Julian hug each other after they both shaved for St. Baldrick's.
Their team, Julian's Army, was born. Julian didn't participate that first year since he didn't have any hair. He and Brayden joined in the next year.
Since their start in 2013, the team has raised nearly $25,000 for childhood cancer research.
Childhood cancer research is everything to Kristi. It's what gave her more time with her son.
"It's the difference between, in my opinion, life and death," she said. "A new chance. Some hope."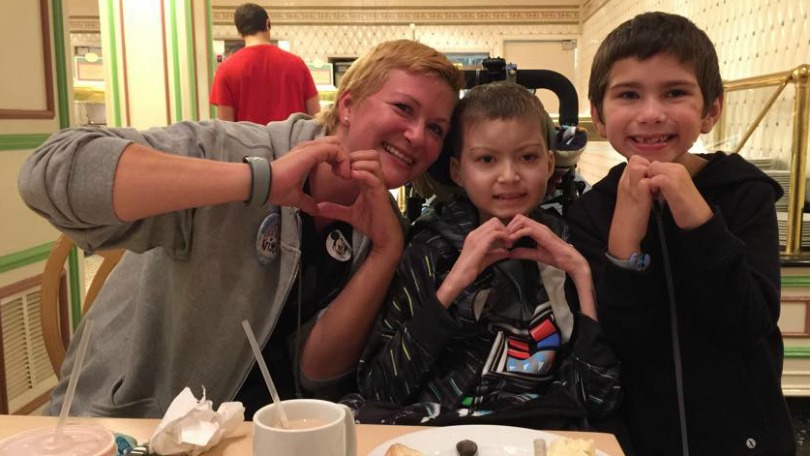 Kristi, Julian, and Brayden show their love during their trip to Disney World. Julian passed away not long after.
After Julian passed, Kristi didn't think about the team. It was Brayden, plus their family and friends, who convinced her to bring Julian's Army together again.
"Brayden's like, 'We have to. We have to shave our heads. We have to. We can't stop,'" Kristi remembered.
She considered changing the name to something like Julian's Angels, but Brayden put the brakes on that. He said they will always be Julian's army, so why change the name?
Brayden is now the team's biggest fundraiser. He's shaving for his brother on April 10.
Help Brayden stay at the top of the fundraising charts — give to his shave!
"He loves it. He absolutely loves it," Kristi said.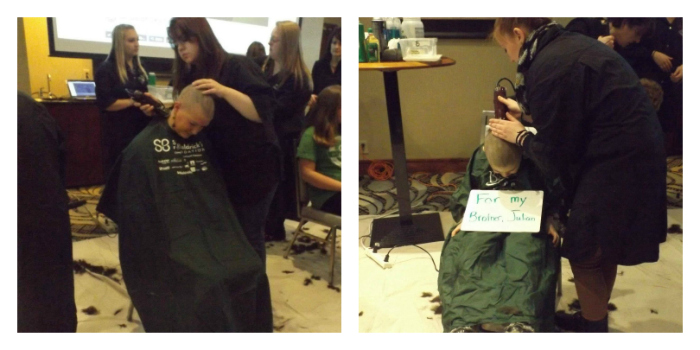 Kristi and Brayden both went bald in solidarity with Julian and all kids with cancer.
It's therapeutic for him, she explained. The event gives him something to hold on to in a world that was turned upside down.
"The problem is you feel so powerless when they pass away," Kristi said. "We were lost — I can only presume that he's even more so. He doesn't have his partner in crime here."
Brothers forever
The boys were pals. They loved each other and annoyed each other, as brothers do. They looked out for each other.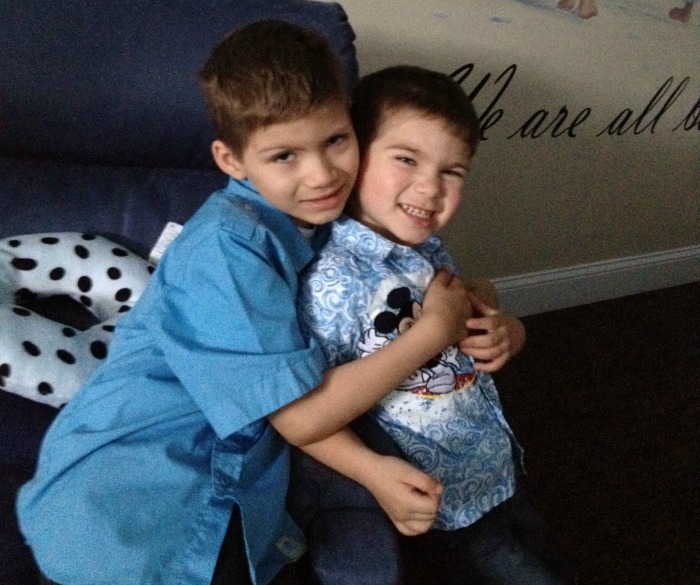 Julian and Brayden were buds.
Julian would get lots of gifts and sometimes, upon opening a new present, he could tell that his little brother was sad. Brayden wouldn't cry, because he knew that Julian was getting gifts because he was sick, but he'd still get disappointed, Kristi said.
Julian would notice.
"He would turn around and give the gift right to Brayden, and say, 'Oh, they mismarked it. This one is for you.'"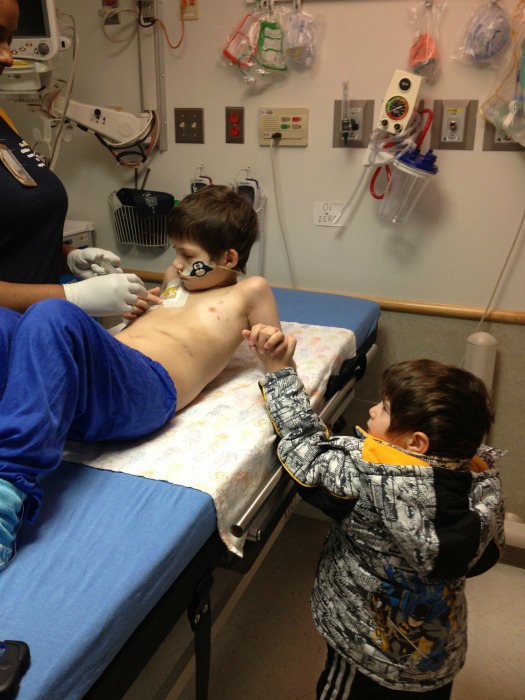 Brayden was always there for Julian, ready to hold his hand when things got tough.
Throughout it all, Julian was positive and happy. A lot of that is because of Brayden.
"He tried to make everything very fun — very, very fun — and I think it helped that Brayden was right beside him the whole time," Kristi said. "He was never alone. He had his baby brother right there with him."
Help Brayden raise funds for childhood cancer research in honor of his brother and hero, Julian. Give today.
Give

Read more on the St. Baldrick's blog: