As the oldest of three siblings, Nina has always been protective of her two brothers. But when she found out her youngest brother, William, had childhood cancer, everything changed. Read Nina's story of how her family came together to conquer childhood cancer.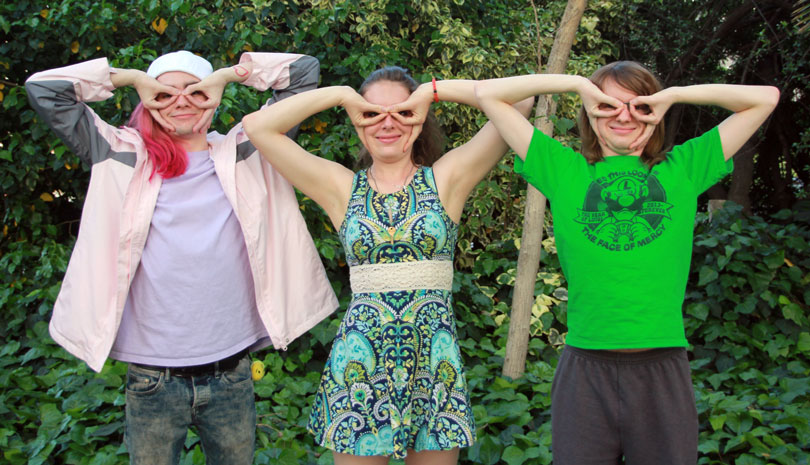 The Doyle siblings (left to right): Thomas, Nina, and William.
I will never forget one day in September 2002. It was the day my youngest sibling, William, was diagnosed with pleuropulmonary blastoma (PPB), a rare form of lung cancer.
The words "your brother has cancer" still ring in my ears to this day.
At that point, there were only around 50 known cases of PPB in the entire world. The odds of how this cancer would affect William were unknown.
Learn more about childhood cancer >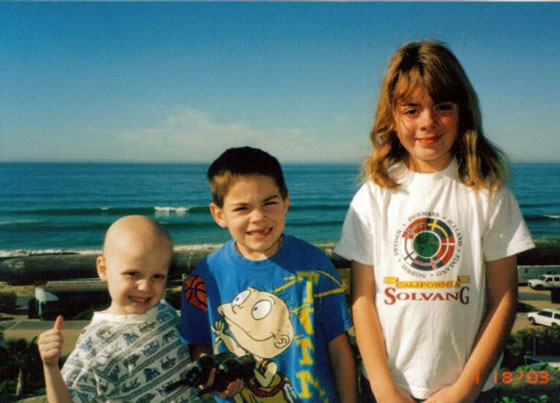 Nina and her brothers enjoy a day at the ocean during William's treatment in 2003.
Child life specialists did their best to describe William's condition to my brother Thomas and me, but we had trouble understanding. Thoughts and questions rushed through my mind.
What is cancer?
Why does William have it?
Can I get cancer instead of William?
Is William going to be OK?
The hospital staff and my parents did their best to answer all of my questions, but the severity was yet to sink in.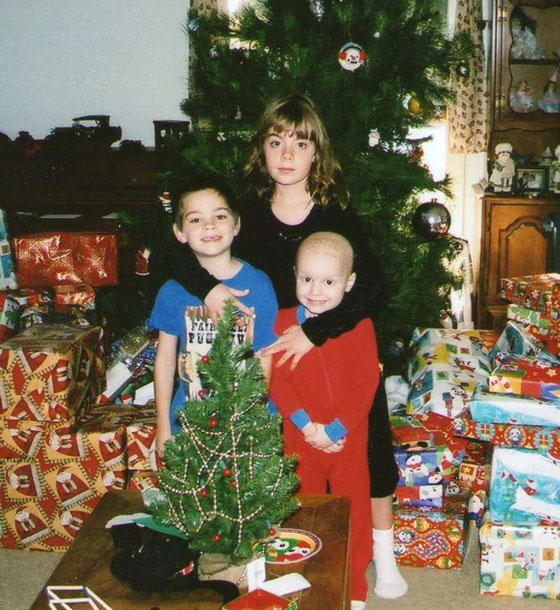 The Doyle siblings on Christmas morning.
Being the oldest of the three Doyle children, I always made it my goal to protect Thomas and William at all costs. I didn't want them to get hurt by anything. It wasn't until later that I understood I couldn't protect William from the inevitable rounds of chemotherapy and hospital visits that the future held. The best I could do was color pictures in the hospital playroom to decorate William's hospital room to make it feel more like home.
BLOG: Ivy Braves the Shave for Her Survivor Sister >
William's treatment was difficult for my entire family. None of us quite knew what do to when it came to the whole "fighting cancer" thing. Other than being there during treatments, there was not much we could do — our whole family felt helpless.
Then one day, my dad came back home with a game plan. He found St. Baldrick's, an organization that has provided our family a way to help battle childhood cancer — not just for William, but for all the other children that are fighting, too. My dad helped create a Los Angeles Police and Fire collaboration event with a LAFD fire chief and involved the whole family.
In March 2003, we had our first head-shaving event. I got up extra early to go and help set up — anything to do my part to help fight childhood cancer. I watched my dad shave his head and donate the money he raised to a cause that made him feel like he was making a difference.
As we raised money, our family got to celebrate the completion of William's chemotherapy treatment!

Left: Nina and her mom, Kris, at the North Hollywood LAPD/LAFD event in 2014. Right: Nina's parents and her brother William after shaving their heads at their St. Baldrick's event in 2014.
This March marked the 13th year my family has been a part of St. Baldrick's.
The St. Baldrick's Foundation gives us the opportunity and means to put our foot down against childhood cancer. We can help fund this important research so more families don't have to go through what our family did.
Help families like Nina's fight back against childhood cancer. Get involved today.
Get Involved
Read more on the St. Baldrick's blog: