Yesterday, a panel of cancer experts were named to Vice President Joe Biden's "moonshot" initiative to cure cancer. Read what Danielle Leach, our Director of Government Relations and Advocacy, has to say about this step forward for kids with cancer.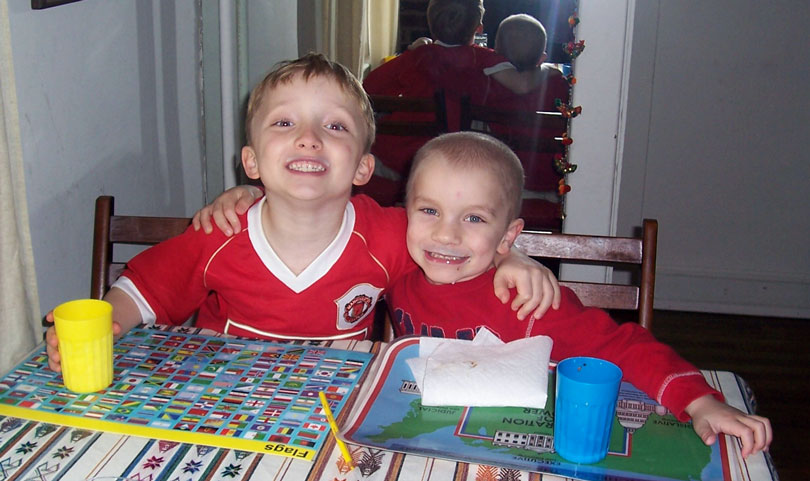 Danielle's oldest sons, Mateo (left) and Mason. Mason was diagnosed with a brain tumor when he was 3.
For most families, the dinner table is a safe place. But for me, it's a constant reminder that my son Mason is not there.
Dinner was always a time where our family shared laughs, ideas and dreams, and our son Mason was often the loudest at the table. He yearned to be heard among the lively bunch that is our family.
Mason's voice, thoughts and ideas were truly special. He was everything a kid at 5 years old should be — loud, opinionated and funny.
It was also his special, strong voice that told us of his pain and frustration at having brain cancer and all that it took from him.
There will always be an empty seat at our table where Mason should be. Childhood cancer robbed him of his life and his family.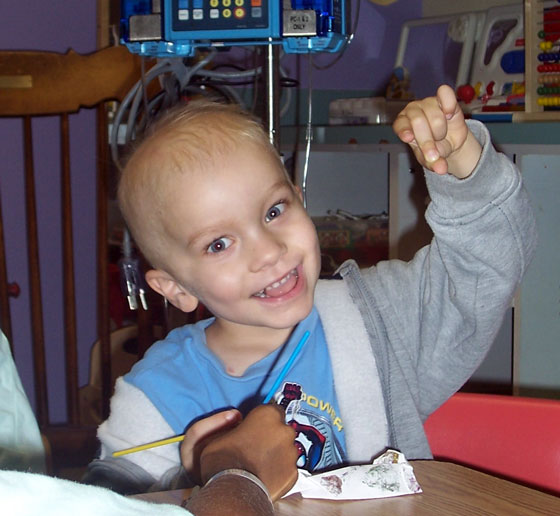 Mason was "everything a kid at 5 years old should be — loud, opinionated and funny," Danielle writes.
For many families, there will be an empty seat at the table tonight because childhood cancer remains the number one disease killer of children in this country. There are also empty seats at the table because kids are in treatment, in the hospital, or going to appointments after they have survived to deal with the side effects of childhood cancer treatment.
We need fewer empty seats at the dinner table.
Learn more about childhood cancer >
Yesterday, Vice President Joe Biden and his team announced a new panel of experts to work on his National Cancer Moonshot Initiative — a $1 billion effort to accelerate cancer research. There are several pediatric cancer experts joining this team. If there are moments I want to jump for joy, today was one of them.
These experts can help voice the concerns of the childhood cancer community. We are at the table. Kids with cancer are not an afterthought or at the tail end of a project. Instead, childhood cancer is seen as an equal problem to face as we try to accelerate progress in treating cancer in this country.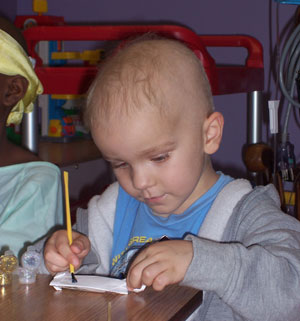 Mason enjoyed doing arts and crafts projects.
The experts sitting around that table will bring their childhood cancer experience and perspective to the moonshot table. Among them is Dr. Peter Adamson, chair of the Children's Oncology Group (COG). He brings the perspective of other specialists in the COG's network of more than 200 research institutions conducting clinical trials, funded primarily by the National Cancer Institute and the St. Baldrick's Foundation. Also at the table are representatives of other institutions receiving St. Baldrick's funds, including St. Jude Children's Research Hospital and the Huntsman Cancer Institute, as well as one of our advocacy partners, the National Brain Tumor Society.
We have a track record of working collaboratively with this group. We know we can provide input and ideas to them. These are people committed to working together with the childhood cancer community to express the unique challenges and opportunities of childhood cancer as the moonshot moves forward.
Part of me feels like they are bringing Mason, and every child who has gone through the horror of childhood cancer, to that moonshot table. I feel like it is that dinner table where hope, dreams and solutions can be found and shared.
I applaud Vice President Biden and his team for recognizing that kids are special and deserve to be treated that way. Thank you for valuing our children and bringing them to the table. Mason would have really liked that.
Kids with cancer have a seat at the table because of advocates like you. Join St. Baldrick's advocacy network, Speak Up for Kids' Cancer, and help make sure their voices are heard.
Speak Up for Kids' Cancer

Read more on the St. Baldrick's blog: