Ever wonder if your contributions make a real difference? That money you donated to the St. Baldrick's Foundation – did it really accomplish anything?
David squeezes his mom, Susan, tight during a fundraising event.
Let us tell you about our son, David. We'll tell you right at the outset that this isn't a story of triumphant defeat over cancer. David died on February 10, 2011 from metastatic neuroblastoma, one of the most common cancers that chooses children for its victims.
We've sometimes wondered if David knew that his time on earth would be all too brief.  He packed more into 10 years of living than some people we've met who are in their 60s. He genuinely and wholeheartedly embraced life and all it had to offer. He was known as the "Mayor" of our hometown because anytime he went out for a walk, he'd stop to talk to everyone who was willing to pause and enjoy a chat. David was a child who enjoyed all sorts of athletic pursuits, particularly swimming in the ocean and climbing trees with his younger sister Daisy.
Learn more about David, his unique spirit and his cancer journey >
He was also a gifted young artist who felt a connection to his origami cranes, which held particular hope and significance for him.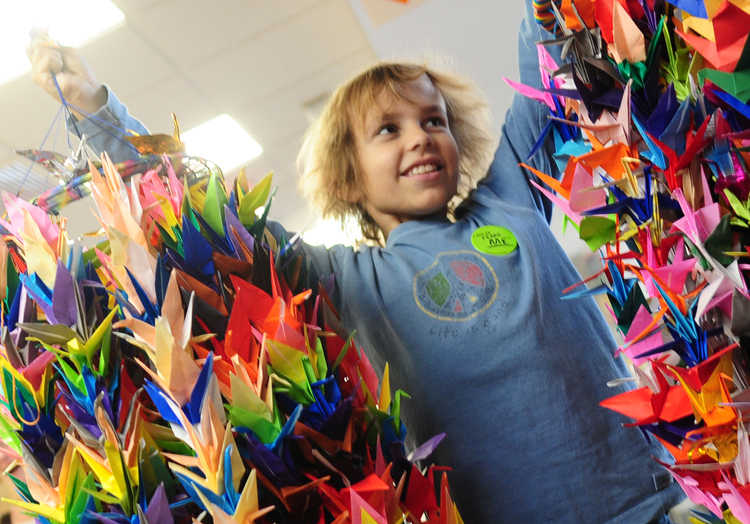 David holds a mobile strung with 1,000 colorful origami cranes. He was determined to send 1,000 origami cranes to every children's hospital in the country as a message of hope to kids and families. After his death, his family and community took on the challenge to honor him.
During the two-plus years that David battled neuroblastoma, there were many conversations when we watched him realize something we wished he never had to know — he was going to die. He created his list of things for us to work on after he died, which included raising funds for the researchers who wanted to "fix the problem of childhood cancer." He knew research had not come quickly enough for him and wanted to ensure that we would do everything we could to guarantee that future children had more options and hopefully a different outcome.
David encouraged Susan to participate in St. Baldrick's events and shave her head to raise funds for kids' cancer research. Over the years, Susan has rocked the bald 14 times.
David did not like to receive gifts when he was sick and asked us instead to find out who was making a difference for kids with cancer so he could ask people to give money there instead. That led us to the St. Baldrick's Foundation. The largest private funder of pediatric cancer research grants in the country.  No matter where great research was being done, St. Baldrick's was supporting it.  David really liked that.
Our family has now raised over half a million dollars to support research funded by St. Baldrick's. It's been our way to grieve with action — never letting the despair overwhelm us, but staying focused on bringing hope to all families who are told their child has cancer.
You're probably wondering about the good news now – the answer to the question, do any of my donations actually change the outcome for a child fighting cancer? Now, let us tell you the story of Hazel.
In a turn of events rare for kids with relapsed neuroblastoma, Hazel is cancer free after relapsing last year.
Hazel was also diagnosed with neuroblastoma when she was only 2 years old. She went through much of the same treatment ordeal as David, surgery, chemotherapy, radiation and immunotherapy. Hazel came out of treatment cancer free only to relapse a few years later.
Let us stop here to tell you that it is extraordinarily rare for a child to survive a relapse of neuroblastoma, but here's where your past donations come in.
In 2015, the FDA approved a new drug to treat high-risk neuroblastoma, making it available to all kids with this aggressive cancer. Called Unituxin or dinutuximab, this immunotherapy treatment was a result of research spearheaded by Dr. Alice Yu, a St. Baldrick's researcher whose grant was only possible because of your donations.
Because of you, Unituxin was available to Hazel when she relapsed in the summer of 2016. Because of you, Hazel recently got the news that her scans are clear and there's no evidence of cancer.
We've never met Hazel in person. We only know of her through the stories and updates posted by St. Baldrick's, but we know our families and children are forever linked.
Though the drug that may have saved Hazel's life was not available to save David, he did participate in an early clinical trial funded by St. Baldrick's, for the pre-cursor to Unituxin. He was part of the research chain that led to the breakthrough that has given Hazel a chance to enjoy life today.
Please help St. Baldrick's fund researchers so they can find the next breakthrough treatment that will keep more children alive. Do it in honor of David's memory and in celebration of Hazel's life. Your gift DOES make a difference.
With hope,
Tom and Susan Heard
Donate
Read more about David and Hazel on the St. Baldrick's blog: