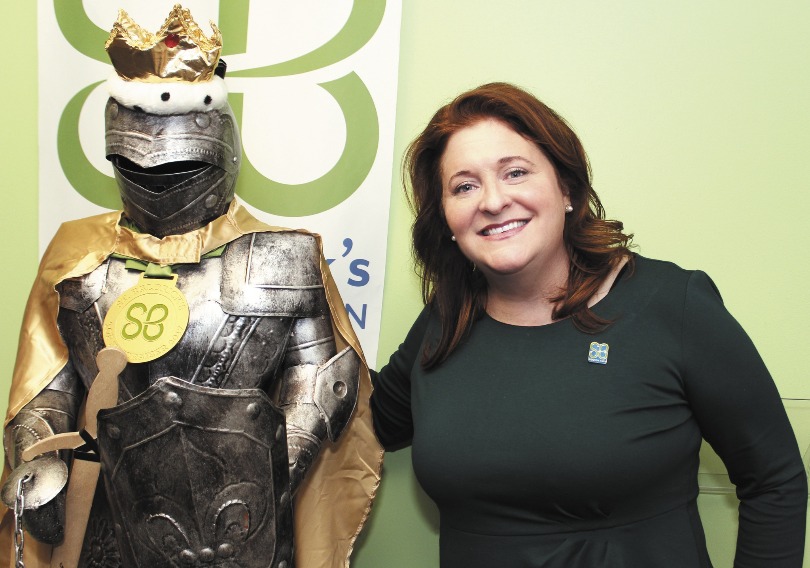 Kathleen poses with the St. Baldrick's office's honorary Knight Crusader, who wears a medal and crown.
In an age of storytelling, St. Baldrick's has an interesting one. Three resourceful men – John Bender, Tim Kenny and Enda McDonnell – founded the charity based upon a challenge to shave their heads bald. Eighteen years later, St. Baldrick's helps children worldwide, has engaged volunteers on six continents and is the largest non-government funder of childhood cancer research grants in the world.
That is the power of individuals. But John, Tim and Enda didn't do all of this on their own.
St. Baldrick's volunteers helped make every one of these accomplishments, each scientific innovation, and each child's future possible.
Together, St. Baldrick's supporters have accelerated languishing clinical trials, trained the next generation of researchers (avoiding a forecasted shortage in pediatric oncologists) and supported the dawn of immunotherapy – a new weapon in the fight against cancer. All while helping to gain passage of important legislation, realizing several new drugs and treatments for kids, and helping to improve survival and quality of life for patients with numerous childhood cancers.
These unsung heroes of the St. Baldrick's community are heroes to children with cancer the world-over. Therefore, it's fitting that the St. Baldrick's Foundation honors its most steadfast volunteers by knighting them as members of an exceptional group of people who have participated in St. Baldrick's events for three, seven, 10 and 15 years. This club is called the League of Legendary Heroes and membership comes complete with titles and even a knighting ceremony!
Learn more about the League of Legendary Heroes >
Kathleen rocks the bald during her second shave in 2014.
Upon three years of service to the Foundation, a volunteer is named a Squire of Hope. Having shaved my head twice and run a half-marathon for the Foundation, I am honored to be among this group.
Upon seven years, a volunteer achieves the rank of Knight of the Bald Table. It may sound corny, but I've seen the strongest men rise with tears in their eyes after kneeling before a little girl in a princess dress who has just tapped them on each shoulder and dubbed them 'Sir.' The first time I witnessed this, Sir Matt McSweeny, Sir Mark "Mad Dog" Wadsworth and Sir Tim McCann rose, with Sir Mad Dog turning to me and proclaiming, "I'm yours for life."
Tim McCann, Mark Wadsworth and Matt McSweeny smile together during a St. Baldrick's event.
True to his word, he still volunteers for St. Baldrick's even though he moved thousands of miles away. Sir Tim is ever-faithful and now a Knight Commander in the League, while Sir Matt, the first restauranteur to sign up in 2001 to spread St. Baldrick's nationally, shaves and hosts an annual head-shaving event at Matt Denny's Alehouse in Arcadia, California. Today, he is a Crusader for a Cure.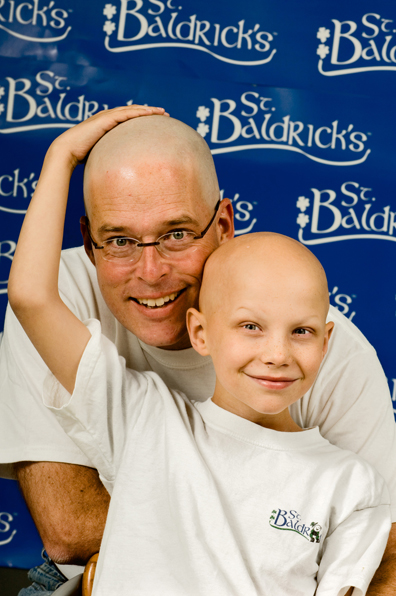 Sir Chuck rocks the bald with his son, Honored Kid Joey, who was the first St. Baldrick's Ambassador. Joey was diagnosed with osteosarcoma in 2005 and is now cancer free.
Another legend and member of the League of Legendary Heroes is Sir Chuck or Charles Chamness. Sir Chuck leads events and this year, he'll shave for the 14th year. (One more year and he'll be knighted as a Knight Commander!) He formerly served on the Foundation's Board of Directors and served for three years as our Chairman. In 2017, he took it upon himself to secure the support of each senator and every congressional representative in the state of Indiana for the Childhood Cancer STAR Act. For going so far above and beyond, Sir Chuck was named the League's first Advocacy Champion.
Of course, St. Baldrick's wouldn't be what it is today without Paul Quinn.
This quiet, humble Irishman from Dublin agreed to turn his restaurant over (on his biggest day of the year) to an untested trio of fledgling volunteers with a wild hair to help children with cancer. The story of the first St. Baldrick's Day is now the stuff of legend here and Sir Paul Quinn will, by St. Patrick's Day 2019, celebrate the 20th annual St. Baldrick's event at Jim Brady's Restaurant & Pub in Lower Manhattan. In doing so, he will be elevated to the new 20-year ranking, which will be revealed next year!
Since Sir Paul took that first risk, many others have also stood in solidarity with children who have cancer. Grandparents in their 90s have shaved. Children too young to understand the meaning of the word 'cancer' have chosen to look like their sibling or friend, because they just want them to stop hurting and be able to come outside to play.
Years ago, Nicky Northen – then a young Squire of Hope who had recently brought St. Baldrick's to Orange County, California from his prior home in Hong Kong – showed me the Styrofoam wig form he carried door-to-door, while asking people to "please put money on my head to help fund childhood cancer research." Neighbors pinned cash to the form and this industrious young man raised thousands of dollars and is now ranked as a Knight of the Bald Table with over 7 years of being involved.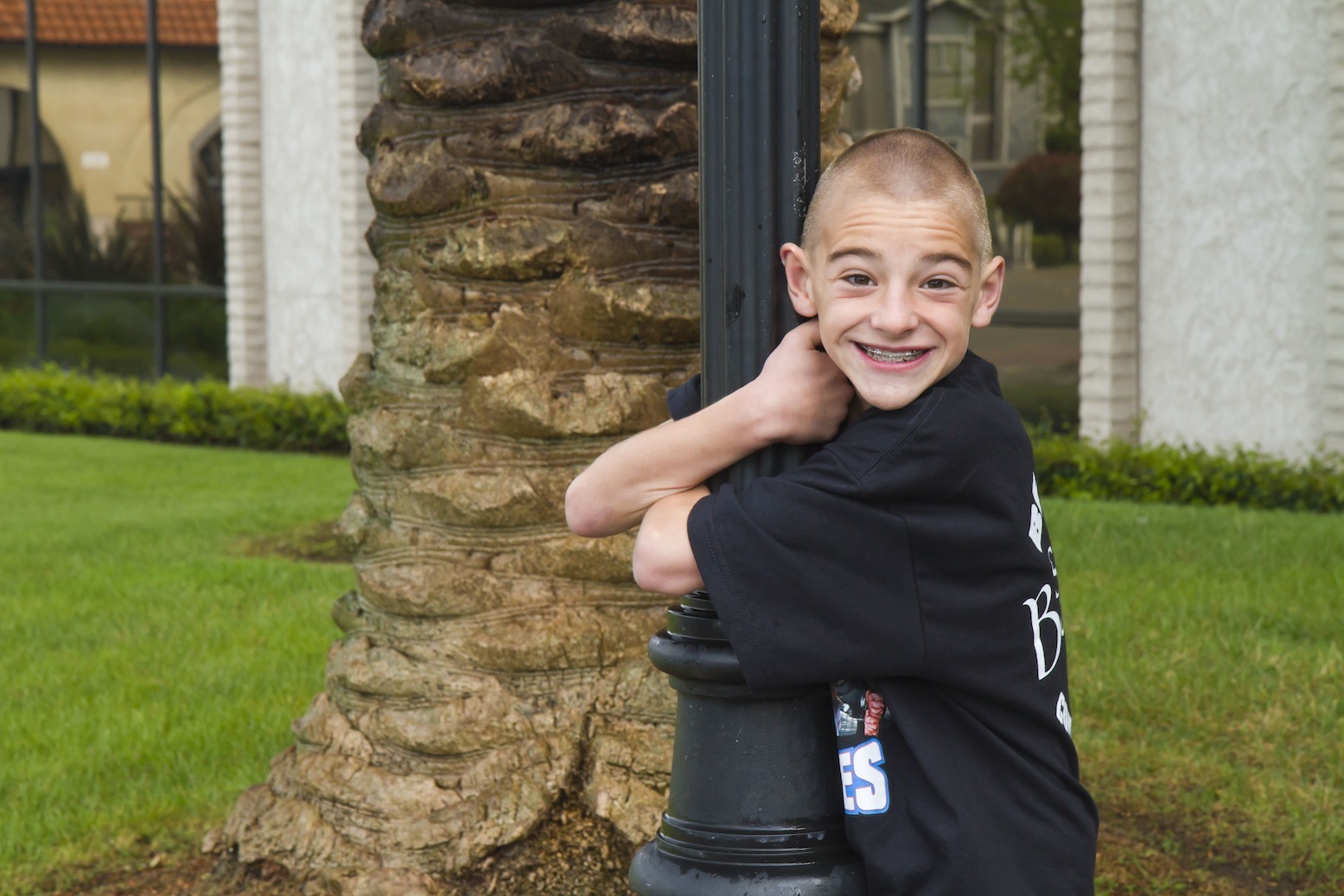 Nicky Northen shows off his signature enthusiasm during a visit to the St. Baldrick's office.
Today, volunteers of all ages continue to step up to the barber's chair, while others seize the clipboard, the microphone, or the clippers. (Or even the Styrofoam heads.) Others run laps or garage sales, sell hot cocoa, host podcasts or empty their piggy banks for St. Baldrick's.
These are our heroes – the Sir Nickys, Matts, Tims and Mad Dogs of the world, alongside the Sir Pauls, and Chucks. Their ranks continue to grow and we are grateful, because it's these ordinary heroes who make St. Baldrick's important work possible.
It's these heroes – like you – who are going to take childhood back from cancer.
You can be a legendary hero too. Start your quest today!
Get Involved
Read more on the St. Baldrick's blog: