What goes together like hot summer days and peanuts? Like the smell of freshly cut grass and the crack of a bat? Like catchy jingles and the 7th inning stretch? Baseball and St. Baldrick's, of course! Meet Adam, the 12-year-old baseball fan behind a unique fundraiser for kids' cancer research.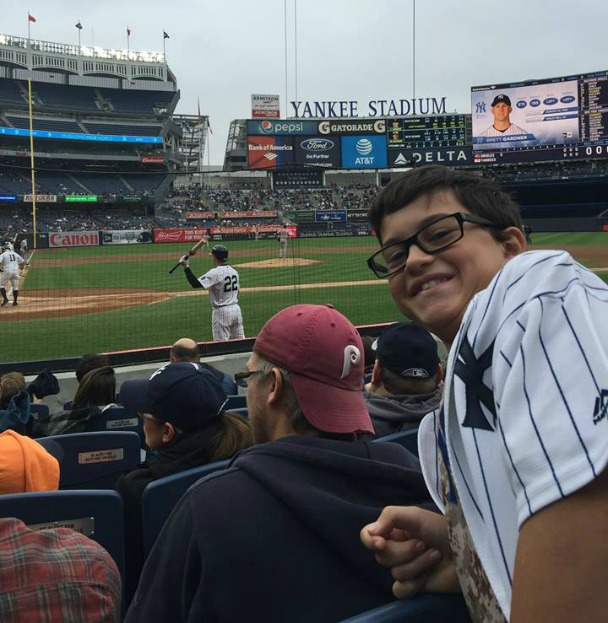 Adam watches his favorite team, the New York Yankees, play at Yankee Stadium.
For as long as he can remember, Adam has loved baseball. He started playing tee-ball as a tyke and now plays third base, which is the perfect fit for his lightning reflexes and strong throwing arm.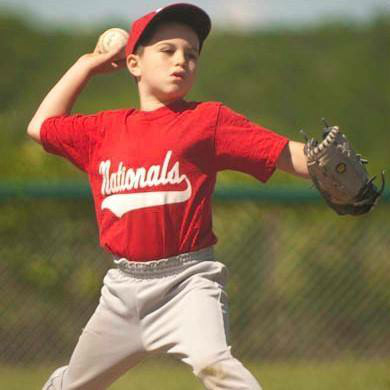 Adam plays his favorite sport.
"You can just have fun and it's all about the fun," he said about playing baseball. "Also, that one moment that every kid has is really great — when you hit that walk-off or you're the pitcher that wins the game. It feels really good."
That love of the sport sparked a dream — to visit all 30 Major League Baseball stadiums. Now, to give back to the community for his bar mitzvah, Adam is fulfilling that dream and helping kids with cancer.
Help Adam give back to the community for his bar mitzvah — donate to his St. Baldrick's fundraiser >
The four-time St. Baldrick's shavee is taking a road trip to all 30 MLB stadiums while fundraising for St. Baldrick's and other charities. The trip will take them two months to complete.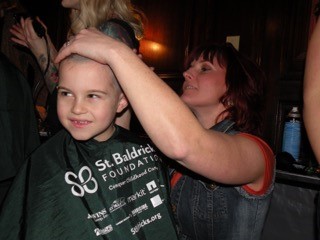 Adam shaves with St. Baldrick's for the first time.
"It's really interesting because this really was Adam's brainchild," said Adam's dad, Lawrence. "When we first sat down a while back and talked about his bar mitzvah, we talked about what would be meaningful to him and the idea of having a big party — most 12-year-olds obviously would really get into that — but for some reason, Adam just decided, "I've got another path.'"
This path will take Adam and his family to a game at every MLB stadium in the United States and to Canada, from Dodger Stadium in Los Angeles to Heinz Field in Pittsburgh, which Adam heard has a beautiful view.
He's also looking forward to checking out Denver's Coors Field, which is the home of the Colorado Rockies.
"It's a deep field. It's very far from the plate to the fence," Adam said. "I want to see how the difference is from near field and how deep it is, compared to the short porch at Yankee Stadium, which is only like 390 feet."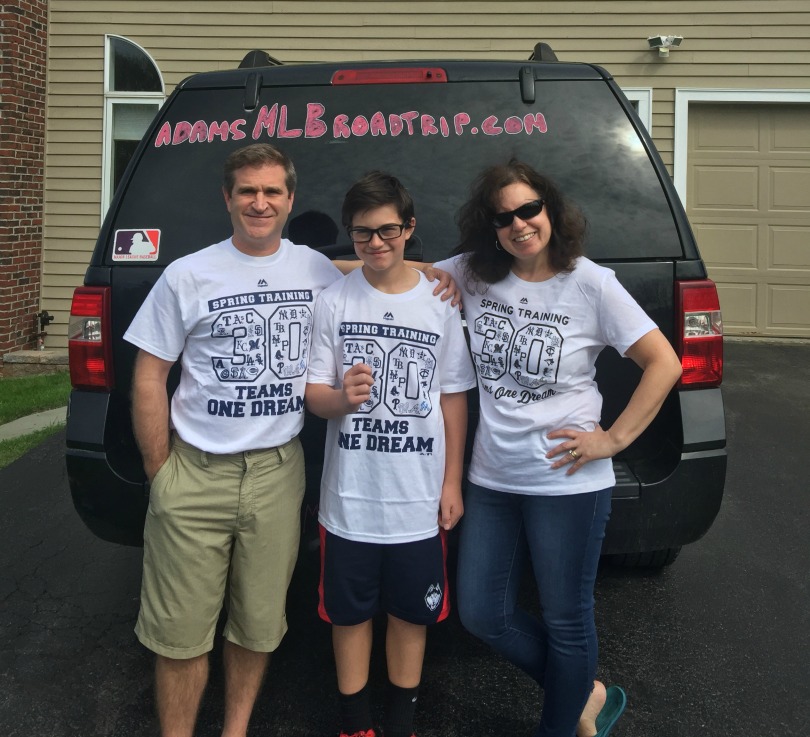 Adam smiles with his mom and dad in front of their MLB road trip ride.
Want to follow Adam's progress? Visit his road trip blog >
In a unique spin on fundraising, Adam created what he's calling the Home Run Club. At every game he attends during his road trip, Adam will count each home run that's hit. Those home runs will turn into dollars for charity.
"Say someone pledges a dollar and for every home run we see — however many home runs we witness — you will donate whatever you pledged times that at the end," Adam explained.
That means if Adam sees 50 home runs — which he hopes to — the donor will give $50 to one of the three charities Adam is supporting.
Join the Home Run Club and fund kids' cancer research >
In the end, Adam's MLB road trip will be a home run for kids with cancer.
"I really just want to help kids live," he said.
Help kids with cancer live long, healthy lives. Join Adam in funding childhood cancer research today.
Donate to Adam's Fundraiser
Read more on the St. Baldrick's blog: