When Honored Kid Will was 3 years old, he was diagnosed with cancer. Now, the third grader with the dimpled smile and bright eyes is healthy, thanks to a clinical trial made possible by St. Baldrick's funding. Read on for Will's story of survival.
NEW VIDEO: Will's Story >
On the surface, Will looks like any other 8-year-old boy. He loves playing soccer, camping with his family, and playing with their dog, Jack. The third grader is a big fan of superheroes and is also quite the successful fisherman.
You'd never guess that most of his young life has been spent fighting cancer.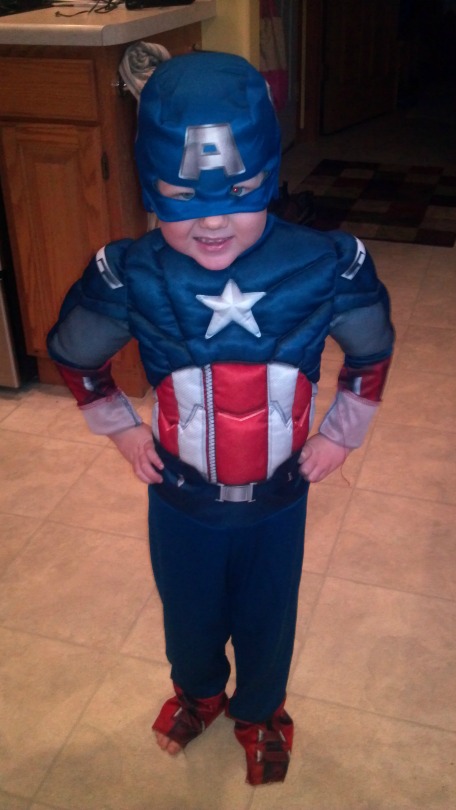 Will channels his inner superhero by dressing as Captain America.
Now, he's just a kid being a kid, and it's all thanks to
childhood cancer research
.
From Beach to Bedside
In March 2012, Will's family was getting ready to leave their home in Wisconsin for a sunny family vacation in Florida.
Not long after they arrived in Florida, Will was running a low fever. His mom, Becky, noticed his mouth was full of blisters and he was chewing on his cheeks.
The family had planned on stretching out on the warm sand of Cocoa Beach that weekend, but when Becky and Dave noticed Will's tummy was bloated and he had a rash of tiny red dots, they decided to take him to a clinic in Orlando.
"They knew looking at him that something wasn't right," Becky said, remembering that the receptionist noticed the little boy was awfully pale. "The doctor actually came out right into the lobby where I was filling out paperwork. She looked at him and she basically said, 'I'm not wasting your time here. You guys need to head to Arnold Palmer [Hospital]. They'll be waiting for you in the ER.' And they were."
Four hours later, they learned that Will had acute lymphoblastic leukemia (ALL).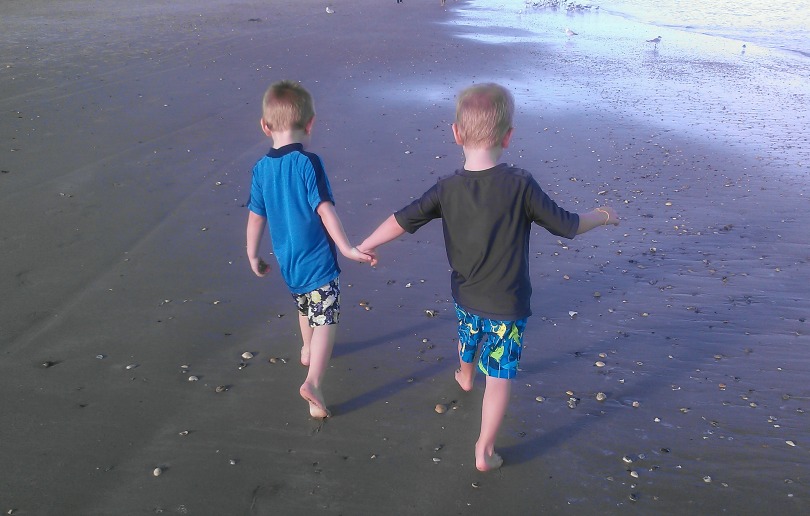 Will and his little brother, Benjamin, walk hand in hand on the beach.
The Best Chance at Life
They would spend 12 days in the hospital in Florida, a thousand miles from home. It was there that Becky and Dave decided to enroll Will in a clinical trial for kids with ALL.
Traditional treatment for kids with ALL is intense. Thanks to progress in research, about 90 percent of kids with ALL will survive, but the harsh drugs that save their lives are known to cause a host of long-term effects. As childhood cancer survivors get older, they can face everything from learning difficulties to heart problems to secondary cancers.
Blog: The Two Biggest Threats Facing Kids' Cancer Survivors >
That's why Becky and Dave chose to enroll Will in the clinical trial. It was his best chance at survival and his best chance at growing up with fewer long-term effects.
The trial included the traditional therapy for kids with ALL. But the doctors aimed to use smaller doses of the drugs to kill the cancer, hopefully resulting in fewer damaging effects down the road.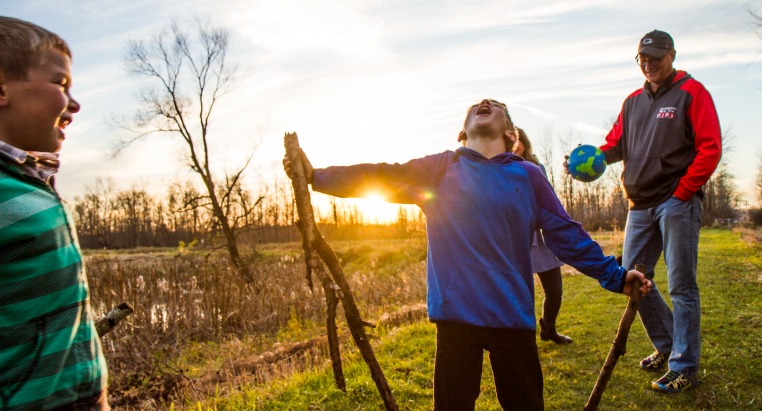 Will goofs off with his family at the lake near their home in Wisconsin.
Cutting-Edge Treatment Close to Home
But enrolling in that clinical trial at Arnold Palmer didn't mean that the family had to stay in Florida, far from what was comfortable and familiar.
The trial was also open at the family's local clinic in Marshfield, Wisconsin, a mere 10 minutes from home.
That's thanks to a St. Baldrick's infrastructure grant, which gave the Marshfield Clinic at St. Joseph's Hospital the resources it needed to offer its patients the gold standard in clinical trials — trials offered through the Children's Oncology Group, or COG, a massive consortium of hospitals, universities, and cancer centers across the globe, which is also supported by St. Baldrick's.
Learn more about how the COG helps kids with cancer >
"[The COG] sets up a specific way of treating the child, using specific medicines and the most up-to-date approaches, so it's very beneficial for every child, every family, to be on these clinical protocols," explained Will's pediatric oncologist Dr. Michael McManus. "No matter where they are in the country — big city, small town, small medical center, big medical center — it doesn't matter. They are all getting the same coordinated treatment."
Kids not only receive the same coordinated treatment when they're in a clinical trial, they receive either the best known treatment for their cancer, or one that may prove to be even better.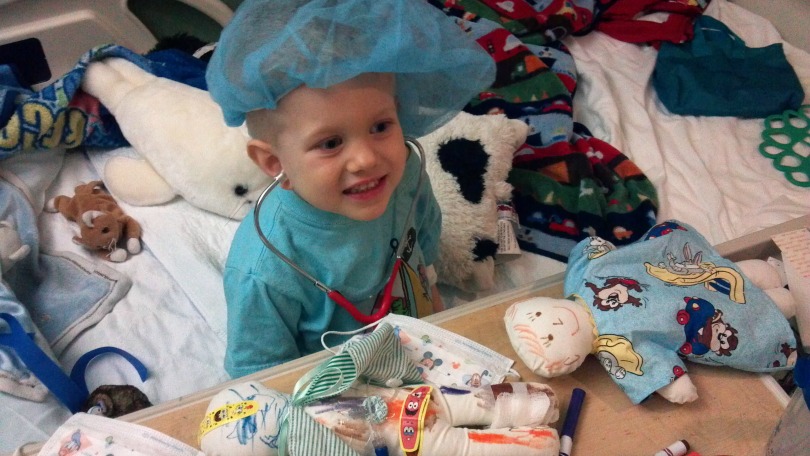 Will plays doctor while in the hospital for treatment.
That's one reason St. Baldrick's has also granted more than $66 million to the COG to date — but that's not the only reason.
Clinical trials move childhood cancer treatment forward. What researchers learn through these trials can help more and more kids survive their cancer, bringing research closer to cures for kids like Will.
A Tough Road
Will was in treatment for over three years — about half his young life.
He soldiered through chemotherapy that made his hair fall out. Steroids caused his tiny body to balloon in size and his mood to shift at the drop of a hat. His legs were so weak that if he fell in the backyard, one of his parents had to help him to his feet.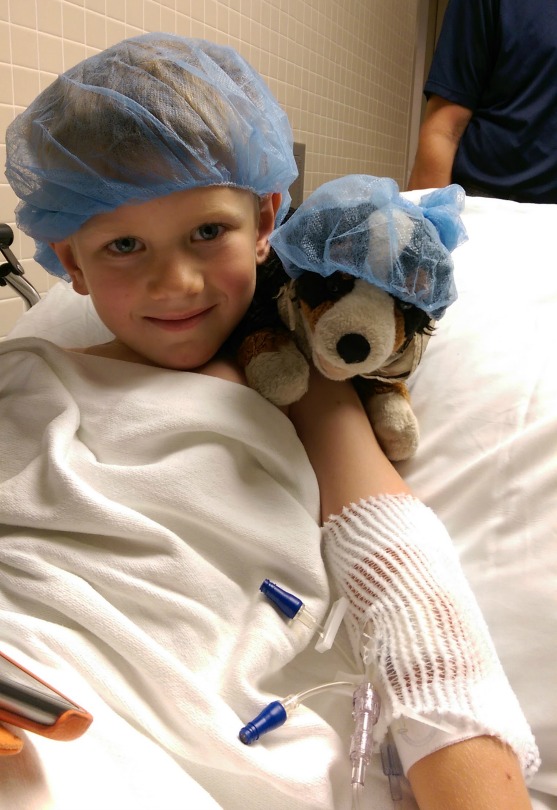 Will and his stuffed dog, Harley, are ready to go into surgery together.
By the end of his treatment, Will had grown up a lot. He cleaned his own port and helped the nurse draw his blood. He even barred his parents from the room when the nurse would insert the needle into his port for chemotherapy.
Will completed his treatment in May 2015 and the now 8-year-old shows no evidence of disease.
"He's in school, he's happy, he's playing, he's with his family, he's with his brother. And that's the goal, obviously," Dr. McManus said.
Knowing that Will was getting the best treatment possible, while being able to stay close to home, eased Dave and Becky's worries during a difficult time and turned them into big supporters of St. Baldrick's and childhood cancer research.
"It gives me so much peace of mind knowing that we are at the best place where we can be for our situation," Dave said. "I don't know that I'd have anywhere near the comfort level with what he went through if it wasn't for that."
Childhood cancer cures start with you. Give today to give kids like Will their best chance at life without cancer.
Give
Read more on the St. Baldrick's blog: