Nathan Z. has shaved his head at St. Baldrick's events every year since he was in second grade. But this year, he did something different. Read how Nathan is making a difference for kids with cancer without going bald.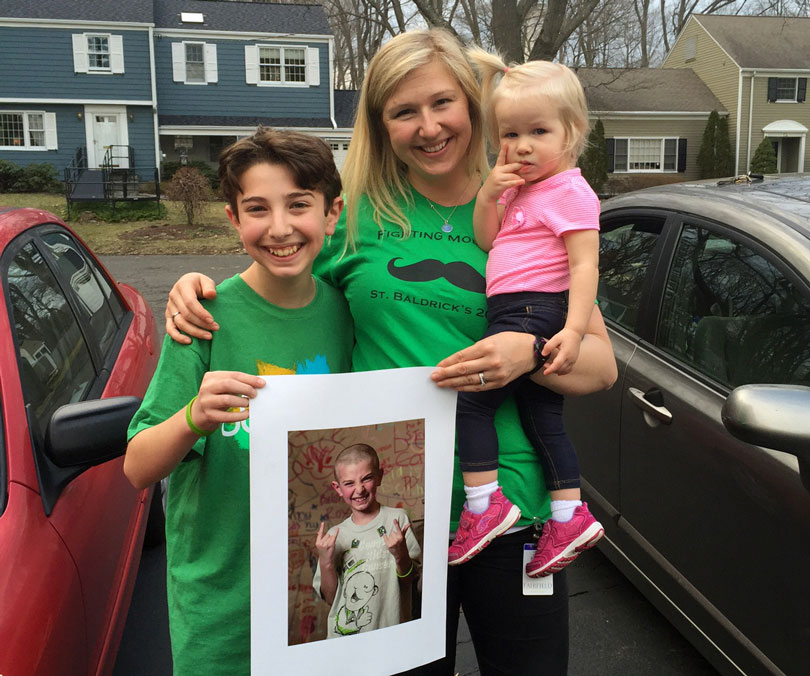 Nathan smiles with his second grade teacher, Mrs. Kinsley, and her daughter, Fallon.
When you've been shaving your head for kids with cancer for the past seven years, it can feel a bit weird to take a year off.
Thirteen-year-old Nathan Z. knows the feeling.
Since he was in second grade, Nathan has been a shavee℠ at the local head-shaving event at his elementary school. At that young age, he was captivated by the St. Baldrick's mission, and he continued the tradition of going bald each year after that.
But this year, he had to do something different.
Nathan knew he would have a bar mitzvah to celebrate his 13th birthday — but he didn't want to be bald for the event.
"We were thinking hard about how I was going to somehow do St. Baldrick's and still have a bar mitzvah," Nathan said. "St. Baldrick's wasn't something I wasn't going to do this year — that's not an option for me."
So Nathan and his family decided to do the bar mitzvah — St. Baldrick's themed!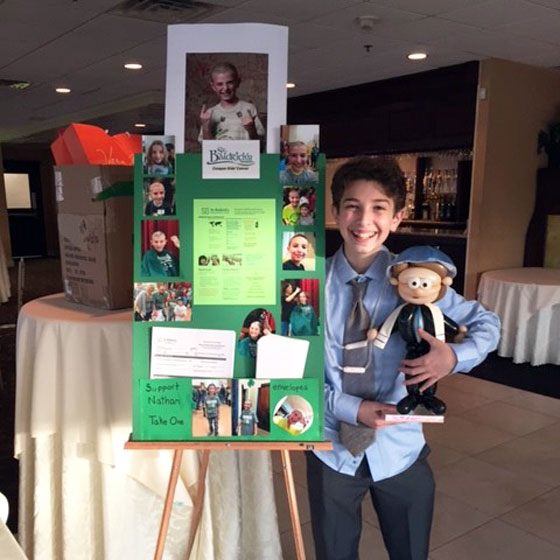 Nathan incorporated St. Baldrick's into his bar mitzvah.
At his bar mitzvah, Nathan set up a big poster board with information about St. Baldrick's, complete with photos of him shaving throughout the years. All the guests got wristbands with tags explaining the mission of St. Baldrick's and how to donate online.
"I made sure to say, 'Feel free to check out St. Baldrick's, and all donations are appreciated,'" Nathan said. "It was very prominent throughout the night."
Nathan and his family were impressed to see how many people got into the spirit of St. Baldrick's. Kids rocked their new St. Baldrick's t-shirts and wristbands at school the next day, and adults left with flyers and pledges to donate.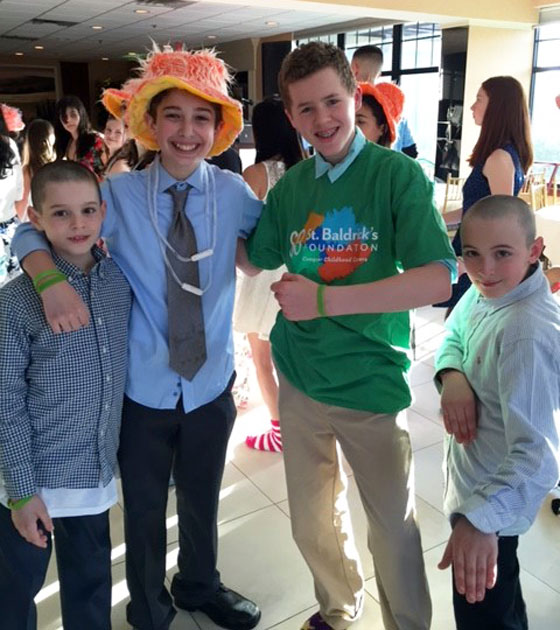 Nathan and his friends pose with their new St. Baldrick's gear.
Some guests even took home flyers to bring to their workplaces.
"A lot of adults work at businesses that have a matching program," Jeff, Nathan's dad, explained. Some companies, like the one where Nathan's grandparents work, will match their employees' donations.
Learn about St. Baldrick's matching gifts program >
By incorporating St. Baldrick's into his bar mitzvah, Nathan was able to raise $1,100, and accomplish his goal of getting the word out about the need for childhood cancer research.
After all, that's why he got involved when he was 7 years old.
His second grade teacher, Mrs. Kinsley, was the one who introduced St. Baldrick's to Nathan and his class. At first, Nathan was hesitant — he didn't like razors and he hadn't gotten a haircut since he was in kindergarten.
But after hearing more about the cause, Nathan was in. And he was able to convince his friends and classmates to join him, too.
Before and after Nathan's first shave in 2011.
"Not only did I get to raise money by shaving my head," Nathan said, "I got to donate three 10-inch pony tails."
BLOG: Donate Your Hair in 5 Easy Steps >
Shaving his head for St. Baldrick's has become a tradition for Nathan — one that he doesn't see ending anytime soon.
Nathan poses with Mr. and Mrs. Kinsley after shaving in 2014. Every year, Nathan has taken a photo with Mrs. Kinsley at the event.
"That was such a defining moment in Nathan's life," Jeff said. "His participation is a huge growth aspect for Nathan and a defining point in who he is."
Next year, Nathan will be shaving his head for the seventh time, making him a Knight of the Bald Table. As excited as he is for that title, he's just as excited to see St. Baldrick's grow.
"It's really cool to see the events impact the community," Nathan said. "They're supporting St. Baldrick's and are helping me get the word out there."
You don't need to shave your head to make an impact for kids with cancer. Fundraise your way — just do what you want!
Start a Fundraiser
Read more on the St. Baldrick's blog: