Two years ago we brought you the incredible story of Kate Foster, who was just getting back to the gym after surviving childhood cancer. Now she's 17 and still competing in gymnastics — all while keeping up top grades, applying to colleges, and advocating for kids with cancer. Read Kate's story in her own words below.
When I was 8 years old I started competitive gymnastics and it quickly became my life.
"Kate, can you work on this project after school?" "Sorry, I have gymnastics."
"Kate, want to sleep over tonight?" "I can't. I have gymnastics in the morning."
"Kate, what are you doing this weekend?" "Gymnastics."
But my world fell apart in 2011 when I was diagnosed with acute myeloid leukemia (AML).
I was taken out of a 22-hour-per-week sport and placed in the hospital. The most active thing I was allowed to do was toss a ball back and forth with the physical therapist. Nurses cheered when I was able to walk to the bathroom by myself.
My first round of chemo lasted eight days. On the last day, my left thigh began aching. It got so bad over a couple hours that they gave me morphine.
The next thing I knew, it was four days later. I woke up on a ventilator with a wound vacuum protecting what was left of my four quadriceps muscles from a gangrene infection. I was very lucky to be alive.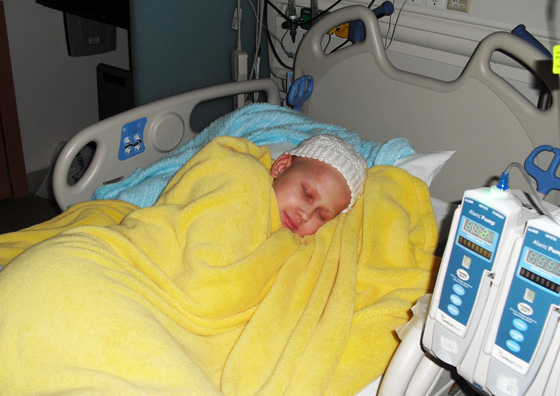 Kate sleeps in the hospital during her treatment for AML.
My second round of chemo found me battling another infection that traveled from my leg to my lungs. I was in the PICU for five days. Because of my bad habit of acquiring scary infections, my medical team decided to skip the third round of my chemo protocol and go straight into my bone marrow transplant.
On October 11, the day before my transplant, the surgeons found a new infection in my knee joint. They were adamant that an amputation would be the only way I could live.
I was devastated. I knew I wouldn't be returning to gymnastics and my old life that was put on hold.
But I made it through the amputation, transplant, and the rest of my childhood cancer treatment. And with the support of my family, coaches, and my "gymnastics family," I did find my way back to the gym — with one leg.
It was difficult, but I made it happen by showing up every day, getting my strength back, and learning how to work with my new prosthesis. I was back at practice, back at school, and back to the life I loved, and it couldn't have been better.
Eleven months after my transplant, in September 2012, I was at the hospital for a routine checkup when I found out there are words worse than "you have cancer."
They are, "you have relapsed."
My cancer had come back and it was even stronger than before. Once again, I was abruptly ripped away from school, friends, and the sport I loved.
"I found out there are words worse than 'you have cancer,'" Kate writes. "They are, 'you have relapsed.'"
I underwent more rounds of chemotherapy, participated in a clinical trial for an experimental drug, and had a second bone marrow transplant on December 12, 2012. After five months of recovery, I was able to return to school in time for my eighth grade graduation, and I finally got back to the gym.
It's been three and a half years since that transplant and I just finished my junior year of high school and a third season of competitive gymnastics. I have gained skills I had only dreamt of having before, I've set personal records on both the balance beam and the uneven bars, and I represented my home state of Illinois at the regional meet this year.
I am alive, healthy, and doing what I love.
But, I am alive, healthy, and doing what I love today because of the experimental drugs and trials that were made available to me when I had childhood cancer.
So, when I was given the opportunity to participate in Childhood Cancer Action Days in Washington, D.C., to help gain support for the STAR Act, I jumped right on board.
One of the aims of the STAR Act is to spell out specific funding for childhood cancer research. I'm excited about this because it's the kind of research that can help kids with cancer get better and back to what they love to do.
Read the latest update on the STAR Act >
Action Days happened to fall during the perfect time — just after AP tests and a week before my regional gymnastics meet — so I felt it was meant to be. But, even if it didn't fall during that one hole in my busy schedule, I still would have made it work because this cause is greater than me and greater than my commitments. It's the chance to save the lives of future kids with cancer.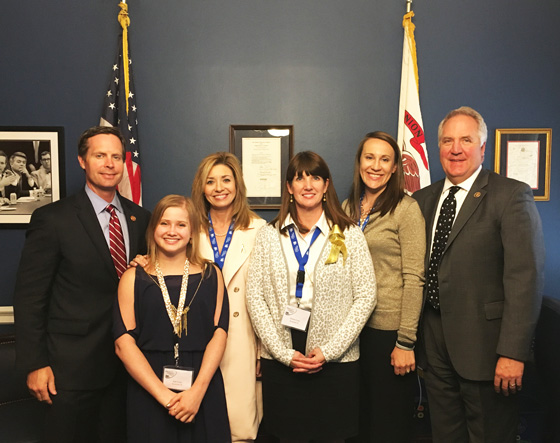 Kate (second from right) stands with Congressman Rodney Davis (left), Congressman John Shimkus (far right), her mom (center) and two other childhood cancer advocates.
Our first day was spent learning about childhood cancer issues and how to advocate to our Congressional representatives. The second day, we spoke directly to members of Congress, sharing our stories in hopes that they would co-sponsor the STAR Act.
After the two whirlwind days, I went back home to my busy schedule of final exams and gymnastics practice. It was almost as if nothing had changed.
Almost.
Although my life seemed the same, I knew I had just helped to change someone else's. And I would do it again.
I will continue to go to Action Days as many times as needed to help give kids with cancer the same chance I was given — the chance to return to their busy schedules, their schools, and the things they love.
Like Kate, you can be an advocate for kids with cancer — and you don't have to go all the way to the Hill! Use this simple form to email your representative in Congress and let them know why the STAR Act is important to you. 
Email your rep
Read more on the St. Baldrick's blog: