A San Antonio VEO shares his tips and tricks.
Paul and his sons with Aubrey, a childhood cancer survivor, at a St. Baldrick's event in San Antonio last year.
It all started with a poster in a Starbucks.
That's how volunteer event organizer (VEO) Paul Harris first heard about the St. Baldrick's Foundation. The flyer advertising a head-shaving event to benefit childhood cancer research right there in San Antonio looked especially appealing to Paul's two young boys, Coda and Wyland, who were excited to sign up as shavees.
Not knowing what to expect, Paul and his sons showed up on the big day, and they were hooked.
Participating in a St. Baldrick's event in March was something Paul and his sons looked forward to every year after that. They drove to Austin for the Dell Children's Medical Center event three years in a row when there wasn't a St. Baldrick's event in their hometown. The following year, Paul made it his New Year's resolution to bring St. Baldrick's back to San Antonio.
The March 2014 San Antonio event will mark Paul's third year as a VEO. He shares his advice for new VEOs, veteran VEOs looking to grow their event, or anyone considering starting their own St. Baldrick's tradition.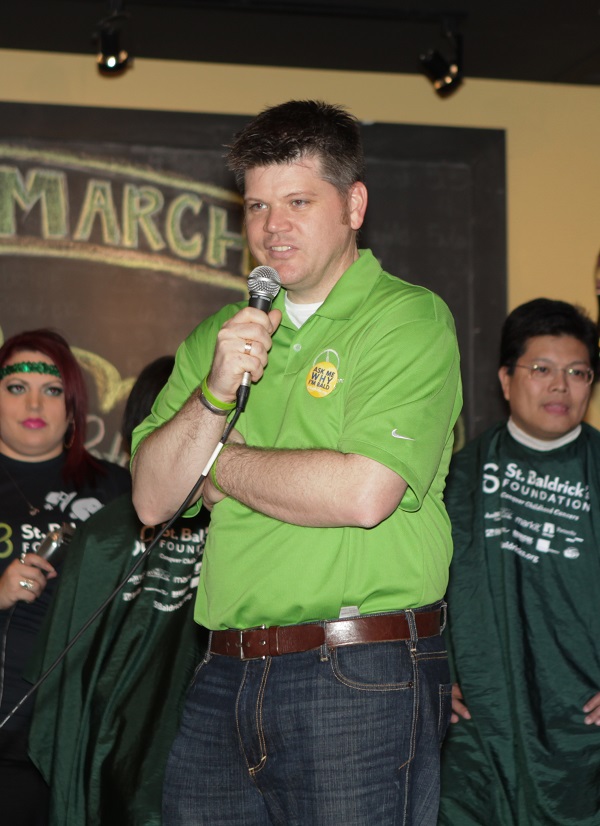 Dr. Aune explains the importance of fundraising to the crowd.
Step 1: Just ask
Paul began emailing and cold calling people he thought might be willing to help out. At first, he didn't get many responses, but he wasn't discouraged.
Eventually, one of his emails made its way to Dr. Aune, a pediatric oncologist at the University of Texas Health Science Center at San Antonio and a St. Baldrick's infrastructure grant recipient. As a childhood cancer survivor, Dr. Aune's drive to advocate for pediatric cancer research is personal. He had already been looking for a way to get involved with St. Baldrick's when he read Paul's email, and the timing couldn't have been better.
Step 2: Build a strong committee
With Dr. Aune's connections at the hospital, he was able to get his colleagues involved and bring in some Honored Kids and their families.
Together, Paul and Dr. Aune assembled a committee of volunteers with a strong passion for the cause, including Janet Pollok, mom of Honored Kid Luke, and Harold and Judy Sanders, parents of Ambassador Alan.
"It's really all about surrounding yourself with good people," Paul said. "Because this event might have happened if it was just me, but it wouldn't have been nearly as successful without everyone pitching it with their strengths."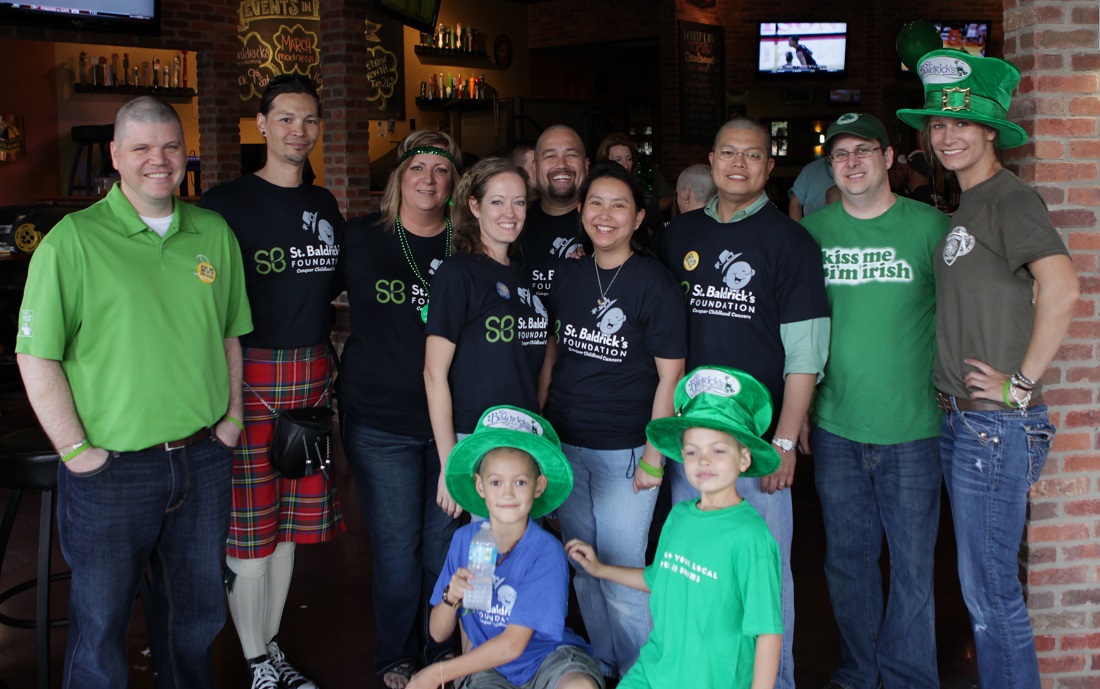 Paul and his sons with most of the 2013 volunteer committee.
Step 3: Start early (if you can)
Paul only had about six weeks to book a venue and pull together the event. Fortunately, Hotel Valencia Riverwalk agreed to host the head-shaving event just weeks before it was scheduled to take place.
"But we could already tell that we were going to outgrow that space that had been so generously donated," Paul said. That first year, they had 59 shavees and raised more than $27,000.
"We learned so much that year, and each year we get better and more efficient – but there's always areas to improve," Paul said.
"We learned so much that year, and each year we get better and more efficient — but there's always areas to improve," Paul said.
So when 2013 rolled around, Paul was planning for a bigger turnout, and knew he would need a bigger venue. He turned to World of Beer – Stone Oak, a pub specializing in craft beer that had just opened. They were more than receptive — they even offered to donate raffle prizes and a few kegs of beer so the money from the sales would go toward the event's fundraising total.
Step 4: Line up activities
Next, Paul invited some performers to enhance the fun. "I had the benefit of seeing some other St. Baldrick's events in action, and so I wanted to model what I did after some of the successful things that I'd seen."
With an Irish dance performance, live music, and a magic show all in queue, it was gearing up to be an action-packed day.
Step 5: Build partnerships
Last year, the San Antonio Fire Department asked Paul how they could get involved. Paul was thrilled — he knew they were well-connected in the community and would bring a lot of awareness to the cause.
As it turned out, nearly half of the shavees at the event that year were San Antonio firefighters or their friends and family, bringing the total number of shavees to 108 and helping the event raise nearly $60,000.
"This year, we hope to do more in terms of partnerships with the community," Paul said. He is reaching out to corporate sponsors for the event and has already been approached by a microbrewery in the area that wants to get involved and offered to donate raffle items. "I'm all about supporting local businesses, and we really want them to be a part of our event, too. I think it could be mutually beneficial."
Step 6: Aim high
After last year's success, Paul is setting a much loftier fundraising goal for the 2014 event: $100,001. With the growing community interest and support from the local media — one station aired a live head-shaving last year — he's feeling confident.
Step 7: Stick with what works
Paul understands that social media can be a powerful tool. He made a Facebook page for his first event back in 2012, and he actively updates it throughout the year.


Shavees at the 2013 event.
But he also remembers what got him involved with St. Baldrick's in the first place. "I still think back to that poster in Starbucks," he said. He continues to hang signs around the neighborhood, hoping one of them will catch the eye of someone who wants to
do something to helps kids with cancer
.
Just the other day, Paul got a phone call from a woman who saw one of his posters and wanted to know more. By the end of their conversation, she was signing up to be a shavee.
And who knows? Maybe one day she'll start her own St. Baldrick's event.
For more advice on organizing a St. Baldrick's event, visit our VEO tips page.
Join in the fun and help cure childhood cancer. Get involved today.
GET INVOLVED
Read more on the St. Baldrick's blog:
Photos by S.L. Smith Photography.