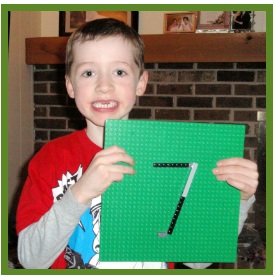 Ambassador Luke celebrates $7 Million raised for childhood cancer research
When we asked 2013 St. Baldrick's Ambassador Luke Fochtman what he wanted to say to all the amazing volunteers out there helping to raise money to help kids just like him live long and healthy lives, he replied with, "Thanks for giving me the chance to build more Legos!"
Thank you, Luke, we couldn't have said it better!
At just 3 years old, Luke was diagnosed with stage IV embryonal rhabdomyosarcoma, a rare type of childhood cancer that affects the muscles. He endured nearly 70 weeks of aggressive treatments — including multiple rounds of chemotherapy, daily radiation — and suffered through many central line infections. Through it all, Luke remained positive and strong.
Luke's mom, Monica, says:

"When our son was diagnosed with stage 4 cancer, our world stopped and a new life began. This new world of treatment was very lonely and isolating. We were also very afraid. We are grateful to be part of St. Baldrick's because the Foundation and their amazing volunteers inspire hope. Thousands of volunteers give their time, donate and raise money, and shave their heads, all to support kids like our son. That is awesome! Thank you for showing us that kids with cancer are NOT alone!"
Now at 7 years old, Luke dedicates much of his free time to creating LEGO® Star Wars™ sets, light saber duels with his younger brother, and watching Star Wars, The Empire Strikes Back, and Return of the Jedi.
Read more about Luke's story and learn how you can get involved with St. Baldrick's and help Conquer Childhood Cancers.