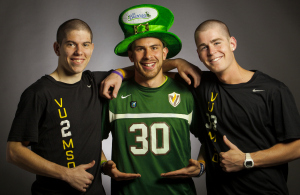 Luke Dunn, Tom Serratore, and Todd Vervynckt help us celebrate $30 million raised to help children with cancer. Photos by Randall Spriggs, Valparaiso University.
Tom Serratore, a redshirt sophomore goalkeeper at Valparaiso University (VU) and St. Baldrick's volunteer event organizer and shavee, proudly wears his #30 jersey to help celebrate raising $30 million for St. Baldrick's to help cure childhood cancer!
After his friend, Joey Malak, was diagnosed with acute lymphoblastic leukemia their junior year of high school, Tom knew he had to get involved and wanted to find a way to honor and support Joey. He began volunteering with St. Baldrick's and participating in its signature head-shaving events, including the event at Victor J. Andrew High School in Tinley Park, Illinois.
Tom continued to be a part of the St. Baldrick's childhood cancer foundation once he graduated from high school and established a Valparaiso University head-shaving event. This year marked the third-annual VU event at the Athletics-Recreation Center, which raised more than $19,500 for pediatric cancer research, exceeding their original goal of $15,000.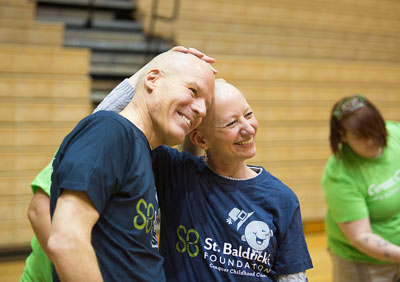 Valparaiso University President Mark Heckler and his wife, Veronica, sporting their freshly shaved bald heads.
Tom shaved his head for the seventh year in a row and was joined by more than 75 people, including the majority of the soccer team, associate head coach Jeff Oleck, VU president Mark Heckler, and his wife, Veronica.
"It meant a great deal to me because this was my seventh year shaving so I became a Knight of the Bald Table," said Tom. "This is a great honor, and I am proud to be a part of this group. This event also meant that Valpo truly supports this great cause. Doing it one year is great, but to do it again and have the event grow shows me we have real support."
Tom is already brainstorming how he can make next year's VU event bigger and better, and believes there is always room to do more and find more people to come.
Tom adds, "As an athlete, I never want to see a child sidelined by cancer, so I know for this to happen we need to create great events that raise significant cancer-fighting dollars."
A big thank you goes out to Tom, Valparaiso University, and the entire VU community of staff and students that helped make this event such a success.
Athletes are teaming up to raise money for childhood cancer research. Read about other athletes who have joined the fight to Conquer Childhood Cancers, or start your own sports event today.
Start a sports event