Every day, millions of gamers pick up their controllers and log into their favorite virtual worlds. That environment may be virtual, but the feelings of progression and accomplishment are oh-so real. These feelings don't have to end after turning off your favorite game! Read on for 3 ways you can be a real-life hero to kids with cancer while doing what you love to do…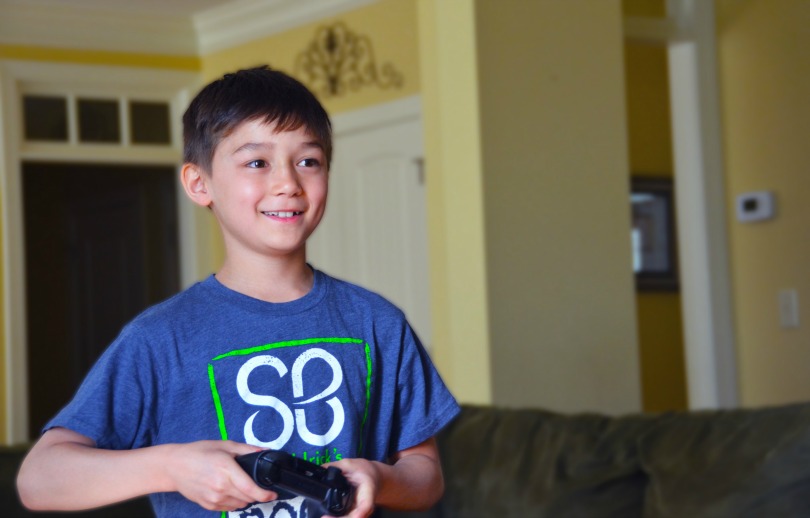 St. Baldrick's Honored Kid Scott is a big fan of both video games and supporting childhood cancer research!
Video games were created as worlds for us to explore, and you can use them to help create the world you want for everyone — like a world where kids don't get sick with cancer.
Here are 3 simple ways to make your passion for gaming a force for good. Just press start and find the path that best suits you!
1)  Buy Games Through The Humble Store
Humble Bundle is an online store that sells a rotating collection of games at low prices, some games can even be purchased at the price you pick! Humble Bundle purchases default to 20% given to charity, though the buyer also gets to select what percentage of that price will go to the game's developer, the Humble Bundle team, and how much goes to your favorite charity — which we already know is St. Baldrick's! To date, Humble Bundle has raised more than $25 million for charity.
Click here to go to the Humble Bundle homepage and get some new games while supporting St. Baldrick's >
2)  Stream through Twitch or Tiltify
Not unlike the weekend athletes who collect donations from family and friends for every mile they run, thousands of gamers will be enlisting their networks to support them in a marathon of sweaty thumbs and lit screens.
Twitch is the most popular way for gamers to stream their video game conquests, and is currently the 9th most visited website in the United States. These millions of viewers helped streamers raise $17.4 million for more than 55 charities last year.
Tiltify is a service that enhances Twitch to allow you to add donation levels, give out rewards, build a stream schedule, and start a team. It's a great tool to use if you're planning on doing giveaways or if you have multiple streamers on your roster.
If you're just getting started, setting up a stream can be a bit overwhelming. Don't worry, we've got you covered! Check out our guide on setting up a fundraising stream >
3)  Start a Gaming Tournament as a St. Baldrick's Fundraiser
With the rise of eSports, professional gamers are starting to have the same sort of clout that professional athletes do. With their popularity comes opportunity. What better way to raise money for childhood cancer research than a little healthy competition?
Our fundraising experts will help with all of the details, like finding a venue, putting together a planning team and getting people to donate! Sign up to start your fundraiser >
Take a break from the screen and join us in our mission to take childhood back from cancer. Get involved today.
Get Involved
Read more on the St. Baldrick's blog: