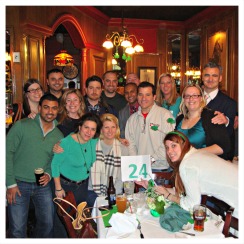 Our friends from Allied World Assurance Company announce $24 million raised by St. Baldrick's volunteers
YOU have helped raise more than $24 million for childhood cancer research!
Our friends at AWAC Services Company Inc., a member company of Allied World, are excited to help us share this million dollar milestone with you all! Allied World Assurance Company has raised nearly $800,000 for lifesaving research since it first got involved with St. Baldrick's in 2008. Employees participate as part of a global team, shaving heads, running marathons, and helping organize the flagship event at Jim Brady's in New York City and the St. Agnes Parish Center event in Rockville Centre, New York.
Be part of raising the next million that will go to support the best research focused on finding better cures and treatments for childhood cancers — get involved with St. Baldrick's and make a difference in the lives of kids fighting cancer.
Get Involved