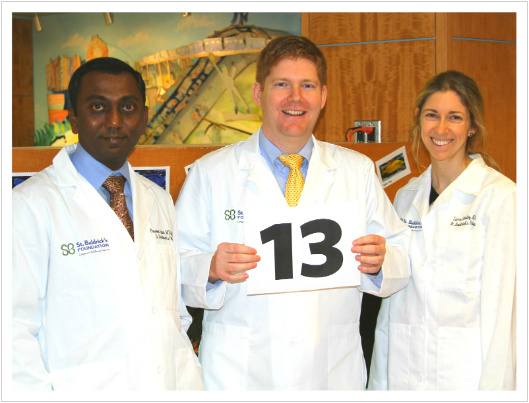 Dr. Anur Praveen, Dr. Kevin J. Curran, and Dr. Liora Schulz
Let's hear it for another million raised by our St. Baldrick's supporters, bringing the total to more than $13 million raised to
help kids with cancer
!
Helping to announce this shearly fantastic news is (from left to right): Anur Praveen, M.D., AVM Traders St. Badrick's Fellow; Kevin J. Curran, M.D., St. Baldrick's Scholar; and Liora Schultz, M.D., Markit St. Baldrick's Fellow.
"We thank every shavee, supporter, and member of the St. Baldrick's Foundation who has donated their time and effort in the fight against pediatric cancer. Without the support from St. Baldrick's, our research in the prevention and cure of childhood cancer would not be possible."
To learn more about the important work of Drs. Praveen, Curran and Schultz, visit the St. Baldrick's grants page.
Keep research going! Raise funds to help cure childhood cancer — find an event near you!