The Furco family spent their holiday vacation traveling somewhere they've dreamed of going — to Italy with their child Ambassador Abby, who had cancer. How'd they do it? Read on for 11 travel tips from Abby's mom, Patty, who is ready to share how you can successfully take a child with medical needs on a trip of a lifetime.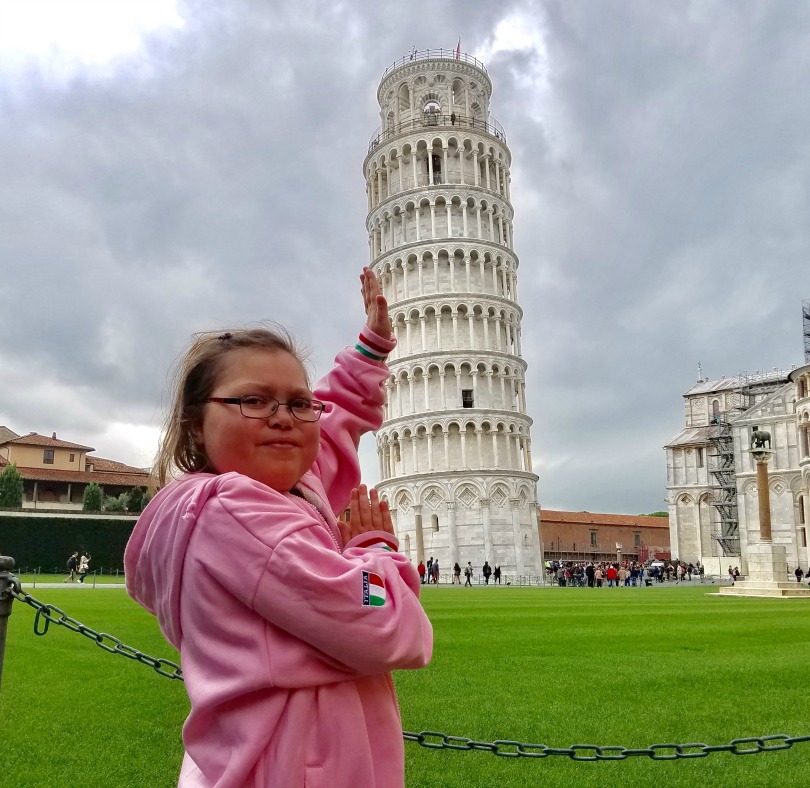 Ambassador Abby pretends to hold up the Leaning Tower of Pisa while on vacation in Italy.
Traveling with family is tough. But vacationing with a child in treatment or with ongoing medical needs brings it to another level. It takes a lot of forethought, from the what ifs, to making sure you have the right supplies, to planning for proper medication storage during travel – whew, it's exhausting just thinking about it. But all the hard work is so worth it.
My daughter Abby is 10 years old and in remission. Abby has survived cancer twice. She started battling leukemia when she was 4 years old and is currently fighting side effects from her bone marrow transplant in January 2015 – side effects that tried to take her life last summer.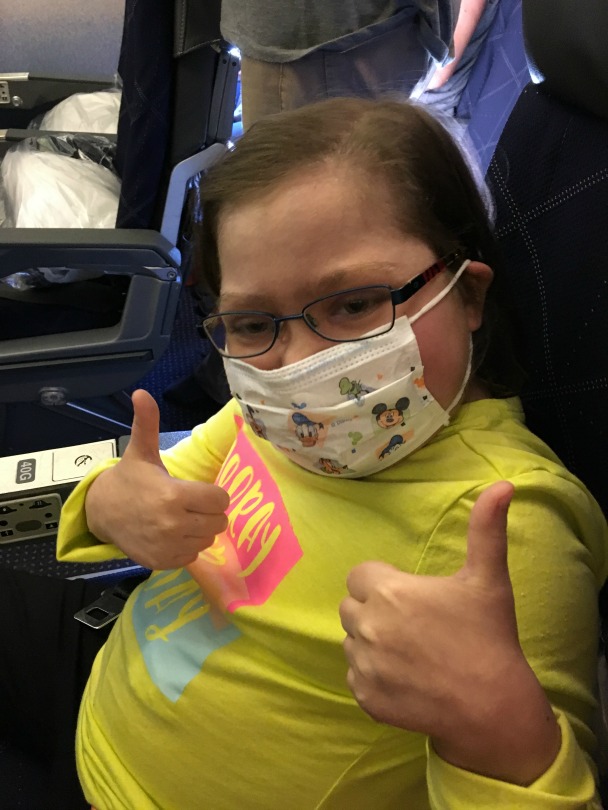 Abby gives a thumbs up on the flight to Italy.
Throughout all stages of treatment, we have traveled. We have rarely let Abby's state prevent us from making the most of the time we have. We've done everything from trips to amusement parks within driving distance of our home and trips to visit family, to vacations across the world to Italy.
Italy was our biggest feat.
When we brought Abby home on hospice care last summer and told her she was going to pass away, we also had to tell her that she wasn't going to see Italy. It was an extremely touching moment. Abby and her dad, Joe, had been mentally planning a trip to Italy for years. They would talk about it and look at pictures online during hospital stays.
Not knowing that Abby was going to take such a steep downturn, Joe thought they'd always go.
So, when Abby started making a huge turnaround last fall, Joe talked to me about planning that trip — a trip that we thought might be a final trip for her, but one that we needed to do.
The time leading up to it was incredibly nerve wracking for me, but I wouldn't change it for the world. We had an amazing time and hold those memories so close.
Throughout our travels, we have learned a lot. I am hoping that these pieces of advice can help more families take that step to travel.*
1) Talk with your child's doctor or medical team about potential travel to make sure it doesn't interfere with your child's treatment or appointment schedule
2) Have a list of current meds, allergies, and a quick one-paragraph summary of history with an on-call duty pager listed. For longer trips travel with a copy of your child's current labs, if this is appropriate for their diagnosis. If emergency care is needed, this information helps medical staff have a snapshot of your child's overall and current health. Always encourage them to contact your home medical team.
3) Know of a local hospital or ER available at your destination, plus any stops along the way. Always have insurance verification on you. Ask your child's doctor their opinion on the hospital or ER you have chosen or ask them what hospital they'd choose for your child.
4) Have medicine(s) that need refrigeration? Check and double check refrigerator availability at your destination. Have a suitable insulated pack or cooler to keep medicines cool during transit. I've used just an insulated bag or foam cooler filled with lots of long lasting ice packs. I wrap everything in Ziploc bags and use freezers along the way. We've kept IV medicine syringes cold for over 24 hours! You can do it.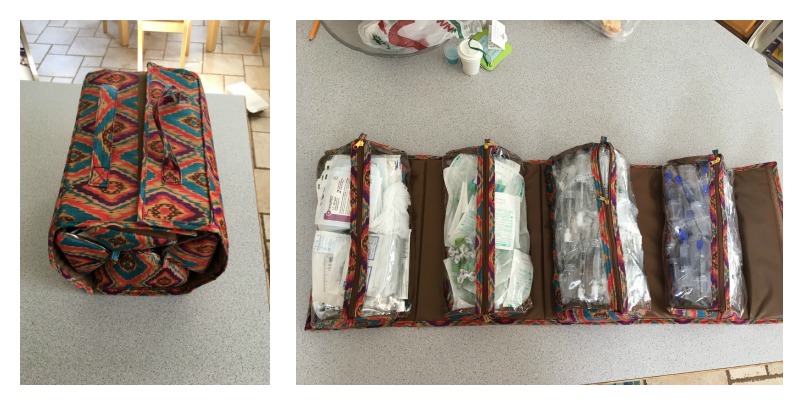 Abby's medical necessities are carefully organized.
5) Have a bag or case designated specifically for meds. This is key. Make sure all of your meds are in a bag that you can easily take out of the car — never leave in the heat or extreme cold — and always carry onto the airplane. Do NOT check any necessary medical supplies when flying. Security will allow you to bring any medicine through; they'll just have to look at it. Make sure it is in the original marked bottles with your child's name on it. If it is a controlled substance, I have always gotten a note from Abby's medical team saying it was necessary to carry with us at all times. I have never had an issue.
6) Organizing supplies is huge. It helps keep them clean, makes it easy to administer meds and you can make sure you always have enough, which leads us into the next point … count your supplies and medicine amounts AND bring extras!
7) Carry a small "quick" pack with you. Include your child's necessary supplies tailored to fit their needs, like an emergency central line kit, numbing cream, thermometer, etc.
8) Bring those PRN meds. You'll be pushing your child's comfort zone just by changing up the daily routine. Be prepared. Not every ache means a trip to the local ER. Sometimes, with an already established PRN med, you can nip something in the bud and continue with your travels.
9) While traveling, allow your child to rest whenever they need to. Bring that stroller or wheelchair, or find a comfy spot for them. Also, make sure they stretch their legs when needed.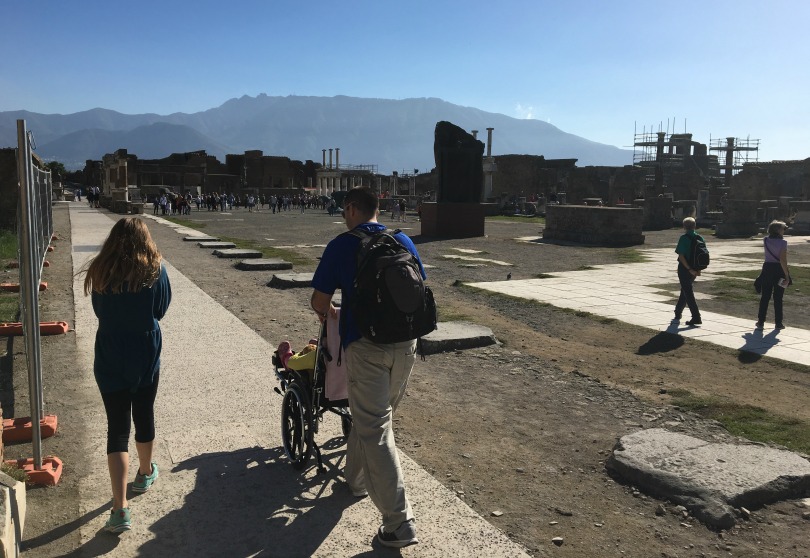 With a little help from her dad, Abby explores Italian ruins in her wheelchair.
10) Bring comfort and busy items. Blanket, ear plugs, eye mask, snacks, books, games, coloring, headphones, electronics and chargers — whatever works for your family. Involve your child in packing these items. Sometimes they think of things that you wouldn't consider!
11) Protect from the sun, layer and hydrate! Bring water bottles, sunscreen, hats, sunglasses, water, fans, a rash guard or other protective clothing if swimming. We always travel with a sweatshirt, because air conditioning in summer can be very cold.
*Please note that these suggestions are coming from a parent and not a medical professional. Your opinions, your child's medical situation and your medical team's advice should drive the choices you make.
 I hope this helps you make that initial step in considering travel with your child. It truly is worth it. We have made so many memories close by our home and far away, and look forward to making many more.
Give kids like Abby and their families hope. Fund childhood cancer research today.
Donate
Read more on the St. Baldrick's blog: